Cinnabon rolls are beyond delicious, especially when they're smothered in a lot of exquisite frosting. In fact, when we're at the mall, it's almost impossible not to treat ourselves to these tasty treats. Here's how you can make your own at home for a fraction of the cost!
Cinnabon Rolls (Makes 12)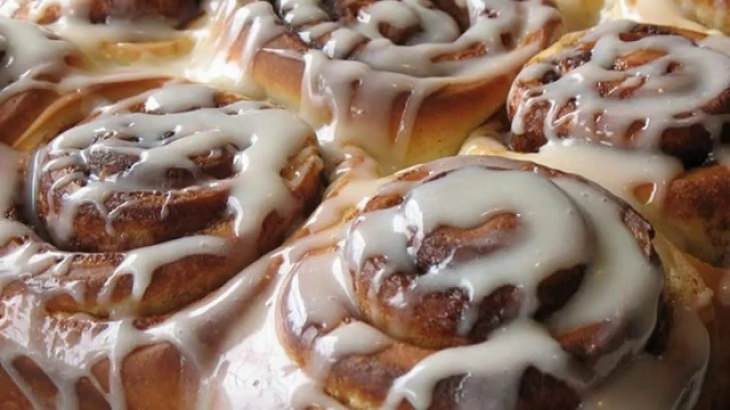 • 1 cup warm milk
• 2 eggs, room temperature
• 1/3 cup margarine, melted
• 4 ½ cups bread flour
• 1 teaspoon salt
• ½ cup white sugar
• 2 ½ teaspoons bread machine yeast
• 1 cup brown sugar, packed
• 2 ½ tablespoons ground cinnamon
• 1/3 cup butter, softened
• 1 package cream cheese, softened
• ¼ cup butter, softened
• 1 ½ cups confectioners' sugar
• ½ teaspoon vanilla extract
• 1/8 teaspoon salt
Directions
1. Place the cup of warm milk, the eggs, the margarine, the bread flour, the teaspoon of salt, the white sugar, and the bread machine yeast in the pan of your bread machine. Select dough cycle and press start.
2. After the dough has doubled in size, turn it out onto a lightly floured surface, cover, and let it rest for 10 minutes. In a small bowl, combine the brown sugar and cinnamon.
3. Roll the dough into a 16 x 21-inch rectangle. Spread the 1/3 cup of butter over the dough and sprinkle evenly with the sugar and cinnamon mixture. Roll up the dough and cut into 12 rolls. Place the rolls in a lightly greased 9x13-inch baking pan. Cover and let the dough rise until it has nearly doubled in size, about 30 minutes. While you wait, preheat the oven to 400 degrees Fahrenheit (200 degrees Celsius).
4. Bake your rolls in the preheated oven until golden brown, about 15 minutes. While the rolls are baking, beat together the cream cheese, ¼ cup butter, confectioners' sugar, vanilla extract, and salt. Spread this frosting on the warm rolls before serving.
Source: allrecipes
Craving Even More Sweetness? Here Are 6 Additional Articles With Excellent Dessert Recipes