Moroccan chicken made in a slow cooker is the epitome of comfort food. With its warm spices and fresh vegetables, this easy-to-follow slow cooker Moroccan chicken recipe makes a delicious, healthy, and budget-friendly meal.
Slow Cooker Moroccan Chicken (Serves 6)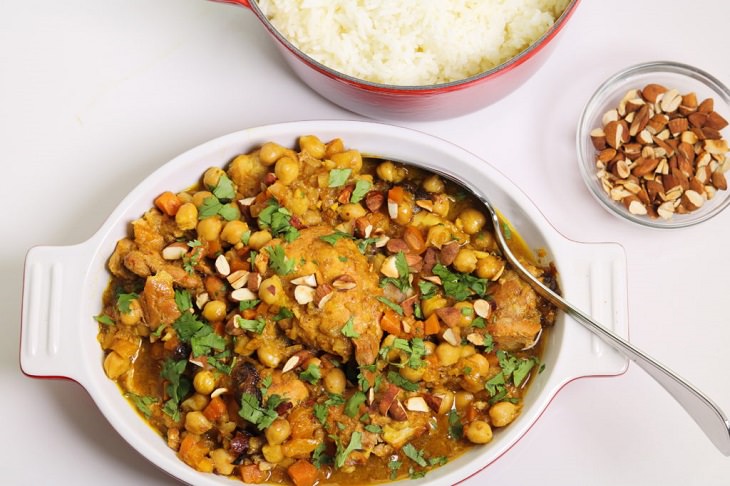 Ingredients
• 1 pound skinless, boneless chicken breast halves – cut into 2-inch pieces
• 4 cloves garlic, chopped
• 1 large onion, chopped
• 1 can diced tomatoes
• 3 fresh peaches – peeled, pitted, and sliced
• 1 can garbanzo beans, drained
• 1 cup dried apricots, chopped
• 2 teaspoons ground cumin
• 1 teaspoon ground ginger
• 1 teaspoon cinnamon
• ½ teaspoon ground coriander
• ½ teaspoon cayenne pepper
• 2 cups chicken broth
• 1 tablespoon cornstarch
• 1 tablespoon water
• 3 tablespoons cilantro, chopped
• 1/3 cup almonds, toasted
Directions
1. Place the chicken in the bottom of your slow cooker.
2. Add the garlic, onion, tomatoes, peaches, garbanzo beans, dried apricots, cumin, ginger, coriander, and cayenne pepper.
3. Pour in the chicken broth and cook on low heat for five hours.
4. Remove the chicken and keep it warm.
5. Mix the cornstarch and water in a small bowl. Stir the cornstarch mixture into the slow cooker.
6. Cook on high heat until the sauce has thickened – about 15 minutes.
7. Return the chicken to the slow cooker and heat through. Top with fresh cilantro and almonds before serving with couscous or rice.
Source: allrecipes