Lighting is one of the most important things in every home, since, besides its practical role of providing lighting in the dark, it can give each room its own unique look. Therefore, lamps and lampshades play a significant role in the design of a home and can make any space look completely different by playing with different shapes and light.
Many times, lampshades and lamps cost a lot of money, but with these 11 simple ideas, you can make unique light fixtures with minimal simplicity and expense, and even switch them up every once in a while to refresh your house's look.
* Fluorescent lamps or LEDs, which do not heat up like regular light bulbs, should be used. In addition, when purchasing the various materials recommended make sure to ask if the materials are resistant to heat and not flammable.
1. Colander lampshade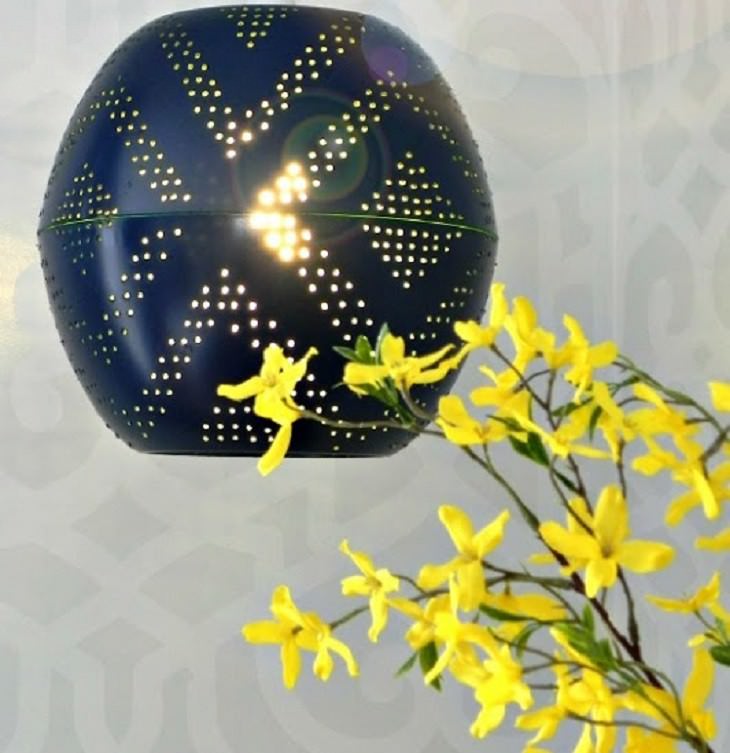 You can make this unique lampshade by simply gluing two identical old metal colanders with epoxy/metal glue or with a soldering iron if you have one. After or before gluing them together, create a hole in the center of one of the colanders and hang a bulb through it using heat-resistant wires or metal hooks. This unique lampshade will shower your room with rays of light coming out of its holes, creating bright spots on the ceiling and adjacent walls.
2. Lace lampshade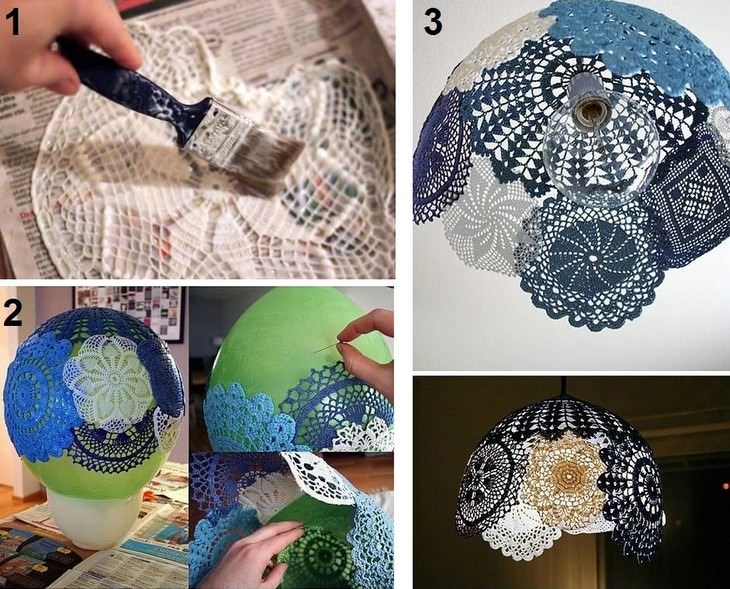 This beautiful lampshade has a classic and soft look that works perfectly in bedrooms, in which soft lighting is best. To make it, blow a balloon to the desired size and place it in a bowl, with the round part facing up. Collect old lace napkins or doilies, or buy them in a craft shop, apply white glue and lay the material over the balloon. Repeat several times until you've covered the desired area. Leave to dry for at least a day, pop the balloon, remove the remaining pieces, and now you have a lovely lace lampshade! Thread your lightbulb through a hole in the center and hang.
3. Top hat Lampshade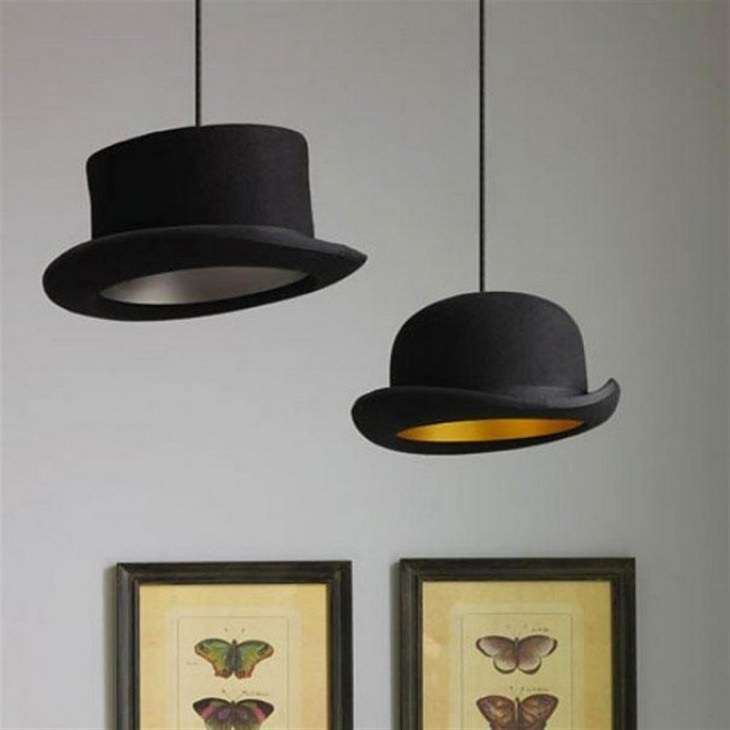 To make the next special lampshade, neither glue nor prep work are needed. All you have to do is take an old hat out of the closet, make a hole in the center of the upper part, and thread your lightbulb through it. This will allow you to breathe new life into a classic clothing item which otherwise would have just been laying around useless.
4. Twine lampshade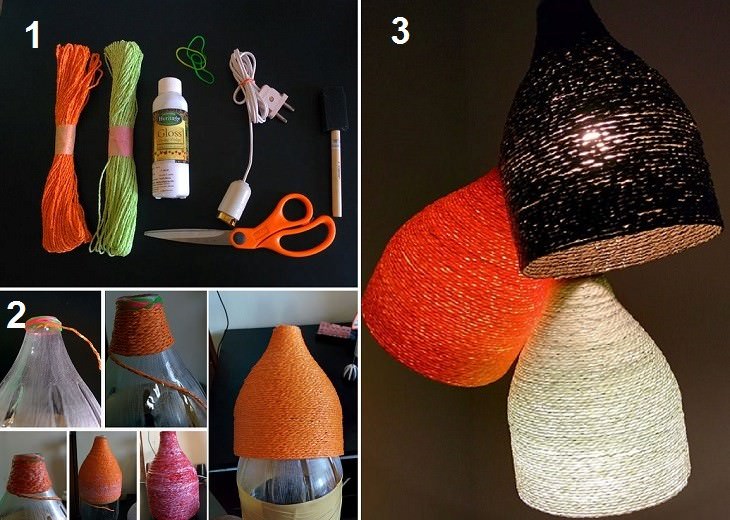 If you aren't satisfied with just one light fixture, this DIY is for you! These lamps are so quick and easy to make you can make more than one at a time! In order to prepare this beautiful lamp, you'll have to glue and wrap recycled plastic bottles in colorful twine (found in craft stores) and wait for it to dry for 24 hours. The twine will harden and bind to each other, and after drying you can separate them from the bottles, thread your bulb and hang anywhere!
5. Nightlight from recycled bottles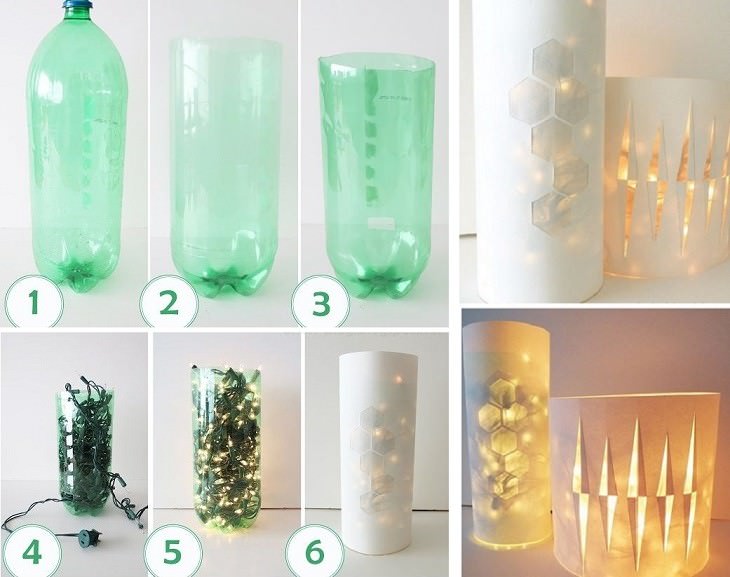 You can make this unique night light by recycling old bottles and covering them in layers of paper. Start off with a clean plastic bottle and cut off the top, place your LED's inside the bottle. To make the lampshade cut 2 pieces of thin paper to size (it can be tight against the bottle or wider). Cut out shapes on one of the papers then glue it over the second paper. Connect both sides of the paper together to create a cylinder. Place over your LED-filled bottle.
6. Candle "lamps"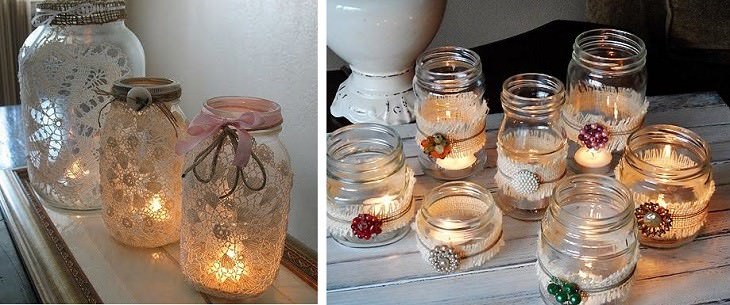 Before the invention of electricity, it was customary to light up spaces using candles, but today electric lamps are used for this purpose. However, candle lighting can be nice at times, especially on winter nights where warm lighting is a must. To make these candle "lamps" start with clean glass jars. You can decorate the jars with lace lining, ribbons, pearls or anything else you can come up with. Put candles in a jar and light them up whenever you want to set the mood.
7. Handkerchief lampshade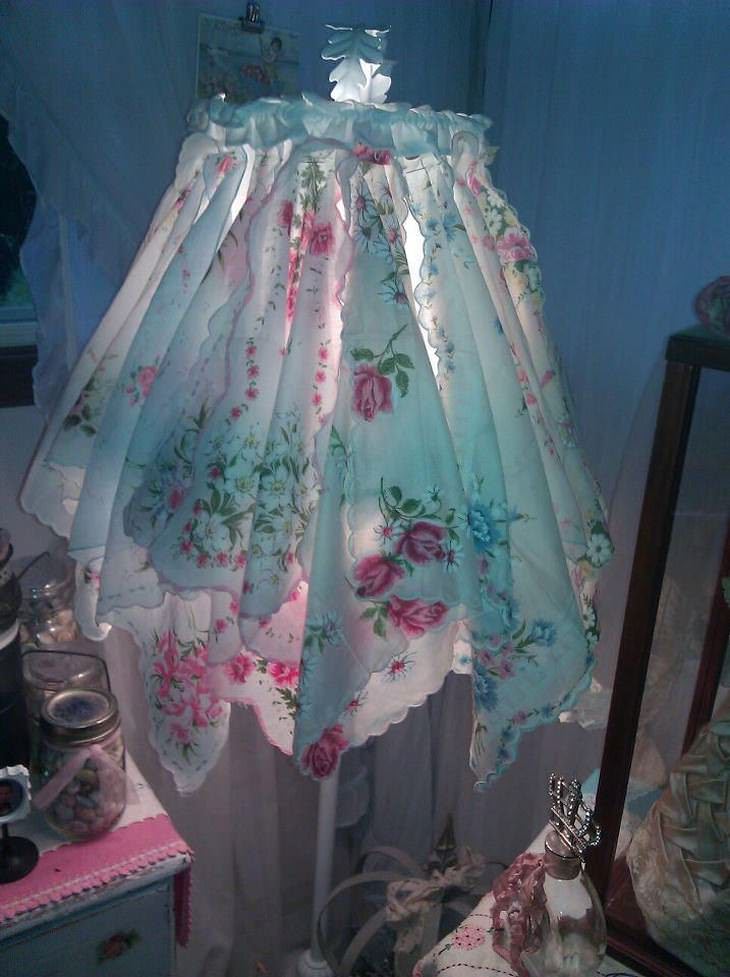 We all have beautiful old handkerchiefs lying around the house without any actual use for them. With the following idea, you can use them as a beautiful dressing for a lamp. To make this lampshade, loosely wrap the handkerchiefs you want to use around your lampshade to see how much you need in length. Next, sew the handkerchiefs at the top in a bunched up fashion, connecting all the pieces you're using and sewing them together at the end, creating a sort of dress for your lampshade.
8. Dotted skyline lampshade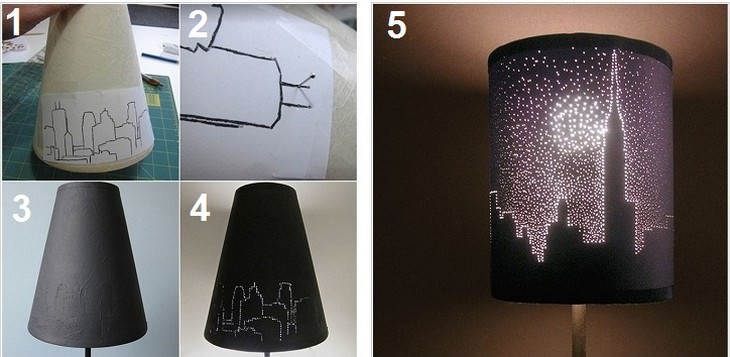 With this dim shade, you can easily create an urban and modern light fixture. To do this, start off with a black lampshade, or paint your lampshade black if needed. Next, tape a piece of paper onto your lampshade and draw out the skyline you want. Next, use a small need to outline the skyline into the lampshade. Once you're done with that remove the piece of paper, and dot the rest of the lampshade using different sized needles. Place it over a light bulb and see how just a little light can illuminate your favorite city skyline.
9. Plastic spoon lampshade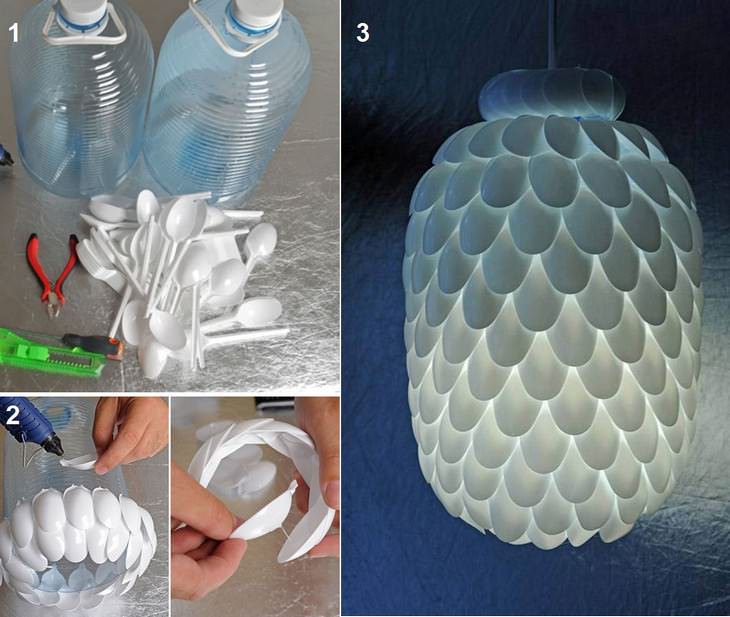 This next lampshade is kid-friendly, and an excellent opportunity to teach your kids about upcycling. To make this spoon lampshade start by cutting off the handles of plastic spoons. Next, cut the bottom of a wide water bottle and glue the spoons onto the bottle using epoxy glue, layering the spoons over each other. To finish, glue spoons horizontally around the top opening and then let dry. Thread a lightbulb through the top and hang.
10. Cupcake liner lampshade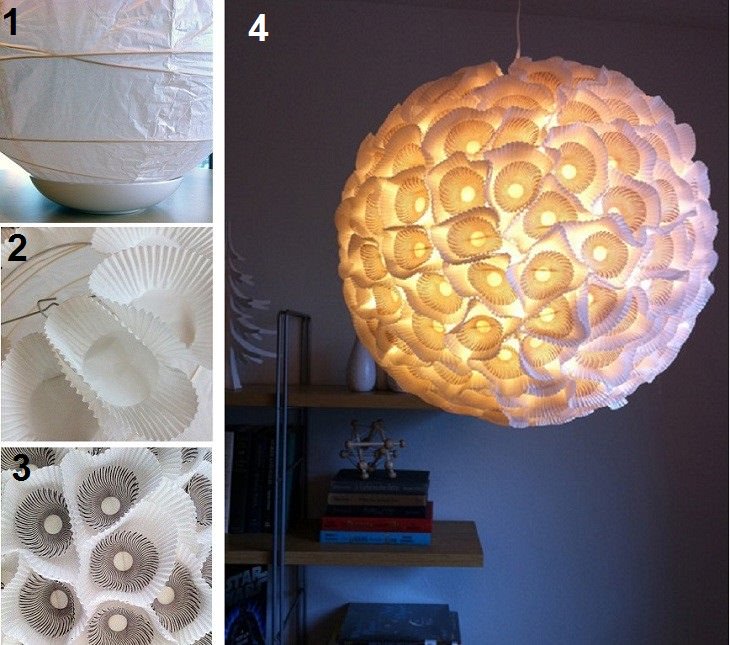 The next lampshade is perfect for bakers who want to add a touch of their passion to their homes. To make this wonderful light fixture, take a paper lampshade (available in craft stores) and place it inside a small bowl to keep it steady, next, take cupcake liners and glue them bottom side down onto the ball gluing them as close together as possible. Glue smaller cupcake liners inside the bigger ones in a different color or material. Allow to dry for at least 4 hours and hang where you want.
11. Stocking lampshade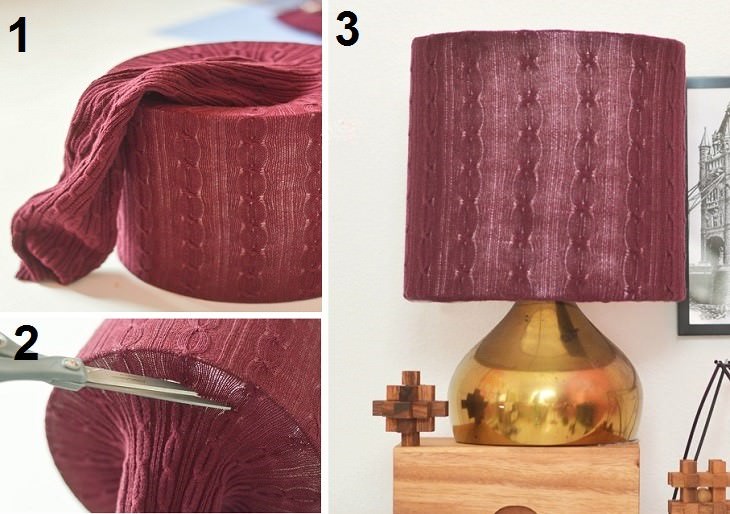 Anyone who has ever bought stockings knows how easily they tear or how easily they are simply forgotten in the back of the closet. To make use of these forgotten pieces of clothing simply dress them over lampshades around the house and cut them according to size. You will reuse a forgotten item and your home will become brighter and more colorful in a special way.