Have you ever wondered what it would be like to live to 100? Czech photographer Jan Langer decided to explore this by means of his amazing photo project entitled "Faces of Century", which juxtaposes portraits of centenarians with portraits of their much younger selves.
When he was photographing them, Jan asked his subjects about how they perceived life in light of all the years they had lived through, and most of them said that time passes faster with each passing year. They also spoke of friends that disappeared. Nevertheless, he could find similarities in the younger and older portraits of each individual. Take a look at how the passage of time inevitably changes us all:
1. Vlasta Čížková - 23 years old and 101 years old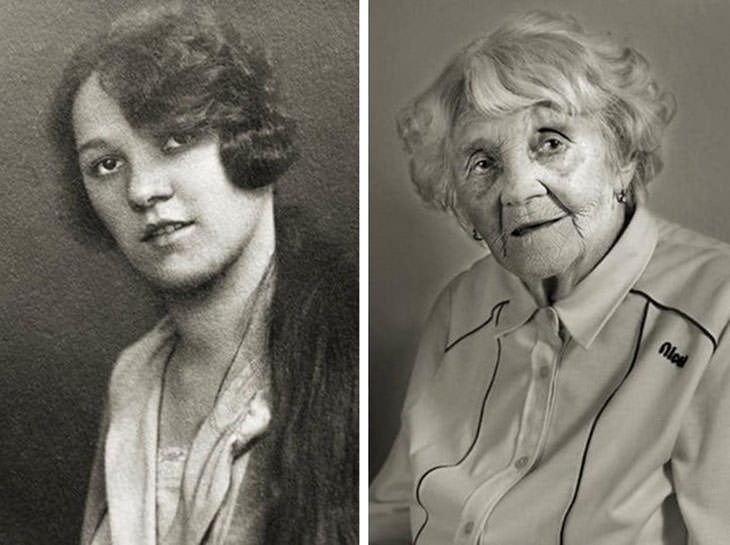 Vlasta had just graduated high school in her younger portrait. She later worked as a cook at an airport. She now lives in a village with all of her relatives residing next door to her. Distant relatives visit her occasionally, but she says that the people closest to her visit her regularly. During her life, she sheltered Russian soldiers following the end of the Second World War, and also read her own poems to newlyweds at wedding ceremonies. Her biggest wish is to see her family together.
2. Marie Burešová - 23 years old and 101 years old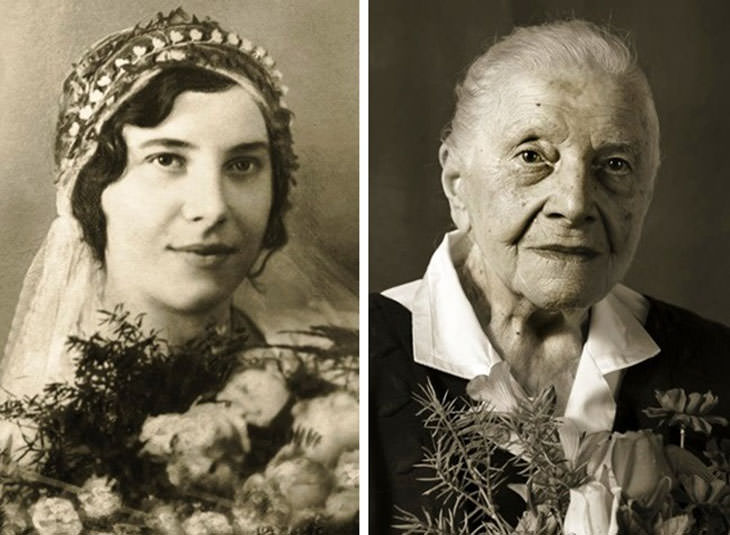 Marie once worked as a butcher, but now lives in the city of Zlin in the Czech Republic. She sees her daughter, son-in-law, and granddaughter every day, and says that conversing with them is her favorite thing to do. Her most vivid memory is the nationalization of her own company. She added that she would like it if her family gathered together more often.
3. Prokop Vejdělek - 22 years old and 101 years old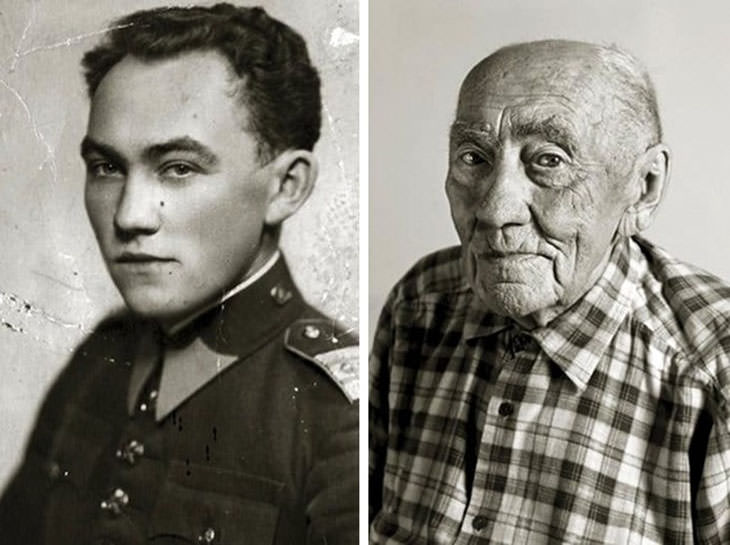 Prokop's first portrait was taken when he took his military oath. He worked as an engineer and metallurgist, and now lives on a farm that was built for him by his daughter. His nearest and dearest all live nearby. One of Prokop's hobbies is cutting with a circular saw, and says that his favorite memory from his youth is drinking warm goat's milk.
4. Anna Pochobradská – Approx. 30 years old and 100 years old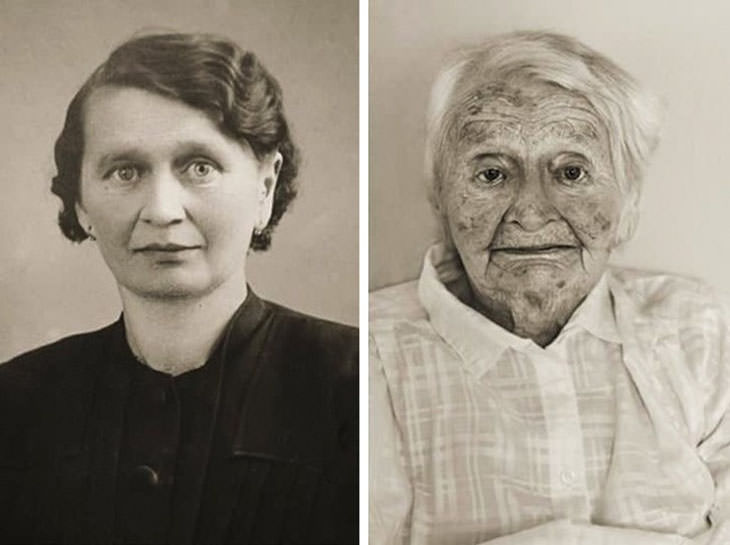 During her youth, Anna worked on a farm, but she now lives in a retirement home. Her most vivid memories are from the time she was young and could take care of herself. Although her daughter visits her every weekend, she says she still feels lonely. She likes to sleep, and says that she'd like to fall asleep one day and not wake up.
5. Antonín Baldrman - 17 years old and 101 years old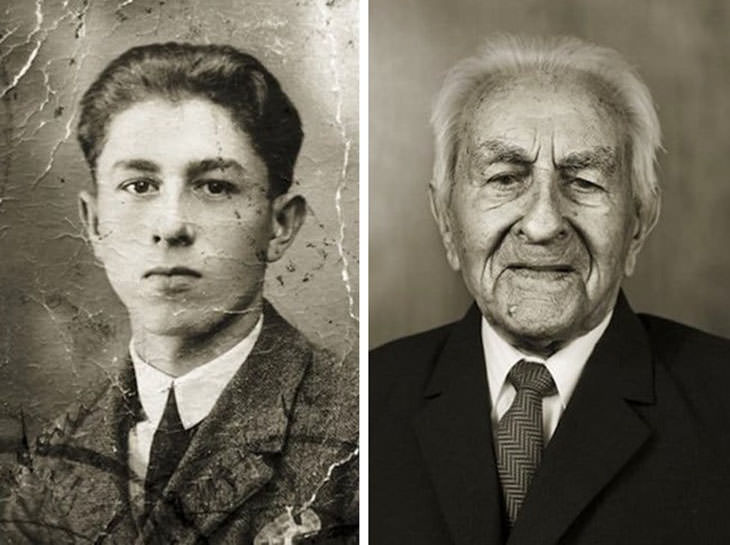 By the age of 17, Antonin was already an experienced mechanical fitter. He went on to become a clerk, and now lives in a retirement home. He likes to read newspapers and receives visits from his daughter twice a week. He says that his most significant memory is of a good team of people that he used to work with, and wishes everyone a peaceful life.
6. Anna Vašinová - 22 years old and 102 years old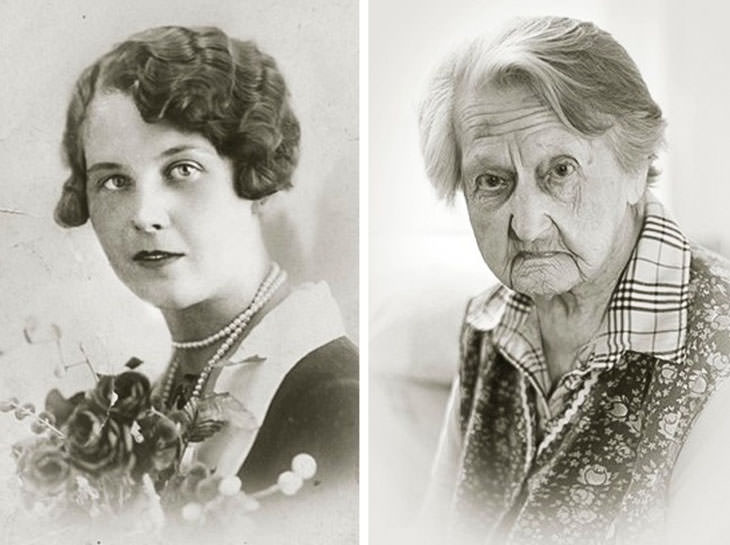 In her first picture, Anna is pictured right after her wedding. She once worked on a farm, but now lives in a retirement home. Her favorite thing to do is read romance novels, and her most special memory is of singing Russian folk songs in a children's choir. She says that she dreams of reuniting with her husband, who she lost in the Second World War, in death.
7. Antonín Kovář - 25 years old and 102 years old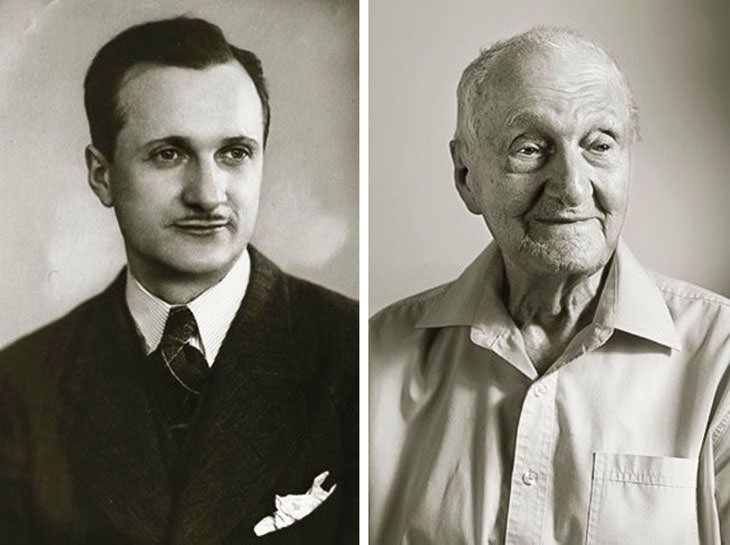 Creative Antonin was the head of a musical group, a film projector operator, and a driver. He now lives in the Czech city of Usti nad Labem. He still enjoys listening to music, reading newspapers and communicating with his daughter, who he sees every day. He treasures the moments in which he played with his band, as well as days he spent with his wife.
8. Marie Fejfarová - 101 years old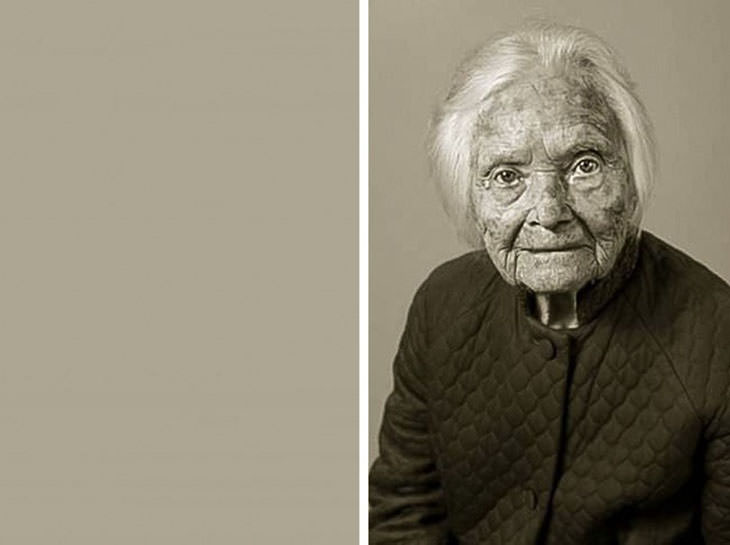 Marie used to work as a sports instructor, and was married to a famous cardiologist. She lived a luxurious life in a villa in Prague's residential quarter. She lived there until she was 101, then decided to leave. She burned all material memories of her life and knocked on the doors of a retirement home with nothing but a robe and a toothbrush.
Her favorite memories are of traveling around the world with her husband. Her amazing life led her to conclude: "If you give something, you shouldn't expect anything in return. And if you get something, don't think it will remain with you until death."