Thanksgiving means planning to wow your family and guests with some delicious food. Sure, the sweet regulars could make another appearance: pumpkin pie, pecan pie, and some type of spice cake. But why not try to shake things up this year?
Go bold, but go small with these tiny masterpieces. Pile a plate high with the following treats and we guarantee you'll have extremely satisfied family members and friends.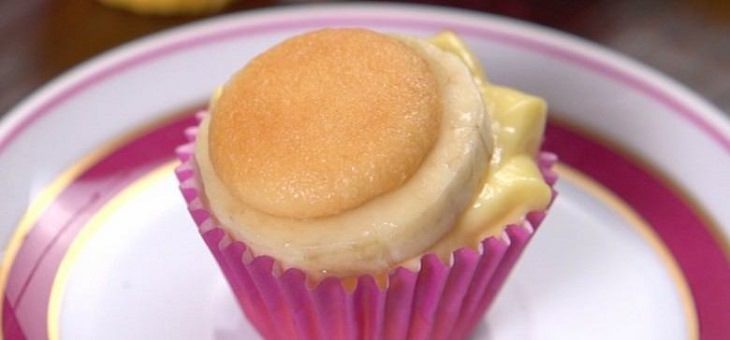 Ingredients
• 8 ounces cream cheese, softened
• 3 tablespoons granulated sugar
• ½ cup and 1 tablespoon milk
• 4-ounce box instant vanilla pudding
• 4-5 ripe bananas
• 2 tablespoons orange juice
• 72 mini Nilla Wafers
Directions
1. Place 36 mini muffin liners in each cup of 2-3 muffin pans. Place one miniature Nilla Wafer in the bottom of each liner.
2. Beat the cream cheese and the sugar together using an electric mixer. Scrape the sides and bottom of the bowl, then slowly add the milk and beat until smooth.
3. Beat in the instant pudding mix very slowly. Scrape the sides again and beat for 2-3 minutes until smooth. Spoon the pudding mixture into a large piping bag with a wide tip.
4. Pipe a dollop of pudding into the bottom of each muffin liner.
5. Peel and cut the bananas into thin round slices. Place one slice in each muffin cup. Press down into the pudding. Pipe more pudding mixture over the top and tap pans to allow filling to settle.
6. Toss the remaining banana slices in orange juice and drain immediately. Place these drained banana slices and a miniature Nilla Wafer on top of each pie.
7. Place in the fridge for 2 hours before serving.
Mini Tres Leches Taco Boats (Makes 12)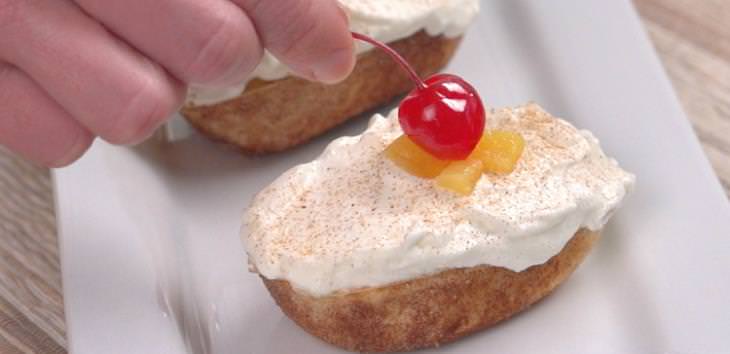 • 1½ 1oz packages of Old El Paso Mini Taco Boats
• 3 tablespoons unsalted butter, melted
• 4 tablespoons granulated white sugar, divided
• 1 teaspoon cinnamon
• 1 box yellow cake mix
• 1/3 cup sweetened condensed milk
• 1 cup heavy cream – divided
• 1/3 cup whole milk
• 12 cherries
• ¼ cup pineapple tidbits – chopped
Directions
1. Preheat the oven to 350F. In a small bowl, combine the cinnamon and two tablespoons of sugar. Brush the bottoms of each mini taco boat with butter and sprinkle with the cinnamon mixture. Place the boats in a 9"x13" baking dish in 3 rows of 4 taco boats each.
2. Prepare the cake mixture as per instructions and pour approximately ¼ cup batter into each taco boat. Place in the oven and bake for 20 minutes, or until a toothpick inserted in the center comes out clean.
3. Remove from baking dish and cool on a cooling rack placed over a sheet pan. While they're cooling, combine the sweetened condensed milk, 1/3 cup heavy cream, and the whole milk. Stir until well mixed.
4. With a fork, prick the tops of the muffins all over and evenly spoon the milk mixture over the tops of each.
5. In a mixing bowl, combine the remaining heavy cream and 2 tablespoons of sugar. Mix on a high speed until stiff peaks form. Frost the muffins with the whipped cream, and garnish with a sprinkle of cinnamon, the chopped pineapple, and a cherry.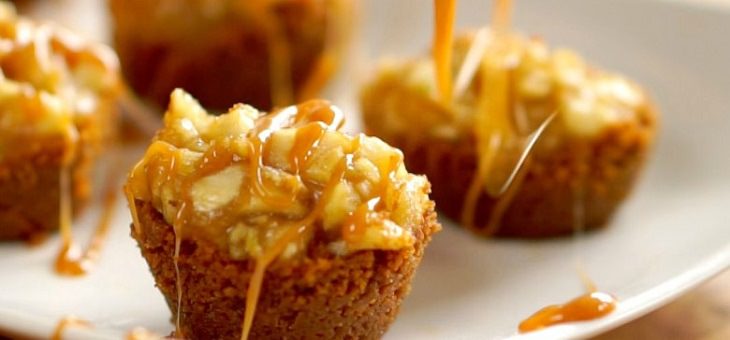 Ingredients
• 2 cups gingersnap cookie crumbs
• 8 tablespoons butter, melted
• 4 cups apple, peeled and chopped
• 1/3 cup sugar
• ¼ cup brown sugar
• 2 1/4 tablespoons flour
• ½ teaspoon cinnamon
• ¼ teaspoon nutmeg
• Melted caramel
1. Preheat the oven to 350F.
2. Grind up the gingersnaps in a food processor.
3. Grease 24 mini-muffin tins.
4. Mix the salted butter and gingersnaps together in a bowl.
5. Once mixed well, press into the muffin tins.
6. Bake for 5 minutes, then allow to cool.
7. Finely chop the apples in the food processor. Combine with ¼ cup brown sugar, 1/3 cup sugar, ½ teaspoon cinnamon, 2 ¼ tablespoons flour.
8. Cook down over a medium heat.
9. Scoop small spoonfuls into each muffin tin, top with any leftover cookie crumble, and bake for 10 minutes.
10. Drizzle with caramel.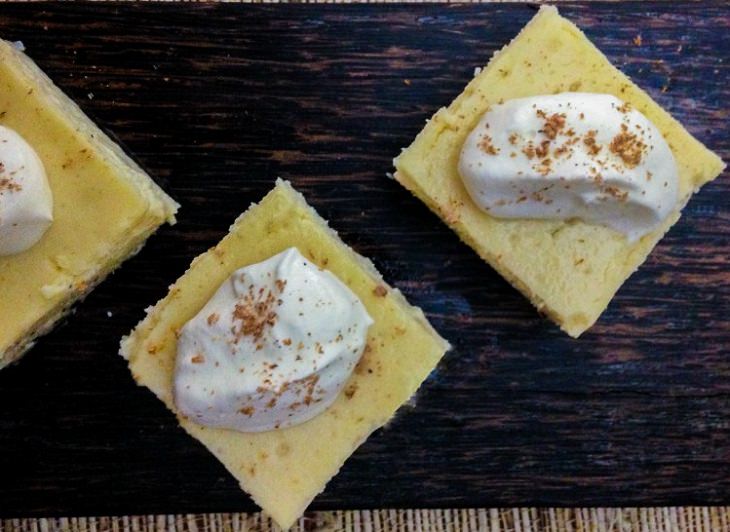 Ingredients
• 24 Oreo cookie pieces, cookie part only
• 3 tablespoons butter, melted
• 1 cup sugar
• 2 tablespoons flour
• 2 eggs
• 1 teaspoon fresh ground nutmeg
• ¾ cup eggnog
• 1 tablespoon rum
• 3 (8 oz.) packages cream cheese, softened at room temperature
• Whipped cream for garnish (optional)
Directions
1. Preheat the oven to 325F. Grind up the cookie pieces in a food processor. Combine with the melted butter and press into the bottom of a 7"x11" baking dish. Bake for 10 minutes and set aside.
2. While the crust is cooling, preheat the oven to 425F. Blend the remaining ingredients in a food processor until it's completely smooth. Once the crust has cooled, pour the batter on top of the crust and bake for 10 minutes.
3. Decrease the temperature to 250F and bake for 30 minutes. The inside should be slightly jiggly and the outer rims should have puffed up. Remove from the oven and allow to cool completely before cutting and serving. You can top these with dollops of whipped cream if desired.
Source:
tiphero