1968-1971: Founding
AMG was founded in 1967 for the sole purpose of forging racing engines. It was actually founded in Burgstall an der Murr near Stuttgart, Germany, as an independent company by two former Mercedes-Benz engineers named Hans Werner Aufrecht and Erhard Melcher.
For the succeeding 20 years, the company didn't really have much to do with road cars, but an indication of what was to come became clearly apparent in 1971, when Aufrecht and Meyer built the 300SEL 6.8 AMG and entered it into that year's 24 Hours of Spa race.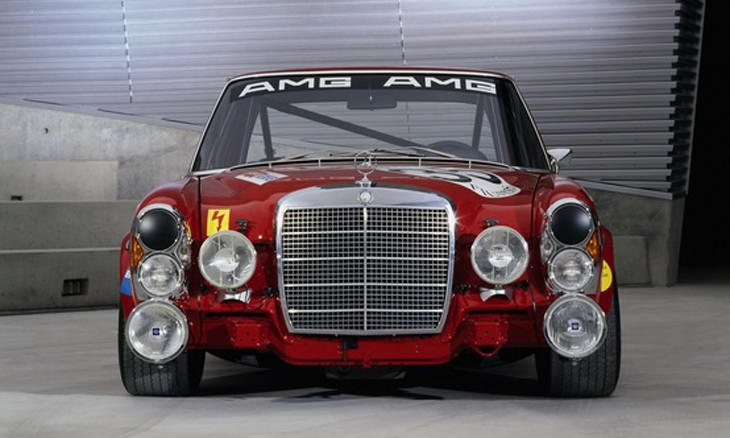 Above: 1971 Mercedes-Benz 300 SEL 6.8 AMG "Red Pig"
Despite the cars racing at the time being light and nimble little coupes, such as Ford Capris and BMW 3.0 CSLs, AMG went in a completely different direction by enlarging an already very large engine and race-preparing what was essentially an enormous road-going luxury saloon car.
It certainly got people talking – the Red Pig, as it was affectionately known, shocked everyone by finishing the race second in its class in spite of its enormous weight, and resulting enormous appetite for fuel and tires. Some five Red Pigs were built, but what happened to them after their racing days were over is unclear – some of them were sold on to a French aircraft manufacturer during the 1970s in order to test landing gear.
1971-1987: The interim years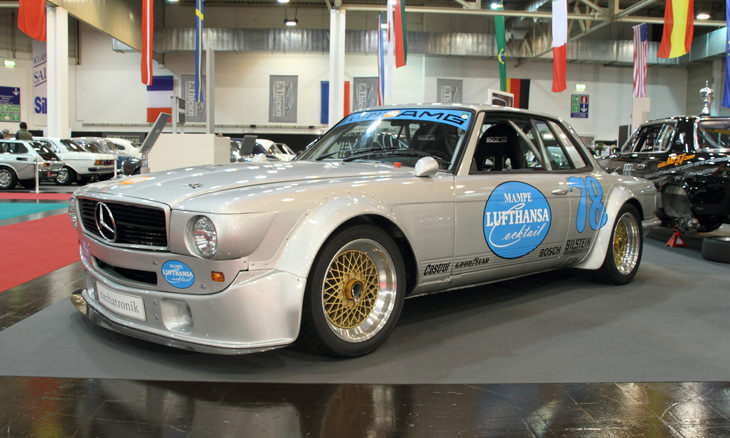 Above: 1978 Mercedes-Benz 450 SLC AMG "Mampe"
AMG has always been involved in motorsport, and that's true even in the present day. Nevertheless, following the Red Pig's solitary success at Spa in 1971, the next decade was a quiet one for AMG. In fact, its next success would come in 1980, when a Mercedes-Benz 450 SLC AMG took victory at the Touring Car Grand Prix held at the Nurburgring. The Mampe, as it was nicknamed, featured a 375 horsepower, 4.5-liter V8, and was truly a sight to behold during the three years it competed.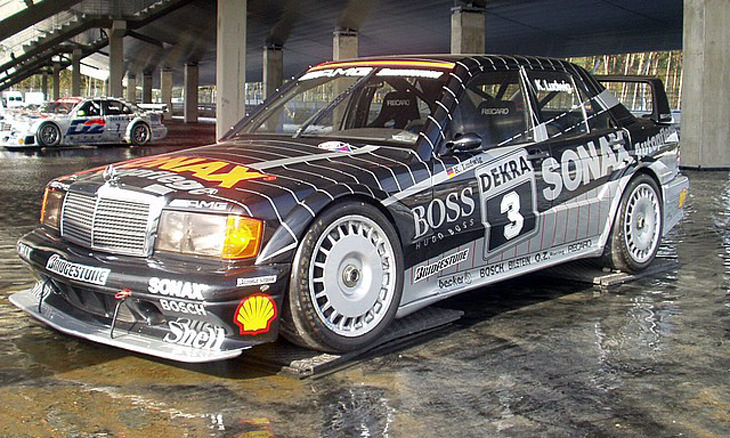 Above: 1992 AMG-Mercedes 190E Evolution II
In subsequent years, AMG spotted an opportunity to turn its attention to a smaller Mercedes-Benz model, the 190E. An AMG-tuned 190E 2.3-16 went on to finish runner-up in the 1986 German touring car championship, the DTM, with Helmut Marko (who's now the head of the Red Bull Racing Formula 1 team's driver development program) at the wheel.
1988: The relationship becomes official
Following AMG's success in the DTM with race-prepared 190Es, Mercedes-Benz reached out to the company to form its first official cooperation in 1988. With full works backing, a Mercedes-backed AMG 190E racing car went on to win that year's DTM championship. The partners continued to excel in the championship with evolutions of the 190E, then the C-class, until it came to it demise in 1996.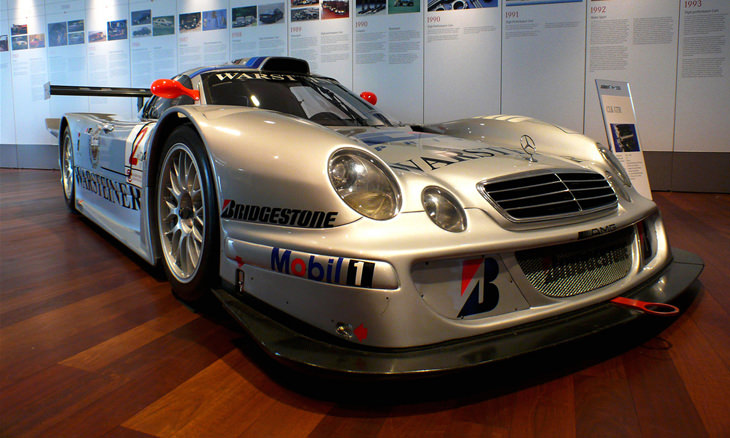 Above: 1997 Mercedes-Benz CLK GTR
Seeing as DTM had stopped prior to a new championship forming, Mercedes-Benz and AMG turned their attention to sports and endurance racing, creating the CLK GTR. It competed successfully on the endurance racing circuit in 1997 before being upgraded and renamed the CLK LM ahead of the 1998 season. The latter car raced with great success, taking Klaus Ludwig and Ricardo Zonta to a shared FIA GT drivers' championship.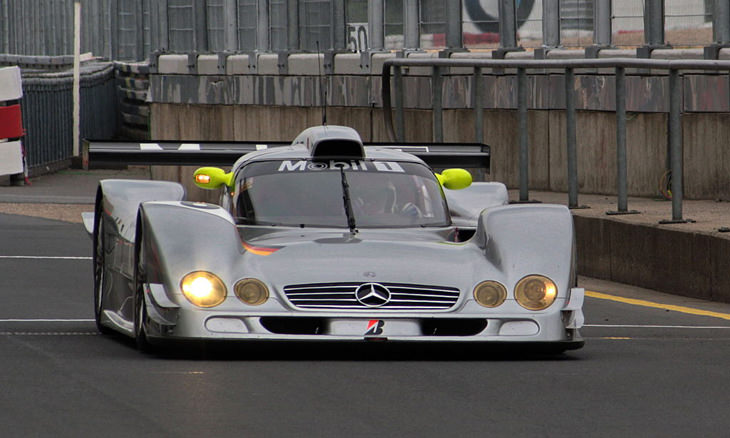 Above: 1999 Mercedes-Benz CLR
The next evolution of the CLK GTR and LM, the CLR, was not as successful. It was entered for the 1999 24 Hours of Le Mans race, but an aerodynamic instability issue meant that one of the CLRs competing actually became airborne on the circuit's Mulsanne Straight, terrifyingly flying off into the trees at the side of the circuit with Scot Peter Dumbreck at the wheel. Mercedes-Benz immediately shut its garages and left the circuit following that incident.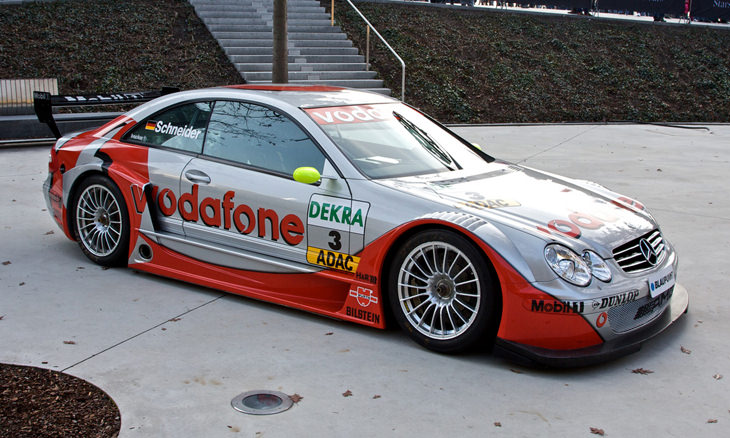 Above: 2003 AMG-Mercedes CLK-DTM
DTM was relaunched in 2000, and AMG-backed Mercedes-Benz entries have taken nine constructors' titles in the championship in 16 years, making them the most successful constructors in the time since the relaunch.
2010-present: Formula 1
Since 2011, Mercedes and AMG have been competing in Formula 1 together as Mercedes AMG Petronas. The team currently has the best car and engine package on the grid, and has dominated the sport since the regulations switched to 1.6-liter turbocharged V6 hybrid powertrains back in 2014.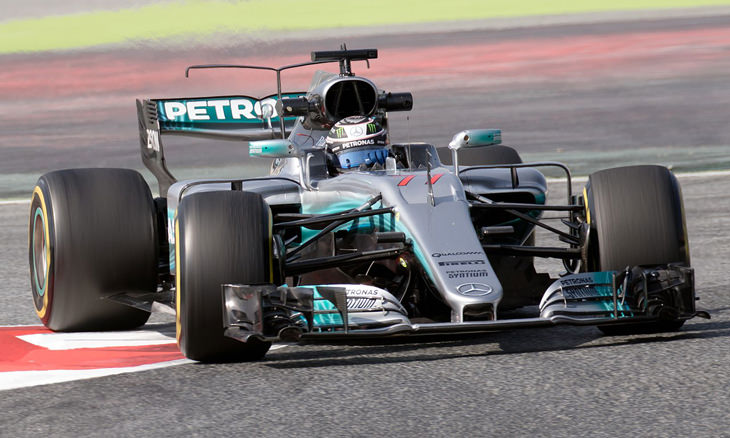 Above: 2017 Mercedes AMG Petronas W08
In the time since, the team has taken three constructors' championships and three drivers' championships (two for Lewis Hamilton and one for Nico Rosberg). Lewis Hamilton looks set to win his fourth driver's championship, and third with Mercedes AMG Petronas, at the end of the current season.
The road cars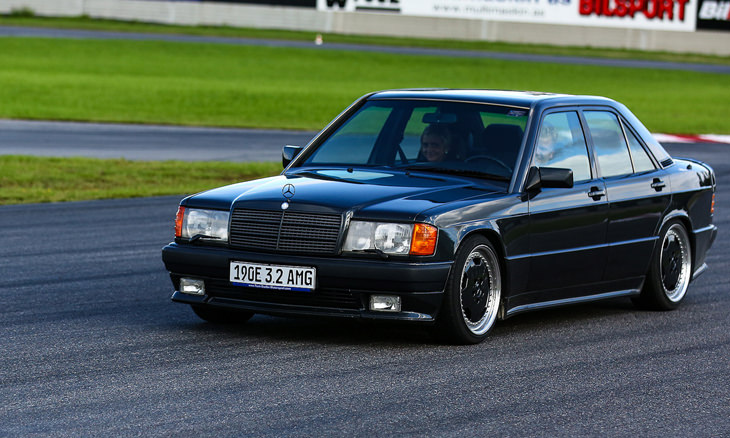 Above: 1990 Mercedes-Benz 190E 3.2 AMG
Due to its success in DTM in the late 1980s, AMG squeezed a 3.2-liter engine into a Mercedes-Benz 190E road car, which packed a potent punch in its heyday, yet became renowned for its subtle appearance and refinement. This car marked the first time that an AMG model was sold directly through main Mercedes-Benz dealerships. It later evolved with a larger 3.4-liter engine.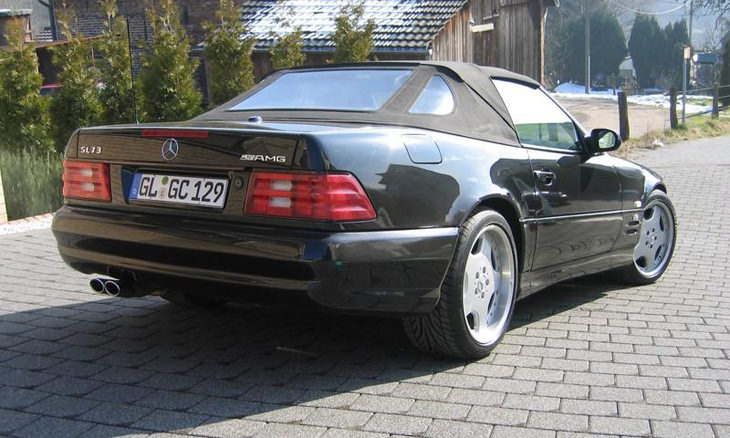 Above: 1999 Mercedes-Benz SL73 AMG
The E-class Mercedes-Benz would later be offered with 3.6-liter and 6.0-liter AMG engines as an option, but these cars number just a few hundred examples worldwide. Other incredibly rare beasts from the mid-1990s and early 2000s to wear AMG badges at the rear were the S70 AMG, which was a version of the S-class with a 7.0-liter V12 engine (only 18 were supposedly ever built), as well as the SL60, SL70 and SL73 AMGs. The latter three cars were AMG versions of the full-sized Mercedes-Benz SL-class convertible.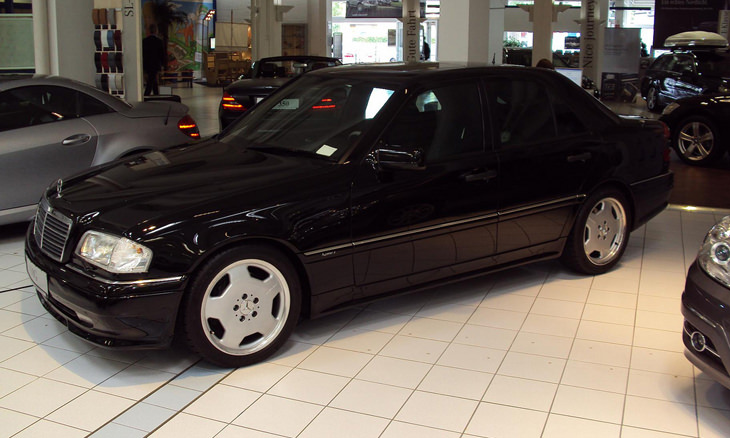 Above: 1996 Mercedes-Benz C36 AMG
The C36 AMG, which debuted in 1995, was the first AMG-badged Mercedes-Benz road car to sell in any sort of quantity since the original 190E AMG. The 3.6-liter, inline 6-cylinder powered car was made between 1995 and 1997 before being replaced by the C43 AMG, which had a larger 4.3-liter engine.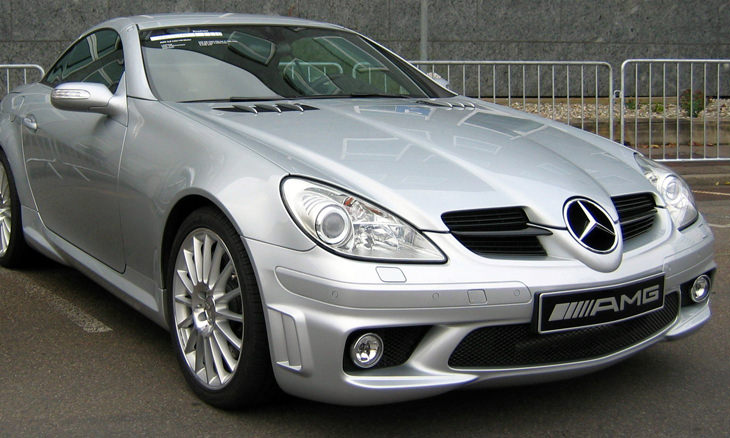 Above: 2005 Mercedes-Benz SLK55 AMG
Although there were numerous (yet very limited) AMG-engined models available during the 1990s, there has been a whole range of AMG cars available from Mercedes-Benz since 2000 - from the little SLK32 AMG roadster of 2001 to 2004 to the G-class 4x4 off-roader and even the SLS AMG grand tourer. You can now pick up a brand-new Mercedes-Benz estate car with an AMG engine in it!
Black Series cars
AMG's Black Series cars take its philosophy even further. The Black Series treatment is only available on two-door vehicles, which includes weight reduction, bucket seats, exterior alterations, interior alterations, higher power, greater traction, handling, and significantly greater overall performance. Black Series models are known as street legal race cars.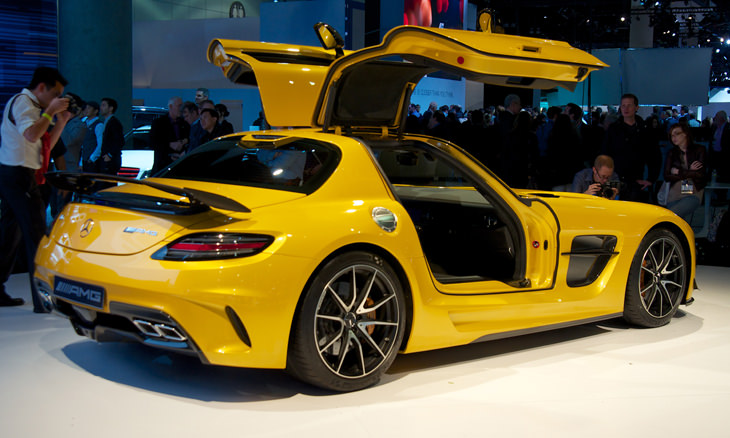 Above: 2013 Mercedes-Benz SLS AMG Coupe Black Series
The AMG Performance Studio in Affalterbach, Germany, is responsible for creating the very limited-production Black Series models. Until now, there have been five Black Series models, namely the SLK55 AMG Black Series, CLK63 AMG Black Series, SL65 AMG Black Series, C63 AMG Black Series and SLS AMG Black Series.
Current flagship road cars
The Mercedes-AMG GT is a fastback coupe and roadster that has been in production since 2014, replacing the outgoing SLS AMG. It can also be purchased in a more powerful GTS guise, however the engine is still a twin-turbocharged 4.4-liter V8.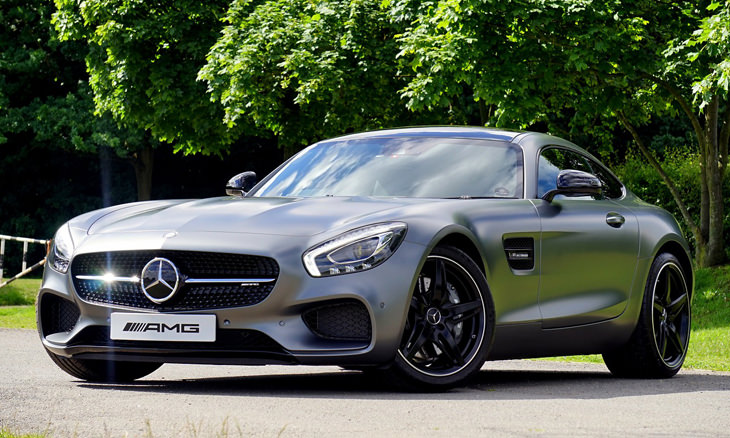 Above: 2014 Mercedes-AMG GT
In 2019, Mercedes-AMG will launch its road-going Formula 1 car in the form of its Project ONE. The car incorporates the same engine and drivetrain as the racing team's championship-winning 2016 Formula 1 car. It will go into production in very limited numbers in 2019.
As is indicative from all of the above, it has been a wonderfully fruitful 50 years for AMG, and the name is now an integral part of Mercedes-Benz. Here's to another 50 fruitful years!