1. Apple Pie Roll-ups
No list of apple recipes is complete without the apple pie. But, how can this classic recipe be improved? What if you could take the apple pie to go? These apple pie roll-ups are easy to make and can be enjoyed anywhere:
Ingredients:
• Sandwich bread
• Apple pie filling
• Melted butter
• Cinnamon
• Sugar
Instructions:
1. Remove the crust of the sandwich bread and flatten it with a rolling pin.
2. Melt half a stick of butter and mix the sugar and cinnamon together.
3. On the center of the sandwich bread place some apple pie filling and line it across the bread.
4. Roll up the bread with the apple pie filling and roll the bread through the melted butter, then add the cinnamon sugar mix.
5. Put the roll-ups on baking tray and preheat the oven to 350F (177C).
6. Bake for 15 minutes or until golden brown and crispy.
7. Enjoy warm.
2. Apple Pie Egg Rolls
For a more special version of the apple pie, try this egg roll version. It's pretty easy to make too, just put some apple filling in egg wrappers and fry them up for a sweet snack.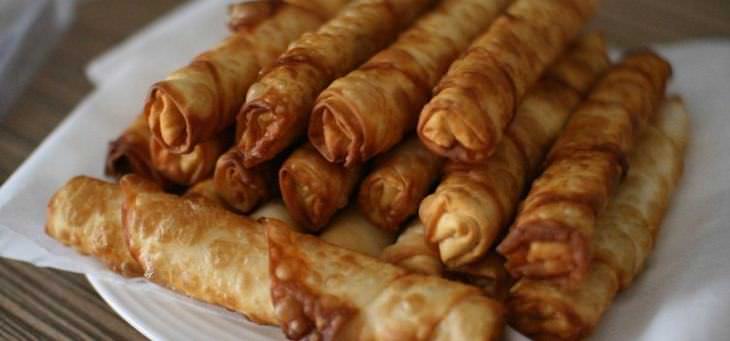 Ingredients:
• 3 cups sliced and diced apples (about 3 apples)
• 4 tablespoons sugar
• 4 teaspoons flour
• 3/4 teaspoon cinnamon
• 1 teaspoon lemon juice
• 12 egg roll wrappers
• Oil for frying
Instructions:
1. Combine the apples, sugar, flour, cinnamon and lemon juice in a bowl, mix well.
2. Add two large tablespoons of filling in the center of each egg roll wrapper and fold in the sides, rolling tightly. Dab a bit of water to secure the tip.
3. Preheat the oil to 350F (177C). Fry each egg roll for about 4 to 5 minutes until brown and crispy, then sprinkle with powdered sugar and serve warm.
3. Cinnamon Apple Rings
If you get your apples from a self-pick orchard – after all, what fall activity is more fun than that?! – you've probably been tempted by the cinnamon doughnuts that always seem to be baking next to the trees. Make your own version at home – and maybe enjoy them with some ice cream! – with this recipe for Cinnamon Apple Rings. We dare you to try to eat just one.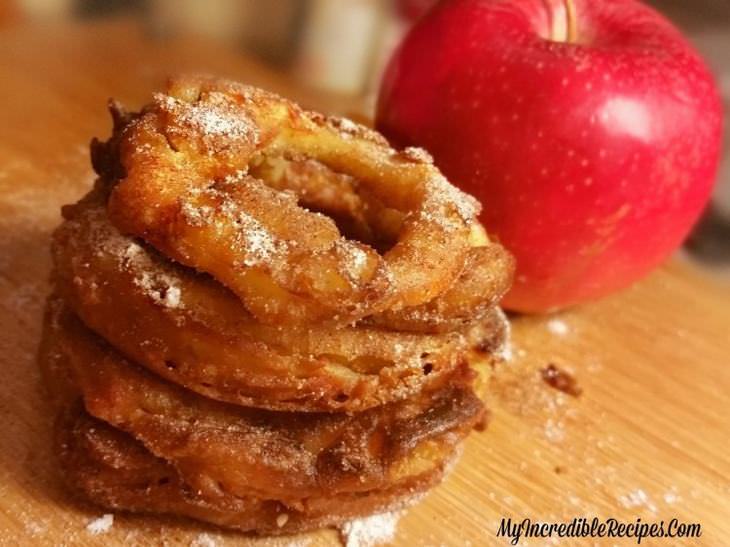 Ingredients:
• 1 cup of flour
• 4 large apples
• 2 tbsp sugar + 3/4 cup sugar
• 1/4 tsp baking powder
• 1/8 tsp cinnamon + 2 tsp cinnamon
• 1/4 tsp salt
• 1 large egg (beaten)
• 1 cup buttermilk
• Veggie oil
Instructions:
1. In a large bowl, combine the baking powder, flour, salt, sugar and 1.8 tsp of cinnamon, then set the mixture aside.
2. In a separate, smaller bowl, combine the beaten egg and buttermilk, set aside.
3. In another bowl combine 3/4 cup of sugar with 2 tsp cinnamon, to make the cinnamon sugar topping. Set aside.
4. Meanwhile, heat some oil in a frying pan on medium heat until the oil temperature reaches 350F (177C).
5. As the oil heats up, combine the contents of the first and the second bowls to create the batter.
6. Dip the apple rings in the batter first, piece by piece, scrapping off any excess batter by tapping the rings against the bowl. Then fry the apples in small batches until they get brown on both sides.
7. Transfer the crispy, gold apples onto a plate covered with a paper towel and let it cool for about 30 seconds.
8. Transfer the rings individually into the cinnamon sugar mixture, coating evenly, then let cool. Serve while they are still warm.
4. Creepy Candied Apples
For a fun Halloween treat, try this creepy candied version. They're pretty simple to make. The list of ingredients you need are listed below the video. Just follow instructions in the video itself.
What you'll need:
• 4 Granny Smith apples
• 2 cups sugar
• 1/2 cup glucose syrup (or corn syrup)
• 3/4 cup water
• Food coloring, red and black
• Caramel flavoring (optional)
• Twigs, cleaned and de-barked​
5. Bloody Candy Apples
If you've got a sweet tooth, this candied apple recipe is just the treat for Halloween. It's coated with white chocolate - but it looks pretty spooky.
Ingredients:
• 8 apples
• 8 ounces white chocolate
• 2 cups sugar
• 1/2 cup water
• 1 tablespoon red food dye
• Lollipop sticks or branches (cleaned)
Instructions:
1. Wash the apples well and slice a little off the bottom so that they may stand well.
2. Place a lollipop stick through the apple.
3. Gently melt the white chocolate in the microwave or over a bain marie, then spoon the white chocolate all over the apple and allow the excess to drip off.
4. Place the apple on a tray lined parchment paper to dry for about an hour. The chocolate needs to be completely set before adding the 'blood' caramel.
5. To make the blood caramel, place the sugar and water in a heavy bottomed saucepan on medium to low heat until it dissolves. Don't allow to simmer until the sugar has dissolved. Then turn to medium heat and allow to simmer for 4 to 5 minutes, until you observe a light caramel color. Turn off the caramel and whisk in the red food dye to reach your desired 'blood' color.
6. Let it stand for a minute to cool a little before spooning it over the apples.
7. Then, spoon the caramel generously, letting it drip down the sides for extra effect. Be sure to work fast as the caramel hardens quickly. If it does, heat it on a low heat until it melts.
8. Then let your apples cool and set, and enjoy.
6. Traditional Candied Apples
For a more traditional version, without the gore, try these delicious apples.
Ingredients:
• 1 1/2 cups sugar
• 1 cup water
• 1 cup light corn syrup
• 1/2 teaspoon ground cinnamon (optional)
• 1/2 teaspoon red food coloring
• 6 large apples
• 6 wooden popsicle sticks
Instructions:
1. In a medium pot over high heat, bring the sugar, corn syrup and water to a boil, stirring frequently. Once it has boiled, stop stirring for a moment.
2. Then boil further stirring 15 to 20 times, until the mixture registers 258F (125C) - this is called the soft crack stage.
3. While the mixture boils, line a baking dish, greased with oil or a silicone mat.
4. Wash and dry the apples. Remove the stems and insert the sticks into the stem end, about halfway into the apple.
5. When the candy reaches the correct temperature, remove from the heat and stir in the food coloring and the cinnamon with a wooden spoon.
6. Next, dip the apples into the candy mixture and coat evenly allowing the excess to drip back into the pot. Then transfer the apples to the prepared baking dish and allow it to harden completely.
7. These apples can be stored in the refrigerator, uncovered, for 2 days.
7. Apple Nachos
If you cannot get enough of nachos, but are looking for a sweeter version, this easy idea is a great alternative.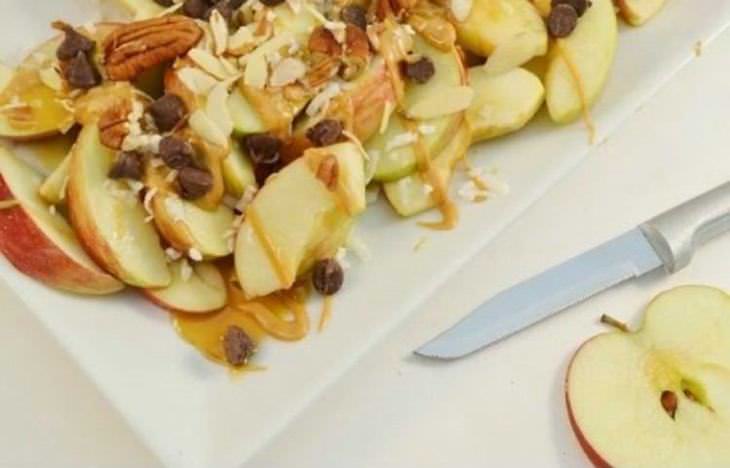 Ingredients:
• 3 crispy apples
• 1 teaspoon lemon juice
• 3 tablespoons creamy peanut butter
• 1/4 cup sliced almonds
• 1/4 cup pecans
• 1/4 cup flaked coconut
• 1/4 cup chocolate chips
• 3 tablespoons caramel ice cream toppings
Instructions:
1. Slice 3 apples into multiple pieces, making sure that the pieces are of a sufficient size or are easy to pick up.
2. Place the slices onto a serving tray. Then dip the brush into 1 teaspoon of lemon juice and brush the apple pieces.
3. Then, microwave 3 tablespoons of creamy peanut butter for 30 seconds. Pour the melted peanut butter across the slices.
4. Sprinkle 1/4 cup flaked coconut, 1/4 cup sliced almonds and a 1/4 cup chocolate chips over the apple slices.
5. Finally, pour 3 tablespoons of caramel ice cream topping over the apple slices.