Love take-out food? Well, thanks to this recipe, you can now make your own from home, so it's time to get out that frying pan, and make yourself some delicious crab Rangoon egg rolls.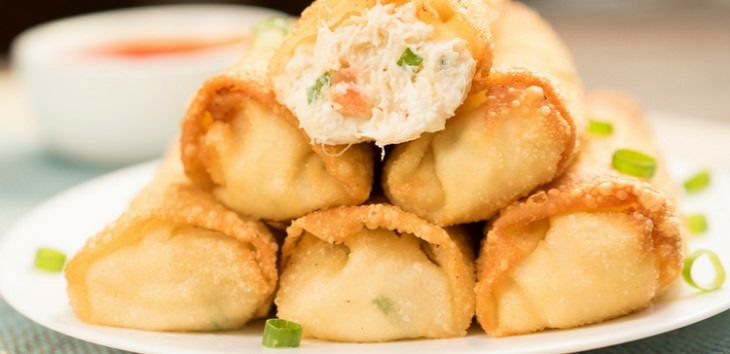 Crab Rangoon Egg Rolls (Makes 12-14)
Ingredients
• 1 pound cooked fresh white crab meat, flaked or diced
• 1 pound cream cheese, softened
• 2 teaspoons minced garlic
• 1/3 cup green onions, chopped
• 1 tablespoon Worcestershire sauce
• 12-14 egg roll wrappers
• 2-3 cups vegetable oil (for frying)
Directions
1. Line a baking sheet with parchment paper and set it aside. Pre-heat the oven to 200F/95C.
2. In a large bowl, mix the cream cheese, minced garlic, green onions, and Worcestershire sauce. Fold in the crab meat until combined, and set aside.
3. Lay an egg roll wrapper on a flat surface with one of the corners pointing towards you. Place around three tablespoons of crab filling, horizontally across the center of each wrapper. Bring the corner of the wrapper that is pointing towards you up and over the filling. Then, gently tuck the wrapper against the filling. Next, fold in the sides of the wrapper towards the center and roll tightly. Use a few drops of water to secure the tip of the wrapper.
4. Place the finished egg roll seam-side down on your lined baking sheet, and set aside. Repeat the process until all of the filling has been used.
5. Heat the vegetable oil in a heavy bottomed saucepan to between 350F/175C and 375F/180C. Once the oil is hot, add the egg rolls, 2-3 at a time, and fry until golden brown on both sides, about 2-3 minutes.
6. Allow the cooked egg rolls to drain on a paper towel, then transfer to the oven so that they stay warm while you're frying the remaining ones.
Source: tiphero