Toilet rolls are often thought of as just dispensable bits of waste cardboard, but if you get creative, there's a whole bunch of different things that they can be turned into. Here are 15 novel ways of turning toilet rolls into something wonderful:
1. DIY gift boxes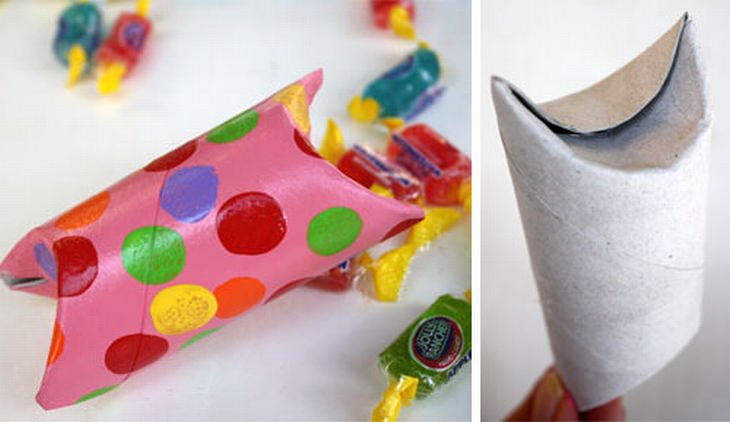 Although toilet paper rolls and gifts don't usually go together, a couple of folds either end, coupled with some decoration, can transform them into pillow boxes that are perfect to house little gifts.
2. Wall art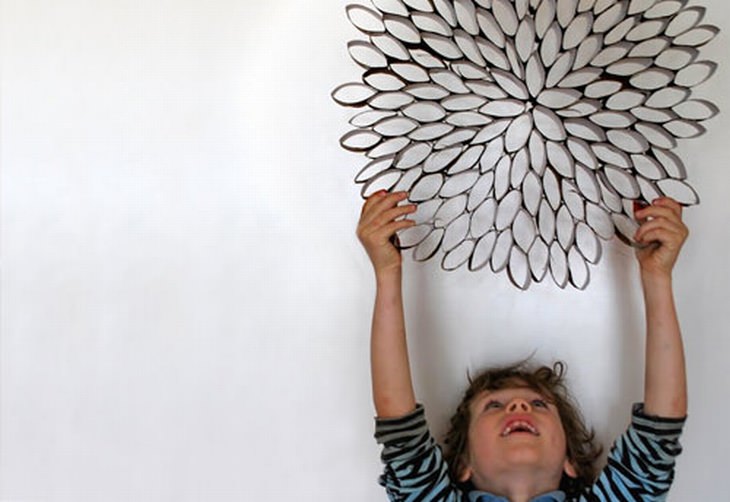 Combine lots of toilet rolls and turn them wonderful pieces of art. Cut up the rolls and glue them together, then hold them in place with clothes pegs until they dry.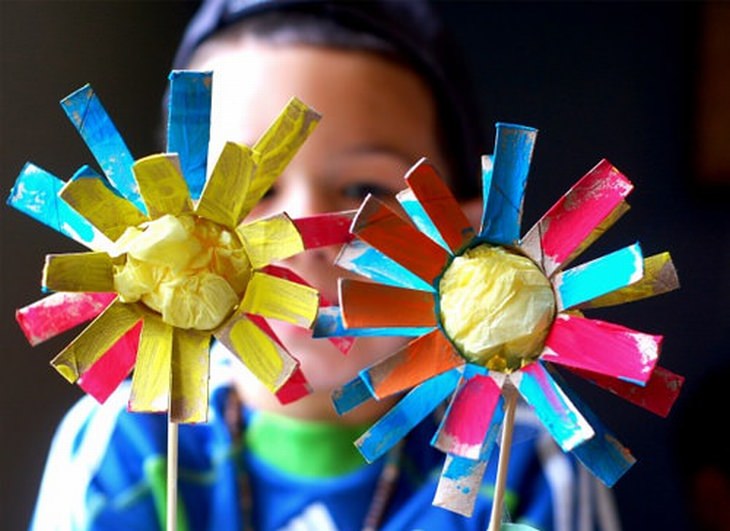 Toilet rolls can also be cut into bright, gorgeous flowers - perfect for when you're stuck inside on a rainy day!
4. Bird feeder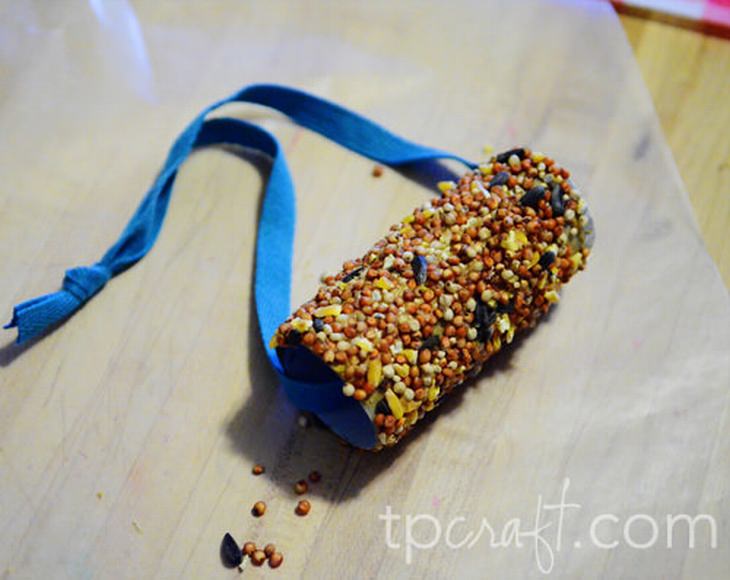 Turn your old toilet paper rolls into bird feeders using some twine and birdseed! Hang them up in your garden so that the local birds can get to them easily.
5. Hanging heart decorations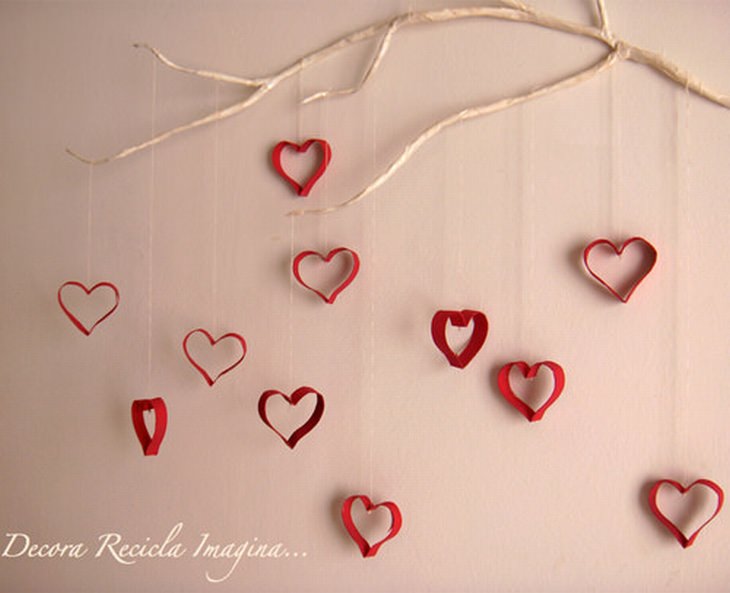 All you need to create this amorous masterpiece is a large branch, a pair of scissors and a little pot of red paint. Hang it up to surprise your loved one on Valentine's Day!
6. Seedling containers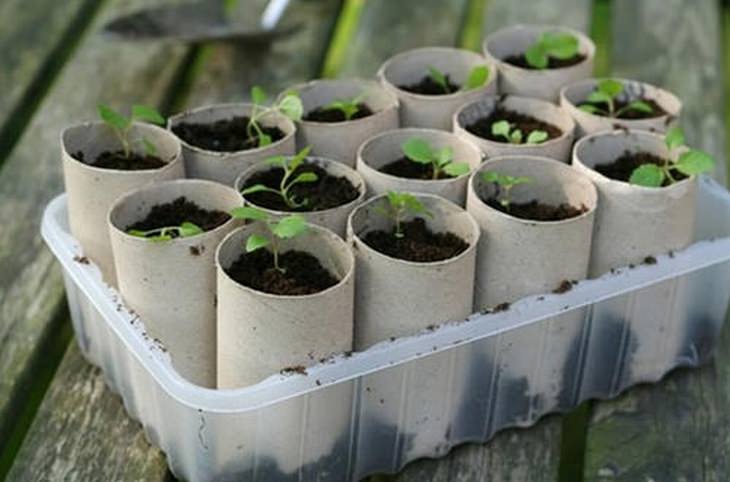 Stand up a series of toilet rolls together in a plastic container as shown above. Place soil in their centers and plant the seedlings. Put the whole contraption in the ground and watch the seedlings grow!
7. Party crowns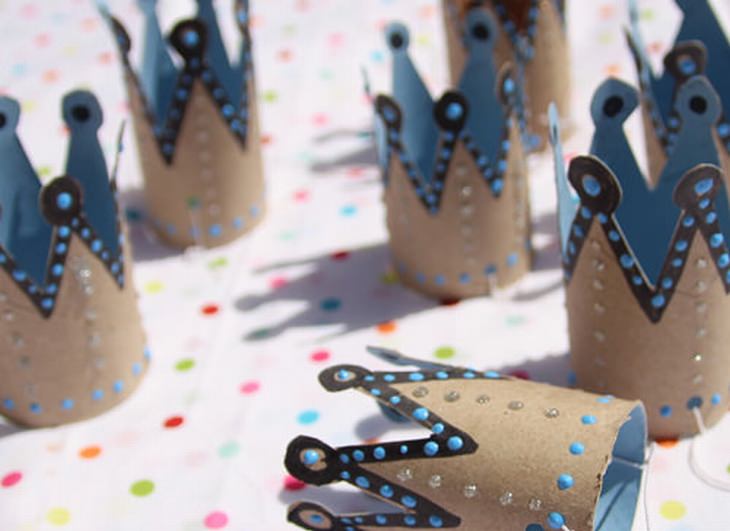 You can even make teeny tiny crowns for teeny tiny little princesses using toilet rolls. All you need to do is cut them, decorate them and attach them together using elastic.
8. Cable storage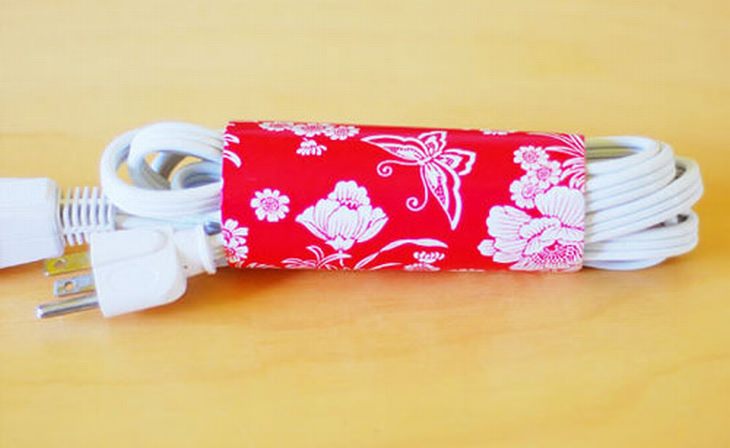 Cable storage has never looked better than this decorated toilet roll.
9. Craft caddy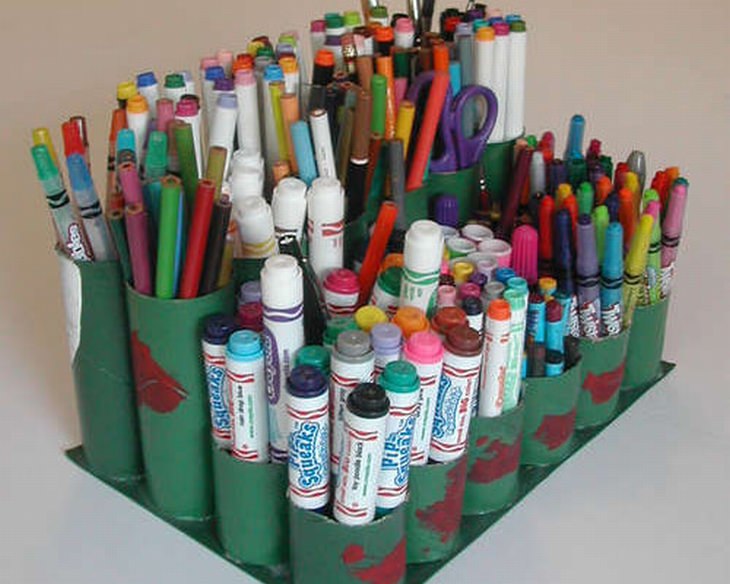 This craft caddy was made using a series of old toilet rolls cut into different heights. They're stuck on a rectangular base and filled with tons of craft supplies.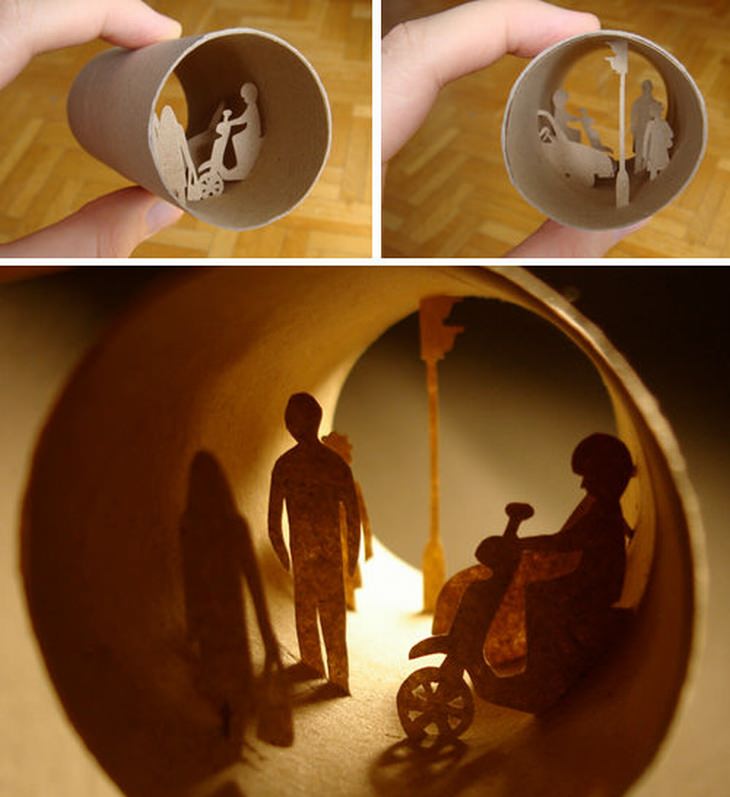 Although these might be a little beyond your craft ability, they're still beautiful to look at. This artists makes paper cut scenes and mounts them inside toilet rolls.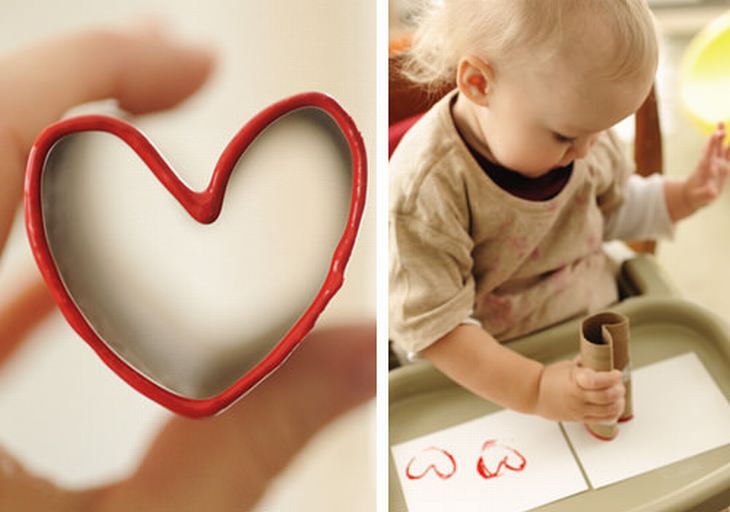 Bend a toilet roll into the shape of a heart, then cover the bottom in a paint color of your choice.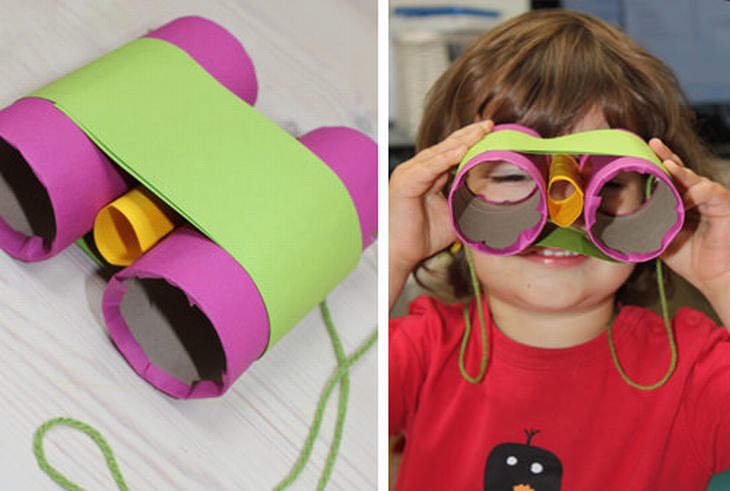 Toilet rolls can be used to make super-simple play binoculars!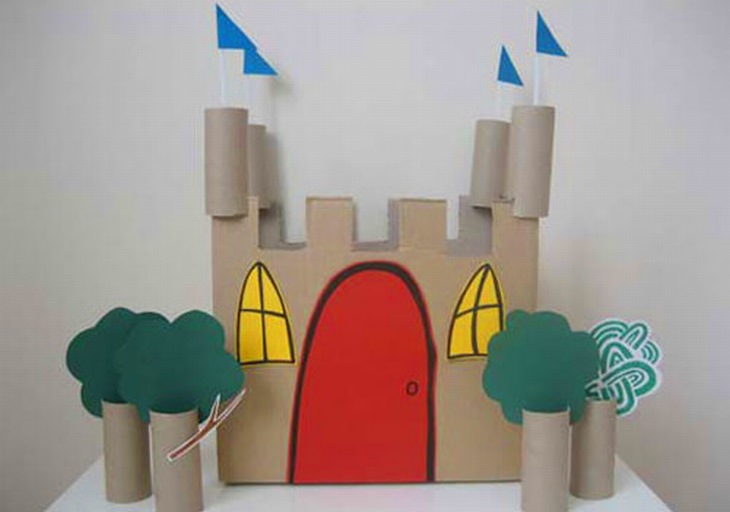 How about using toilet rolls in the creation of a DIY cardboard castle?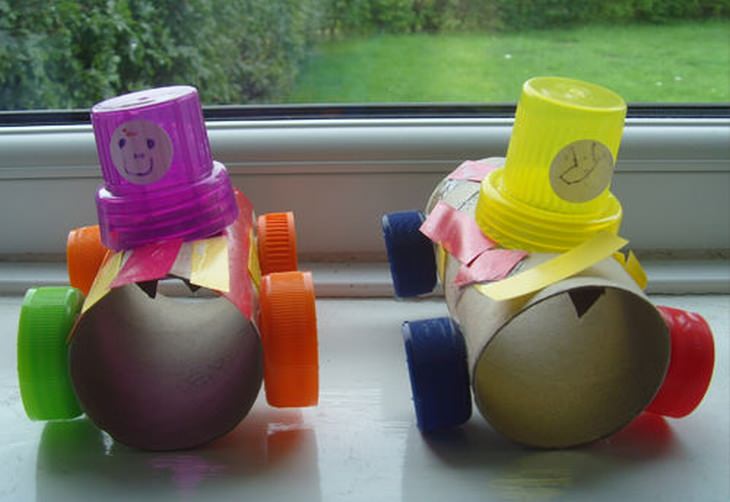 These toilet roll racing cars have colored bottle tops for wheels, as well as paper decorations for an added pop of color.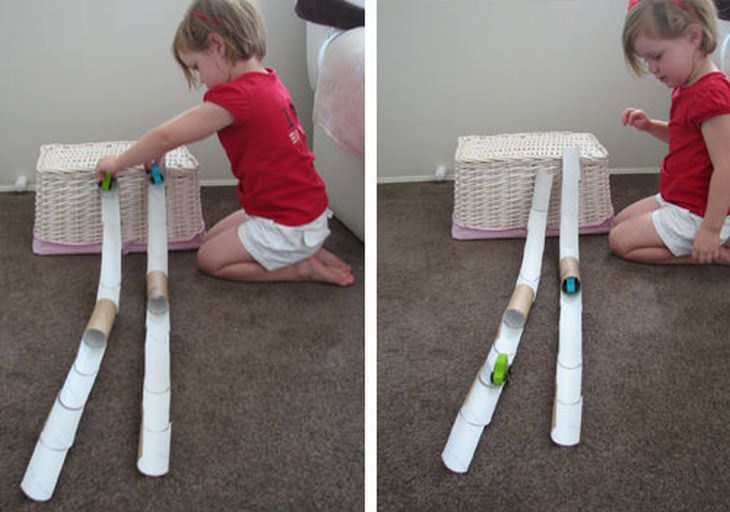 Halving a series of toilet rolls and joining them together can lead to endless hours of amusement with toy cars - turn them into a race track!