When fall starts to set in, you probably turn your attention to pumpkin lattes, sweet-potato soup, and pies. However, you really should consider a light seafood dish such as lemon butter scallops. Not only will your loved ones ask for this dish weekly, scallops are also rich in healthy vitamin B12, magnesium, calcium, zinc, copper, and potassium.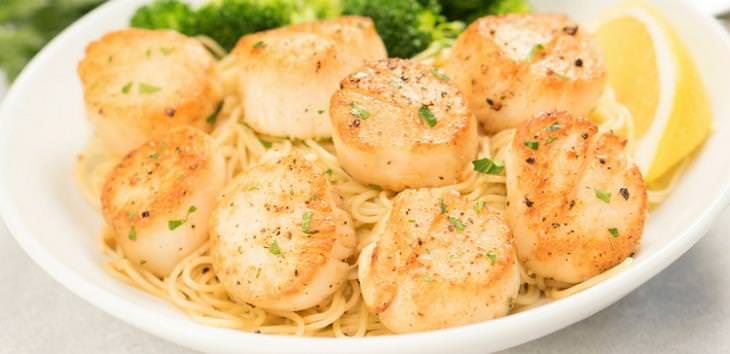 Lemon Butter Scallops (Serves 4-6)
Ingredients
• 1 ½ pounds scallops, side muscle removed
• ½ tablespoon olive oil
• 3 tablespoons unsalted butter, divided
• 1 tablespoon minced garlic
• ½ cup dry white wine
• 1 lemon, zested and juiced
• Salt and pepper to taste
• 2 tablespoons chopped fresh parsley (optional)
• ½ pound angel hair pasta, cooked (optional)
Directions
1. Season the scallops with salt and pepper.
2. Heat a large skillet over a medium-high heat. Once hot, add the olive oil and tilt pan to coat.
3. Add the scallops to the skillet in a single layer. Add one tablespoon of butter to the pan, and swirl to distribute. Cook the scallops until golden brown and slightly translucent in the middle, about 1-2 minutes per side depending on the size. Set the scallops aside and keep warm.
4. Lower to a medium heat and add the minced garlic. Cook, stirring frequently, until fragrant, roughly 30 seconds. Add the wine and bring to a simmer. Simmer until the wine mixture has been reduced by half.
5. Turn the heat to low and add the lemon zest and juice. Add the remaining butter, and swirl the pan until butter has melted and is emulsified into the sauce. Taste the sauce and season with salt and pepper.
6. Return the scallops to the sauce to heat through. Add the chopped parsley if using. If desired, serve with sauce over pasta.
Source: tiphero