If you love sour candy then it's time to rejoice as we're about to show you how to make a healthier alternative that can be whipped up in just 10 minutes. We're going to show you how to make Sour Grapes. Whether you know them as Sour Patch Grapes, Frosted Grapes, Glitter Grapes, or Candied Grapes, the tasty combination of tart and tasty, and sweet and sour is hard to beat. One thing's for certain, there will be no sour grapes around when you knock up a batch of these delicious treats.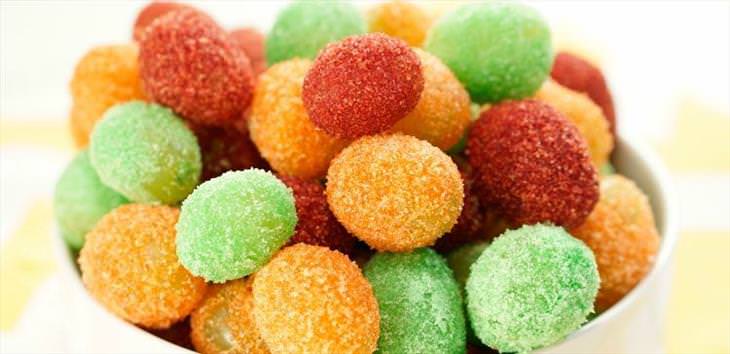 Sour Patch Grapes (6-8 Servings)
Ingredients
• 1 ½ pounds green grapes, destemmed
• ¼ cup water
• 3 oz. cherry flavored powdered gelatin mix
• 3 oz. orange flavored powdered gelatin mix
• 3 oz. lime flavored powdered gelatin mix
Directions
1. Place the grapes in a large bowl with the water, and toss to cover.
2. Place each flavored powdered gelatin mix on its own plate, and set aside.
3. Place about 1/3 of the grapes into each flavor of powdered gelatin, and roll to coat.
4. Remove the grapes from the mix, plate, and serve. If you so wish, the Sour Patch Grapes can be frozen at this point.
Source: tiphero