There is no better summertime tradition than throwing some tasty food on the grill and cracking open a nice cold beer. So, a dish that combines the two is definitely going to be a winner. That dish is beer and mustard sausage skewers. The beer-and-mustard glaze is easy to make, and can be made using your favorite lager and grainy mustard. Furthermore, the vegetables that share the skewers with the meat can be anything you want them to be.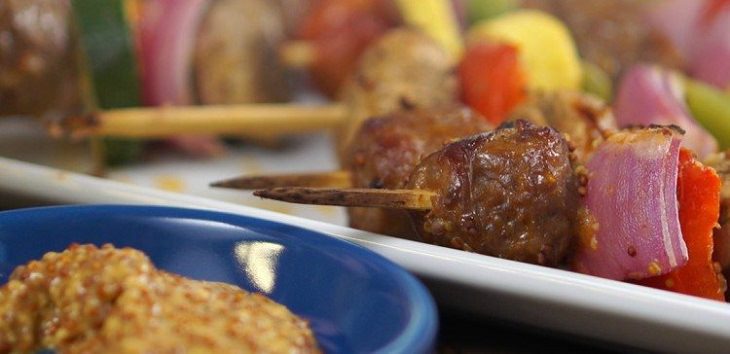 Beer and Mustard Sausage Skewers
Ingredients
• 1-pound sausage
• Mushrooms
• Onions
• Peppers
• Cherry tomatoes
• Zucchini
• Salt and pepper, to taste
• 1/3 cup of lager or other light beer
• 1/4 cup stone-ground mustard
• 8 bamboo skewers
Method
1. Soak the bamboo skewers in cold water for 30 minutes.
2. Preheat the grill.
3. Thread the sausage and vegetables onto the skewers in an alternating pattern.
4. In a small pan over a medium heat, begin making the glaze by combining the mustard and beer. Bring to the boil and let it simmer for a few minutes until it is slightly thickened.
5. Brush half of this glaze evenly over the meat and vegetables. Keep the other half of the glaze for brushing after the meat is cooked.
6. Place the skewers on the grill and cook until the sausage is cooked through and browned, and the vegetables have softened and are slightly charred.
7. Brush the skewers with the reserved glaze, and serve.
Source: tiphero