Prepare to make to mother of all calzones! This recipe boasts an absolutely gorgeous pizza dough encasing all of the tastiest fillings that your heart desires! We went for mozzarella, parmesan, spinach, artichokes, mushrooms, and a nice runny egg. However, it'd also go great with chicken, salami, or for those who are feeling somewhat adventures, mixed seafood. Don't forget to have a look at the video at the bottom of the page for some extra tips and tricks:
Delicious Italian Calzone (Serves 4)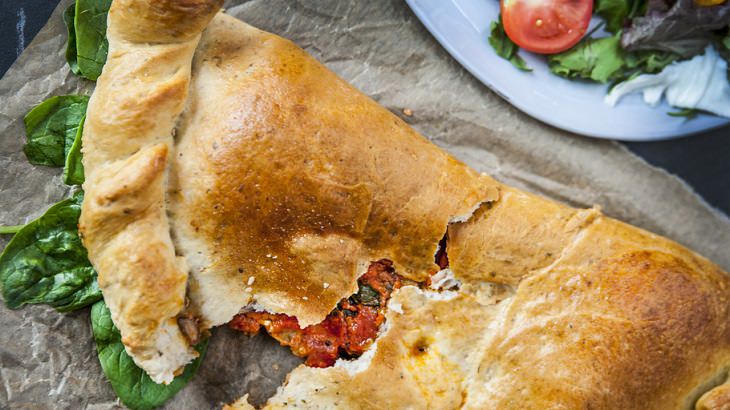 Ingredients
Bread
• 500 g strong white flour
• 1 sachet of dried yeast (7g)
• 300 ml warm water
• 1 tbsp. dried oregano
• 1 tsp. salt
• 1 tbsp. garlic powder
• 1 tsp. caster sugar

Tomato Sauce
• 1 onion
• 2 cloves of garlic
• 25 ml olive oil
• 400 g tinned tomatoes
• 1 tbsp. tomato purée
​
Fillings
• 400 g spinach leaves
• 8 chestnut mushrooms
• 3 eggs, one beaten
• 150 g mozzarella cheese
• 200 g marinated artichokes
• 100 g Parmesan cheese

To Serve
• 250 g cherry tomatoes
• 100 g rocket leaves
• 200 g buffalo mozzarella
• 50 ml olive oil
Method
1. Knead the Dough and Prove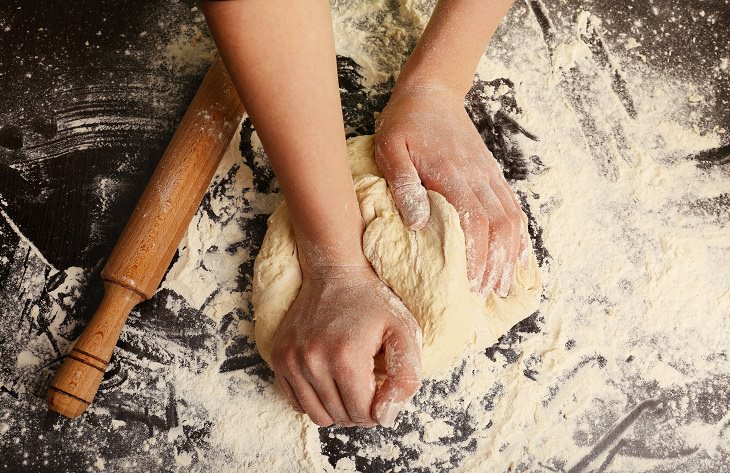 Stir the yeast into warm water and leave it for 5 minutes. Mix the flour with the sugar, salt, garlic powder and oregano, before adding the yeast mixture. Knead it for approximately ten minutes, or until smooth, and then transfer it to an oiled bowl. Cover and leave it for around an hour, or until it has doubled in size.
2. Prepare the Tomato Sauce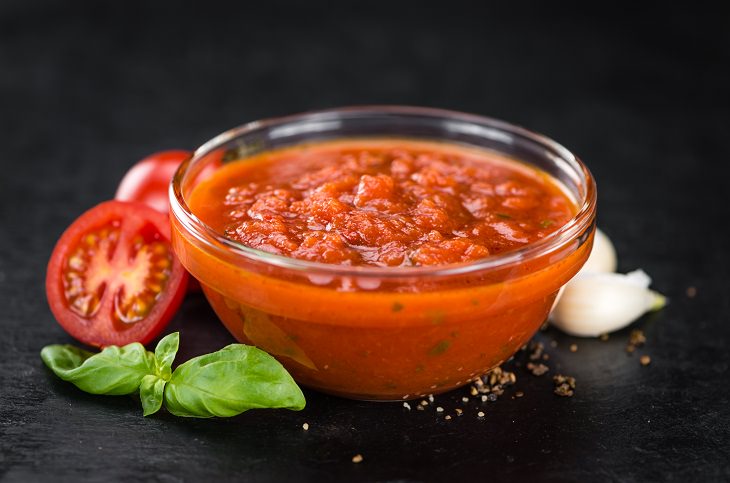 Peel and dice the garlic and shallot, before frying them in some olive oil for 5 minutes or so. Tip the tinned tomatoes into the fried shallots, along with the tomato purée and a large pinch of salt and pepper. Heat to a simmer, and then cook it for 5 minutes, stirring once in a while.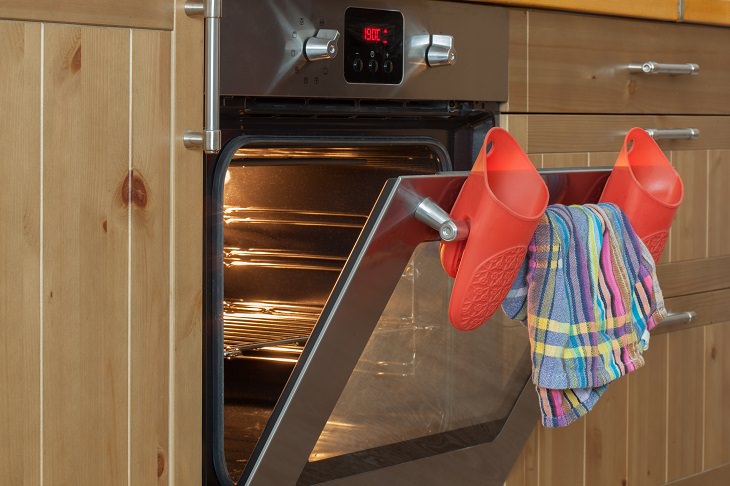 Preheat your oven to 425°F (220°C).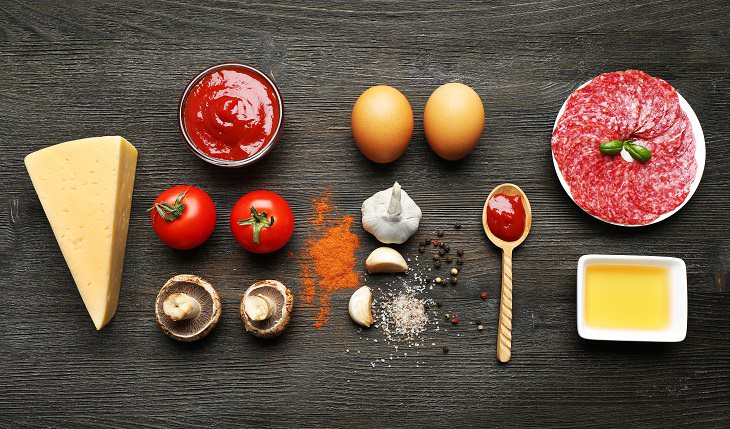 If you're making our version, you'll need to peel and slice the mushrooms, before pan-frying them in some olive oil, salt, and pepper for a couple of minutes. Wash the spinach, then wilt it in a hot pan with a little bit of salt and oil. Drain the spinach, then squeeze out any excess liquid.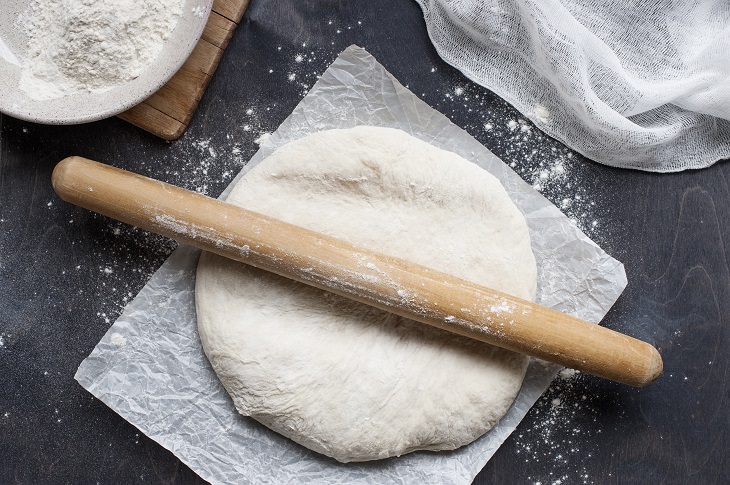 On a floured surface area, tear the proven dough in half. Roll out the dough into a thin circle, approximately the size of a regular dinner plate.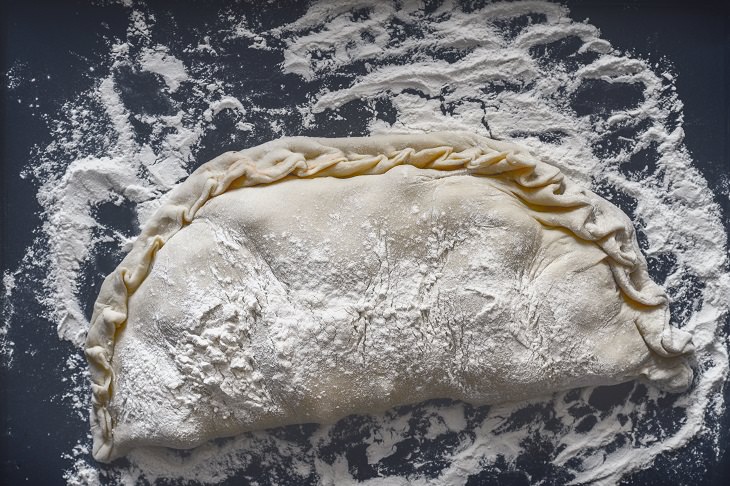 Lay your circle on a baking tray, and spoon some tomato sauce onto half of the surface area. Then, scatter over the mushrooms, spinach, artichokes, as well as some grated mozzarella and parmesan cheese. Arrange the contents to make a well, and crack an egg into it. Fold the dough over to form a half-moon shape, and seal it by crimping the edges with an egg wash or a dab of water. Repeat with a second one.
7. Glaze and Bake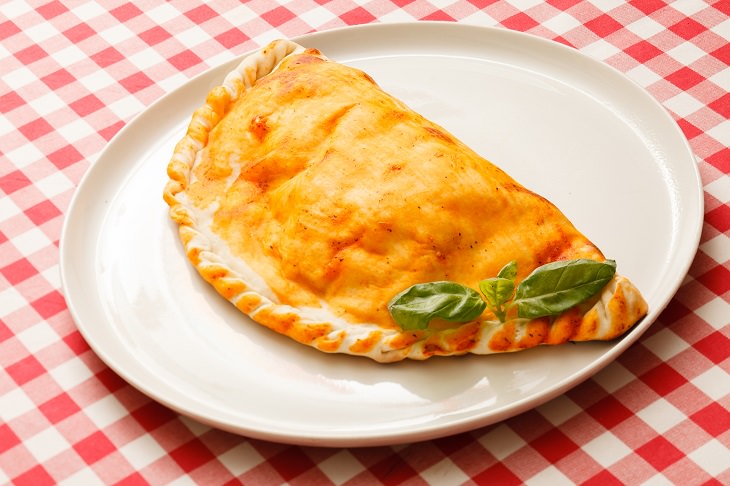 Brush it with a beaten egg, and bake for 20-30 minutes, or until the dough has puffed up and browned. When it's out of the oven, season with some salt and pepper, as well as plenty of olive oil!
Images: depositphotos, sortedfood