Do you want to delight your grandchildren at dinner, but don't want to serve them something that is entirely unhealthy? Well, we've got you covered with this baked garlic popcorn chicken recipe. Yes, that's correct, we're not going to be frying this chicken, nor are we popping it in the microwave like the buttery, addictive, and unhealthy popcorn all kids (and grown-ups) love. For this dish, all you need to do is coat some pieces of chicken in the crunchy and perfectly-seasoned batter, place them on a sheet pan and bake in the oven. The result is a light meal (or snack) that everybody will love.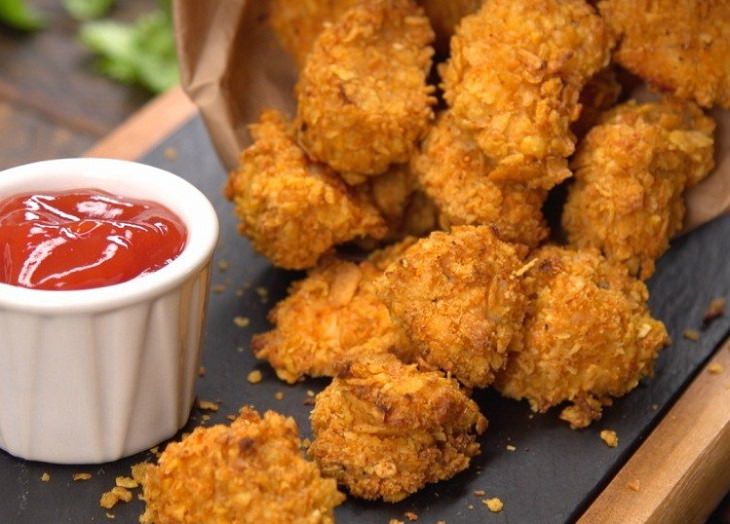 Baked Garlic Popcorn Chicken (Serves 4)
Ingredients
• 2 lbs skinless, boneless chicken breasts, cut into ¾-inch pieces
• 10 cloves garlic, minced
• 2 teaspoons salt, divided
• 2 teaspoons black pepper, divided
• 6 cups corn flakes
• 1/2 cup grated Parmesan
• 1 teaspoon paprika
• 1 1/2 teaspoons garlic powder
• 1 cup all-purpose flour
• 1/2 cup buttermilk
• Pan spray
Method
1. Preheat the oven to 400F. Line a sheet pan with parchment paper and set aside for the time being.
2. In a medium-sized bowl, mix the chopped chicken pieces, minced garlic, 1 teaspoon of salt, and 1 teaspoon of black pepper. Set aside.
3. In a food processor bowl, add the cornflakes, Parmesan cheese, the remaining salt and pepper, garlic powder, and paprika. Process until the cornflakes are broken down into a fine crumble (but not powdery). Place the mixture into a medium-sized bowl and set aside.
4. Pour the flour into a gallon-sized re-sealable plastic bag. Add the chicken pieces to bag and toss until evenly coated in flour.
5. Place the flour-coated chicken into a medium sized bowl. Drizzle with the buttermilk, and toss to coat.
6. Working in batches, add some chicken to the corn flake mixture and toss to coat. Place the coated chicken in the prepared sheet pan, and spray with pan spray.
7. Bake for roughly 20 minutes, or until the chicken has turned brown and crispy.

Source: tiphero