Throughout the world you can discover a wide range of sculptures. Some of these are pretty ordinary, but others, as you're about to see are extremely eye-catching. To save you from having to take a trip across the world, we have put together a collection of some of the world's most creative sculptures. The following 10 sculptures will definitely amaze you.
"Wonderland," Calgary, Canada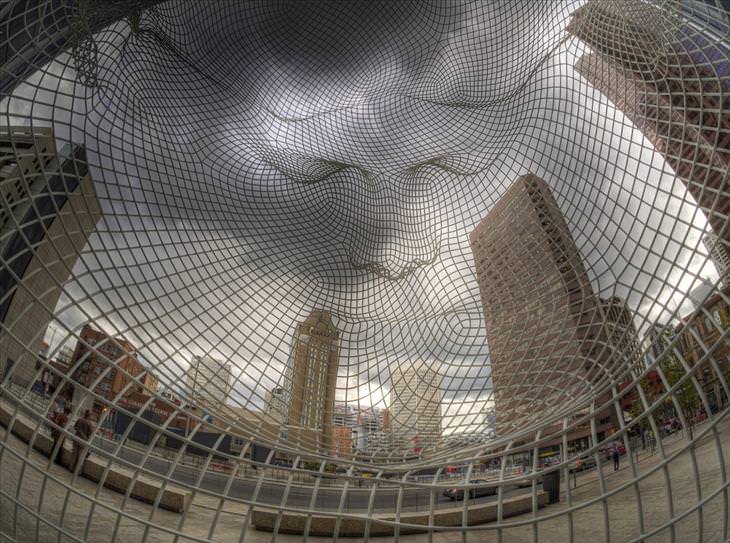 The coolest thing about this statue is that you can actually go inside it. On the outside, this is a 12-meter wire frame in the shape of a head, but from the inside, it's a whole new world. This fascinating sculpture was created by Spanish sculptor Juame Plensa.
"Karma," New York, USA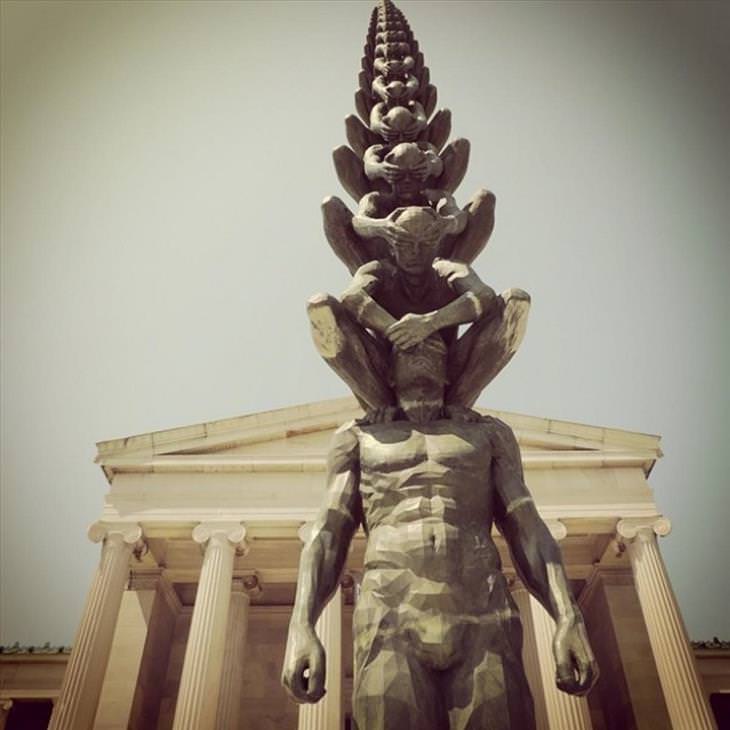 The sculpture, created by Korean sculptor Do-Ho Suh greets those who visit the New York Albright-Knox Art Gallery. This statue is just 7 meters high, but to those looking up at it, it seems endless.
"Last Supper," Nevada, USA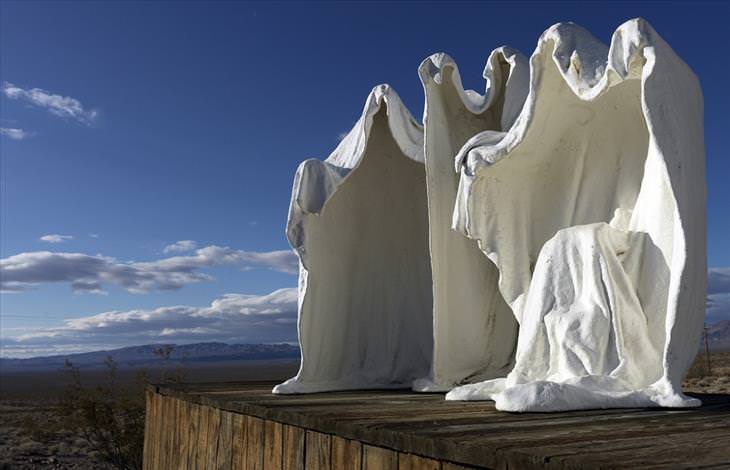 Created by Albert Szukalski, this sculpture is the author's rethinking of Leonardo da Vinci's famous fresco. Set against the backdrop of the famous Death Valley, the figures look more mysterious at night, when they're lit up from inside with a special illumination.
"Diamonds," Canberra, Australia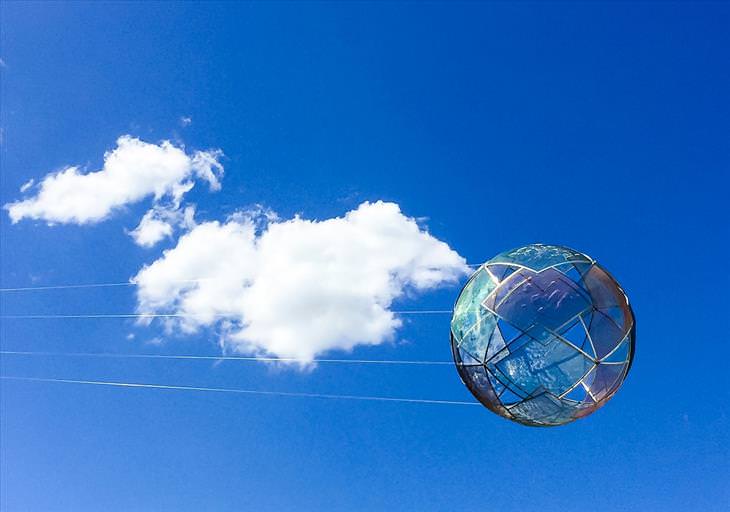 This photo has not been rotated or edited in any way. New Zealander, Neil Dawson creates sculptures that you cannot pass without wondering how they are defying gravity. The effect is usually created with the help of barely visible wires. This particular sculpture can be found outside the National Gallery of Australia in Canberra.
Balancing Sculpture, Dubai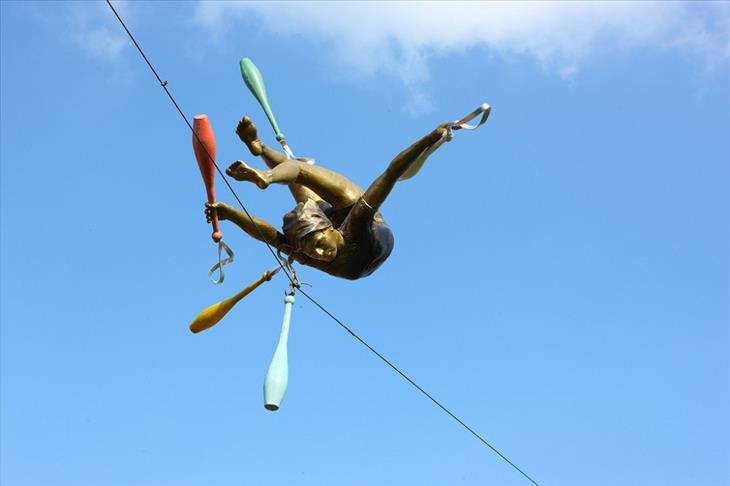 This bronze statue completely defies the laws of physics. How Jerzy Kedziora's works do not overturn under the influence of gravity and wind is something that puzzles everyone who sees them.
Monument to the Violinist, Amsterdam, Netherlands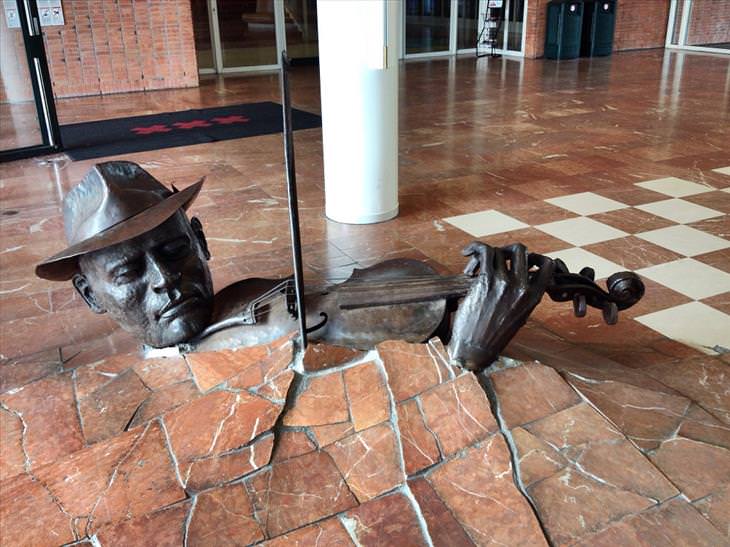 In Amsterdam's "Stopera," where the city hall and the music theater are located, the marble floor was broken so that this sculpture could be fitted. No one knows who created this sculpture, and most locals do their best to try and ignore it.
Porsches at the Festival of Speed, Sussex, UK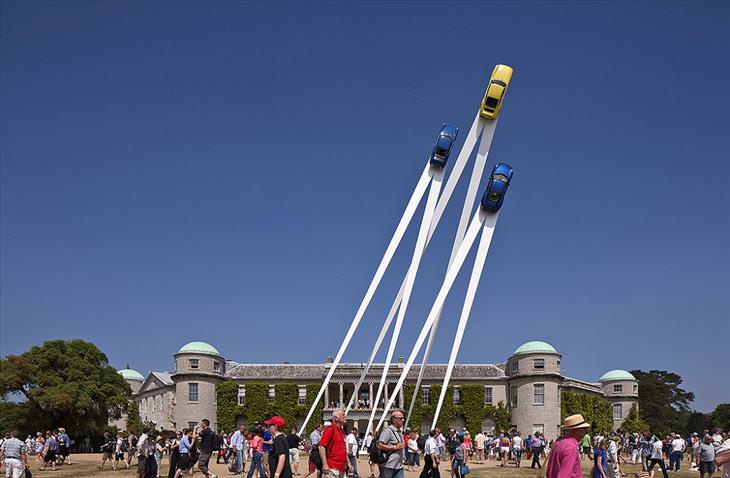 These incredible car sculptures, created by Gerry Judah, seem to rush into endless space. During his time as a sculptor, Judah has managed to work with some of the world's most famous cars. This particular sculpture can be found in the grounds of Goodwood House in West Sussex.
"Diminish and Ascend," Sydney, Australia
This sculpture, created by David McCracken, has a secret – each successive step is smaller than the previous one. Therefore, when somebody looks upon it, it seems like it goes on forever.
"Features of Gravity for the Elephant, Paris, France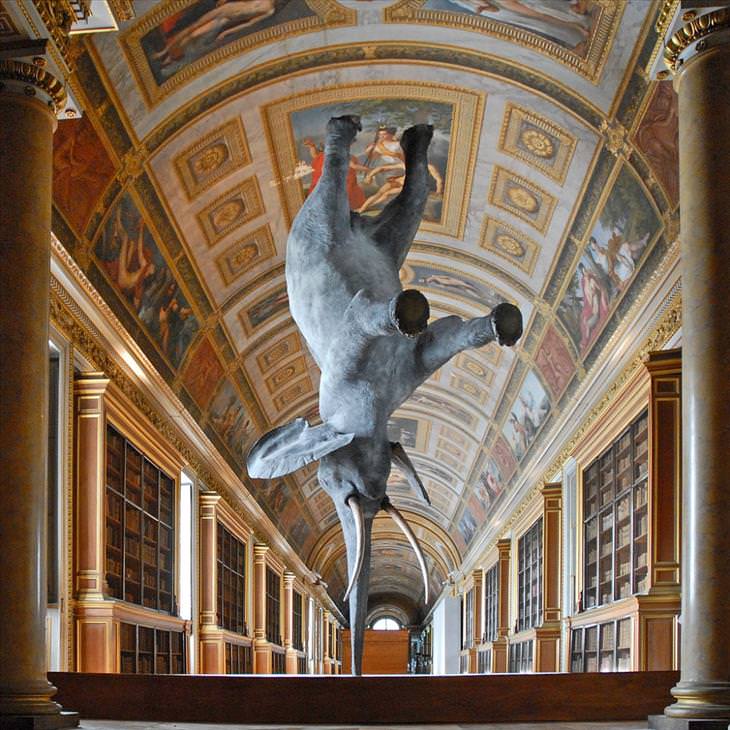 This sculpture, by Daniel Firman, can be found in the Paris Castle of Fontainebleau. It is dedicated to Firman's strange theory that an elephant can balance on its own trunk at a height of 18,000 km above sea level.
"Runner," Athens, Greece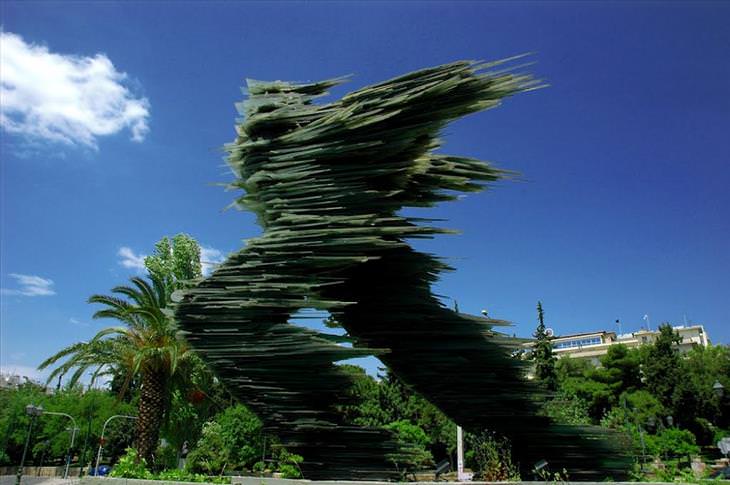 When looking at this sculpture, one gets the impression that it's moving. This colossal figure, created by Costas Varotsos, is made up of thousands of dark green glass pieces.