This easy-to-make chicken dinner has it all: crispy skin and juicy meat simmered in a luscious paprika-infused lemon butter cream sauce that you will want to pour over absolutely everything – plus plenty of greens, which means you don't have to make a separate side dish.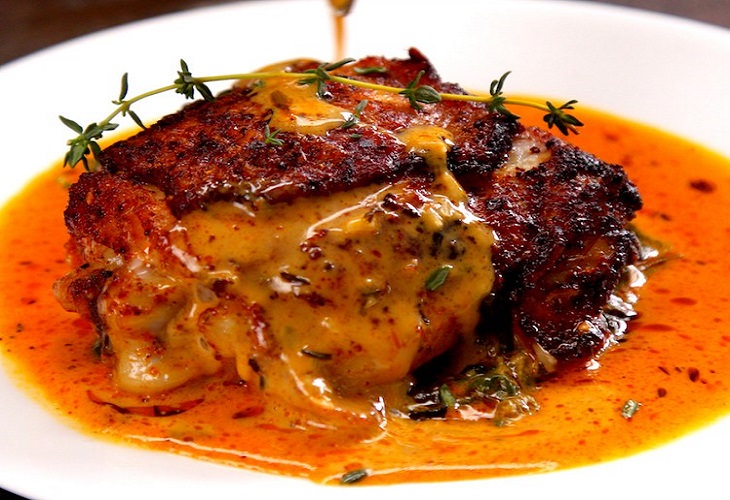 Lemon Butter Chicken (4 Servings)

• 4 chicken thighs or breasts (bone-in or boneless)
• 2 teaspoons smoked paprika
• Kosher salt, to taste
• Ground black pepper, to taste
• 1 Tablespoon unsalted butter
• 2 – 3 cloves garlic, minced
• ½ cup chicken broth
• ½ cup heavy cream
• ¼ cup grated Parmesan cheese
• 2 cups baby spinach, chopped
• Juice of 1 lemon (add the zest if you want extra lemon flavor)
• 1 Tablespoon chopped fresh thyme or 1 teaspoon dried thyme
Method
1. Preheat the oven to 400F.
2. Season the chicken thighs or breasts with salt, pepper, paprika, and toss to coat.
3. Melt 1 tablespoon of butter in a large oven-safe skillet over a medium-high heat. Add the chicken, skin-side down, and sear for 2-3 minutes per side, or until it's golden brown. Remove the chicken and set aside. Drain the pan, leaving 1 tablespoon of fat in there.
4. Add the minced garlic and cook, stirring constantly, until fragrant – about 1 minute. Stir in the chicken broth, heavy cream, and parmesan cheese.
5. Bring the mixture to a simmer, and add the baby spinach. Cook until the spinach is wilted and the sauce has thickened slightly – about 3-5 minutes.
6. Stir in the lemon juice, thyme, and lemon zest (if using). Return the chicken to the skillet, and transfer it to the oven. Bake for 15-25 minutes, or until the internal temperature of the chicken reaches 165F. Serve warm.
Source: tiphero