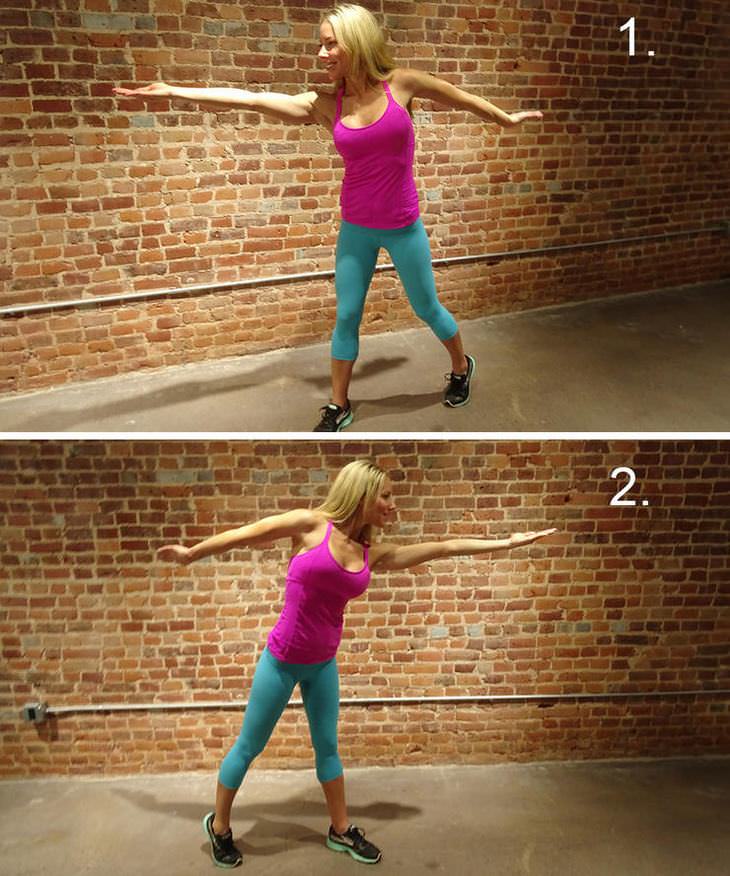 Here's How:
• Keep your feet slightly wider than your hips.
• Reach your arms out by your sides to shoulder height keeping your palms facing down.
• Lean your torso to one side and turn that palm up, externally rotating your shoulder.
• At the same time turn the back palm up, internally rotating your shoulder.
• Return to center, then switch sides. The side-to-side action will pivot your shoulders inward and outward.
• Repeat for one minute at a pace of one repetition per two seconds.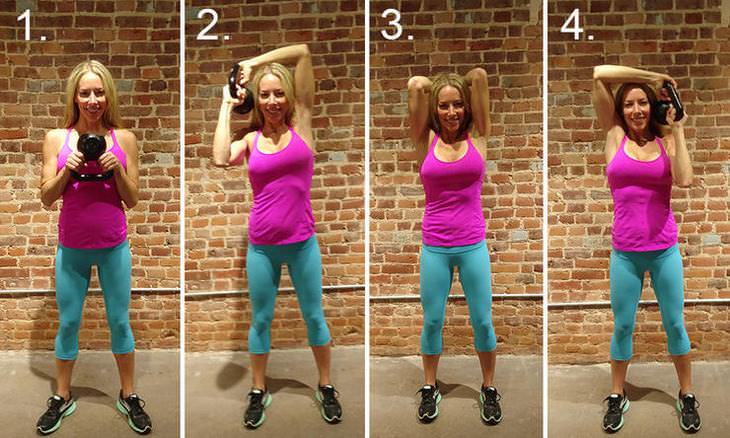 Here's How:
• Use the kettlebell in this exercise to give your shoulders a greater range of motion for the movement. Use a dumbbell or just clench your hands together if you don't have a kettlebell.
• Stand with your feet shoulder-width apart and hold a medium-weight kettlebell at the center of your chest by the side handles with the bottom of the bell facing up.
• Clench your glutes tight and brace through your abs to protect your back as you move through this exercise.
• Gently loop the bell behind your head and neck, then around the other side.
• Now loop the next halo in the other direction.
• Repeat for two minutes at a pace for one repetition, per 10 seconds.
Exercise 3: Band Pull-Aparts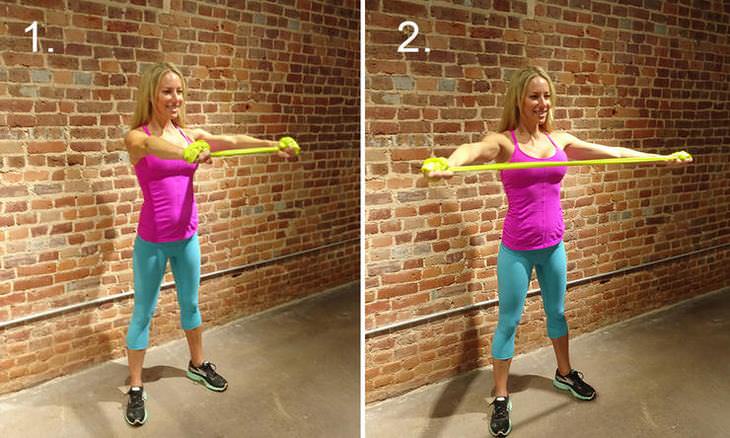 Here's How:
• This exercise helps train the shoulders to move in the opposite direction that they usually move when you slouch. Using band pull-aparts help sculpt your upper back too.
• Start with your feet shoulder-width apart.
• Clutch your hands on a medium resistance band and hold them straight ahead and in line with each of your shoulders. You should feel some tension between your hands.
• Draw your arms out to the sides and stretch the band with your elbows slightly bent.
• Hold the pose momentarily, then resist the pull.
• Take three times as long to slowly bring your arms back to starting position.
• So, take one second to pull out and three seconds to return.
• Repeat this exercise for a minute in total or about 15 repetitions.
Featured in photos: Angela Turner, prevention.com