We're about to show you to make a delicious homemade frozen treat using just 5 ingredients – and it's easy to make as well. This tasty ice cream pie has a crunchy chocolate Rice Krispie crust filled with a generous layer of mint chip ice cream, decorated with cookie crumbles, and drizzled with exquisite hot fudge.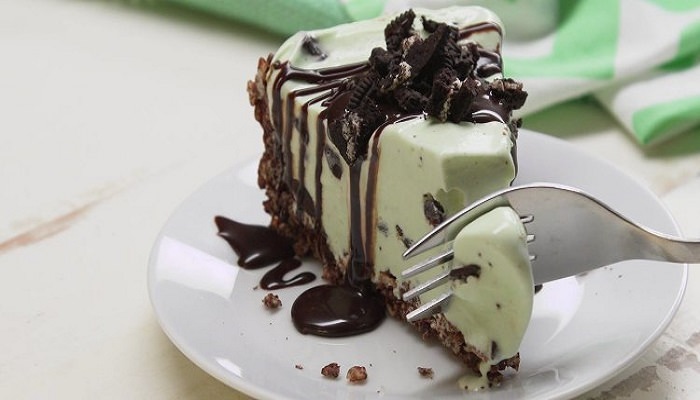 Mint Chip Ice Cream Pie (8-10 Servings)
Ingredients
• ¾ cup chocolate chips, melted
• 3 cups crisped rice cereal (such as Rice Krispies)
• 2 pints mint chip ice cream, slightly softened
• Chocolate sauce or hot fudge sauce (optional decoration)
• Crushed chocolate sandwich cookies (such as Oreos – optional decoration)
Method
1. In a large bowl, mix the melted chocolate chips with the rice cereal until the cereal is completely coated in chocolate. Using a rubber spatula, press the mixture into an even layer on the bottom of a 9-inch round springform pan, and up the sides of the pan (about an inch) to create a crust.
2. Freeze until firm, about 5-10 minutes.
3. Spread the softened mint ice cream into the prepared crust. Cover and freeze it for around 2 hours – or until firm.
4. Remove the pie from the pan and cut it into slices. If you want, serve it with chocolate sauce or hot fudge drizzled on top, and decorate it with crushed chocolate sandwich cookies.
Source: tiphero