What these vegetable tacos lack in meat, they more than make up for with big, bold flavors. With every bite your taste buds are treated to a combination of tastes and textures that hit all the sweet spots you'd expect. From the lightly spiced and charred cauliflower florets and the tangy, crispy pickled cabbage, to the fresh avocado-yogurt cream, this is a veggie taco you'll love.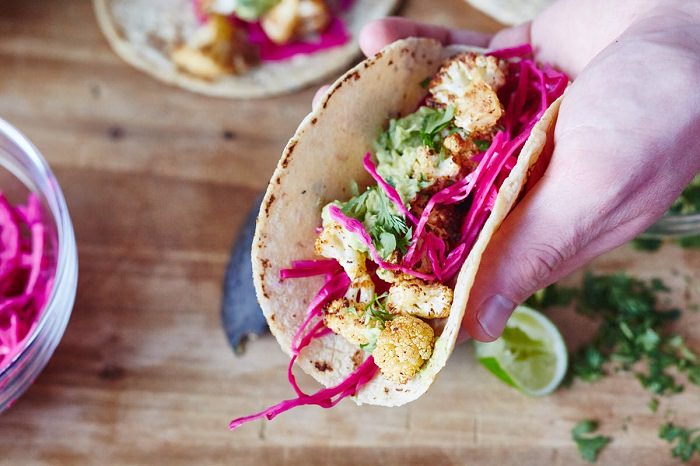 Roasted Cauliflower Tacos (Serves 4-6)
For the pickled red cabbage
• 1 cup distilled white vinegar
• 1 cup water
• 1 tablespoon granulated sugar
• 1 teaspoon salt
• 1/4 small head red cabbage, cored, and shredded

For the cauliflower
• 1 medium head cauliflower (2/12 pounds)
• 2 tablespoons olive oil
• 2 teaspoons chili powder
• 1 teaspoon ground cumin
• 1/2 teaspoon unsalted garlic powder
• 1 teaspoon salt
• 1/2 teaspoon freshly ground black pepper

For the Tacos
• 2 medium avocados, halved and pitted
• 1/2 cup plain Greek yogurt
• 1/2 cup chopped fresh cilantro, divided
• Finely grated zest of 1/2 medium lime
• Juice from 1/2 a medium lime
• 8-12 small corn tortillas, warmed
Method
1. Make the pickled red cabbage: Place the vinegar, sugar, water, and salt in a medium-sized saucepan. Bring to the boil over a medium-high heat, stirring occasionally to dissolve the sugar. Place the cabbage in a medium, heatproof bowl and pour the mixture over the top. Mix, and let the cabbage sit in it while you prepare the cauliflower.
2. Roast the cauliflower: Arrange a rack in the middle of the oven and heat to 425°F. Place a rimmed baking sheet in the oven. Core the cauliflower and cut it into small 1-inch florets without stems. Place in a medium-sized bowl, add all the remaining ingredients, and toss to mix. Remove the hot sheet from the oven, place the cauliflower on the sheet, and spread in an even layer. Roast until browned in spots but still crisp-tender, stirring halfway through, about 20 minutes.
3. For the tacos: While the cauliflower is cooking, scoop the avocado in a medium bowl and mash. Stir in the yogurt, 1/4 cup of cilantro, lime zest and juice, and set aside. When the cauliflower is cooked, drain the pickled cabbage. To assemble, fill the tortillas with the cauliflower and pickled cabbage, then top with the avocado mixture and remaining 1/4 cup cilantro.

Source: thekitchn
Photo: Lauren Volo