When faced with a bowl of chicken wings we all have the tendency to become a little primal, discarding our usual cutlery in favor of using out hands and teeth to tear off the juicy flesh. With their crispy skin and soft, tender flesh, chicken wings bring a lot more to the table than their diminutive size would suggest. Furthermore, they are a lot cheaper to buy than the more popular thighs, breasts, and legs.
These sticky chicken wings make for irresistible finger food, and will disappear quickly if served at a party.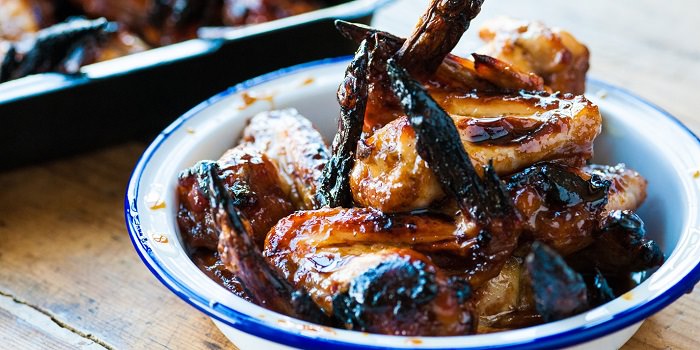 Sticky Chicken Wings (Serves 10)
Ingredients
Chicken wings
• 4 lb of chicken wings
Marinade
• 3 1/2 fl oz of light soy sauce
• 4 1/4 fl oz of orange juice
• 3 1/2 oz of clear runny honey
• 3 oz of soft brown sugar
• 1 tsp five-spice powder
• 1 1/3 fl oz of sesame oil
Method
1. In a large bowl, whisk all the marinade ingredients together.
2. Place the chicken wings into the bowl, and coat evenly with the marinade. Leave to marinate overnight.
3. Preheat the oven to 392°C.
4. Place the wings and marinade into a roasting tray, making sure that the wings are evenly spread and covered in the marinade.
5. Roast the wings for around an hour, stirring the wings every 10 minutes or so to ensure that they are cooking evenly.
6. The juices and marinade in the pan will reduce a little bit during the cooking process; however, if the wings are cooked but still not sticky, pour the liquid into a pan and boil until syrupy.
7. Remove the wings from the oven and pour the reduced sauce over them. Serve immediately.

Source: greatbritishchefs