No longer confined to greasy takeaways, the kebab has had a Renaissance. Kebabs are a great addition to any barbecue, a glamorous dinner party feast, or just a fun way to serve up meats. With this delightful Hari Ghotra kebab recipe, leg of lamb is marinated with spiced yogurt, then baked in the oven for a wonderfully tender finish with an irresistibly spicy flavor.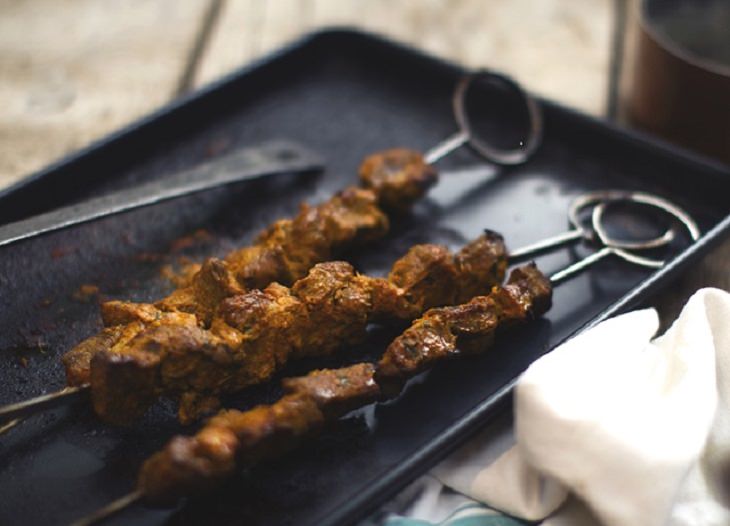 Lamb Boti Kebabs (Serves 6)
Ingredients
• 1 3/4 lb leg of lamb, cut into cubes
• 3 cardamom pods
• Cassia stick, 4cm only
• 1 teaspoon of cumin
• 1 teaspoon of coriander seeds, crushed
• 4 garlic cloves, crushed
• 1 handful of fresh coriander, chopped
• 1 teaspoon lime juice
• 3 tablespoons of Greek yogurt
• 1 teaspoon of salt
• 1 tablespoon of vegetable oil
Method
1. To begin, place the cardamoms, cassia, coriander, and cumin into a spice grinder or pestle and mortar and grind into a fine powder.
2. Add all the ingredients to a large bowl and mix well to make a fragrant marinade.
3. Stir the meat into the marinade, coating each piece of meat evenly. Transfer to the fridge for at least 1 hour.
4. Thread the freshly marinated meat onto the metal skewers, leaving a gap between them. Keep any remaining marinade for basting.
5. Preheat the oven to 180°C.
6. Place the kebabs on an oven tray, cover with foil, and cook for 20 minutes.
7. Remove the foil, turn the kebabs over, and coat with the remaining marinade.
8. Place the kebabs back into the oven, and cook for a further 10-20 minutes, until the meat is soft and tender.