It's absolutely true what they say: Dark chocolate has a number of health benefits. To add to that, it also happens to be delicious. Below are three recipes that feature this good-for-you ingredient.
Why Dark Chocolate?
The vast majority of us love chocolate, so it makes sense that many studies have researched the effects that it has on our health - and when it comes to dark chocolate, the news is very good! Unlike milk chocolate, dark chocolate has a high percentage of cocoa solids. Furthermore, milk chocolate has more added sugar, cream, and milk solids.
The antioxidants found in cocoa bring have many nutritional perks - we're talking about stress reduction, improving blood pressure, increasing heart health, and even aiding weight loss. Sounds to us that it's time to whip up some delicious dark-chocolate recipes.
1. Raspberry Kiss Crunchettes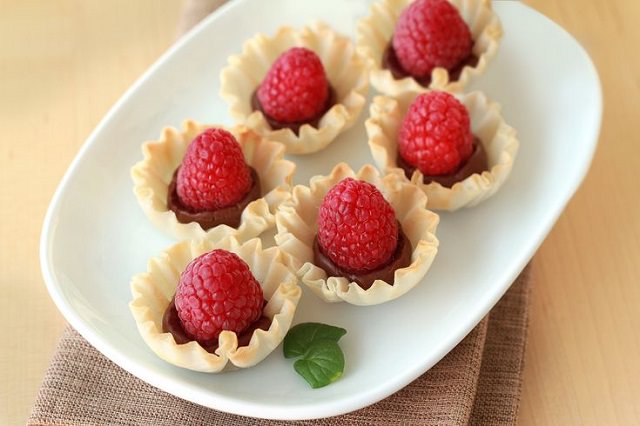 These are great treats for a crowd (or just for you...we won't judge you), and with only three ingredients, they couldn't be any easier to make.
1/5th of the recipe (3 crunchettes) = 105 calories, 5g total fat (2g saturated fat), 28mg sodium, 15g carbohydrates, 1.5g fiber, 7.5g sugar, and 2g protein.
Method:
1. Place 15 frozen mini fillo shells on a baking sheet.
2. Place a Special Dark Hershey's Kiss in each shell, flat side down. Bake at 350°C for around 3 minutes, or until the kisses are hot and slightly softened.
3. Place a raspberry into the center of each shell.
2. Choco-Berry Crunch Yogurt Parfait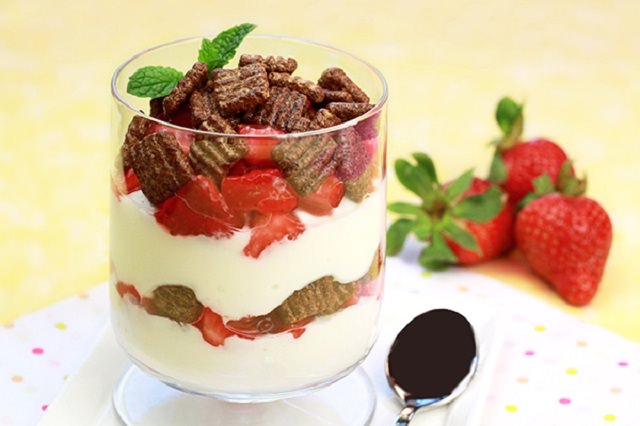 Parfaits are fun and easy to make! This parfait has double the antioxidants because it has dark chocolate and strawberries.
Entire recipe = 218 calories, 0.5g total fat (<0.5 saturated fat), 106mg sodium, 35.5g carbohydrates, 2.5g fiber, 26.5g sugars, 17g protein.
Method:
1. In a medium bowl, combine 1/2 a cup of chopped strawberries with 1 tablespoon of low-sugar strawberry preserves. Stir to coat.
2. In a medium-sized glass, add 1/3 fat-free vanilla Greek yogurt, half of the strawberries, and 2 tablespoons of Multi-Grain Dark Chocolate Crunch Cheerios.
3. Repeat layering with another 1/3 layer of Greek yogurt, the remaining strawberries, and another 2 tablespoons of the Cheerios.
3. Chocolate Banana Nachos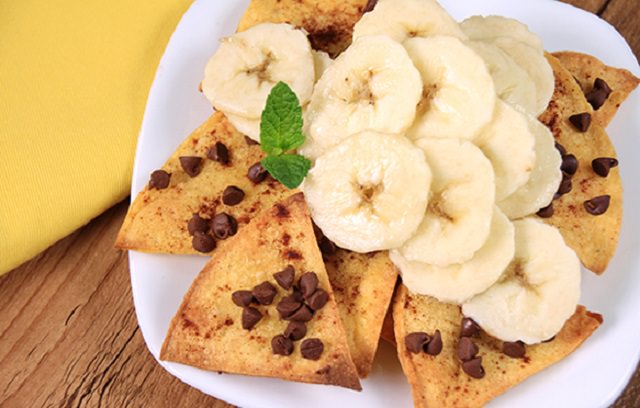 Check out these nachos! They're unlike any you have ever had before!
Entire recipe = 191 calories, 4g total fat (2g saturated fat), 13mg sodium, 37.5g carbohydrates, 4g fiber, 12.5g sugars, and 3g protein.
Method:
1. Preheat the oven to 400°C. Spray a baking sheet with non-stick spray.
2. Cut two 6-inch corn tortillas in half. Cut each half into three triangles, so that you are left with 12.
3. Place these tortilla triangles close together on a baking sheet. Spray with non-stick spray, and sprinkle with cinnamon.
4. Bake for roughly 5 minutes. Carefully flip, and bake for another 3-5 minutes - until they're crispy and lightly browned.
5. Rearrange the triangles on the center of the sheet so that they slightly overlap, like a pile of nachos. Sprinkle with 2 teaspoons of mini semi-sweet chocolate chips.
6. Bake until the chips have softened, around 2 minutes.
7. Top with 1/3 cup of thinly sliced bananas (about 1/2 a medium banana).

Source: verywell