This recipe is easy to follow and will produce a delicious traditional shepherd's pie that will deliver perfection with every bite you take. This dish serves four people and will take around an hour to prepare and cook, but believe us when we say that it is definitely worth the wait. The entire family will love this dish, and if (and it's a big if) there are any leftovers, they can be stored in an airtight container in the fridge for up to two days - reheat thoroughly before serving again. You can also freeze any leftovers - just make sure you defrost them in the fridge overnight and reheat until piping hot.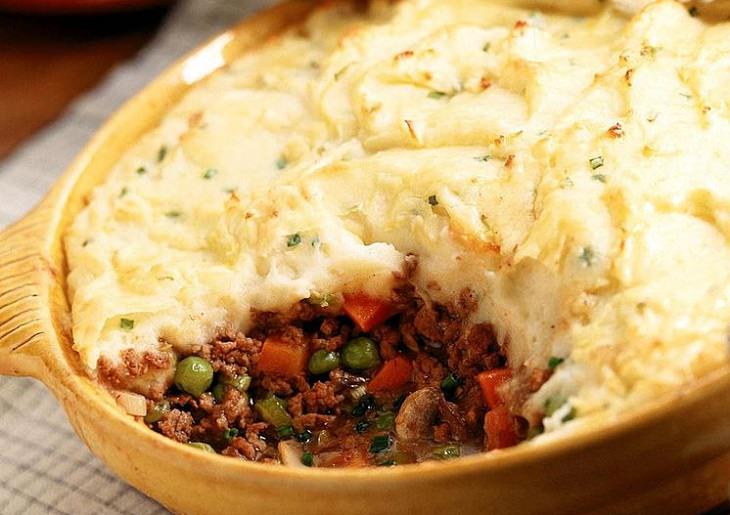 Shepherd's Pie (Serves 4)
Ingredients
• 1 1/2 to 2 pounds potatoes (about 3 large potatoes), peeled and quartered
• 8 tablespoons (1 stick) butter
• 1 medium onion, chopped (about 1 1/2 cups)
• 1-2 cups vegetables - diced carrots, corn, peas (optional)
• 1 1/2 lbs ground round lamb
• 1/2 cup lamb or vegetable broth
• 1 teaspoon Worcestershire sauce
• Salt, pepper, other seasonings of choice
Method
1. Boil the potatoes - Place the peeled and quartered potatoes in a medium sized pot and cover with cold water. Add a couple of pinches of salt. Bring to the boil, reduce the heat to a simmer, and cook until tender - roughly 20 minutes.
2. Sauté vegetables - While you're waiting for the potatoes to cook, melt 4 tablespoons of the butter in a large pan over medium heat. Add the chopped onions and cook until tender, about 6-8 minutes. If you're including other vegetables, add them depending on their cooking time. For example, carrots should be cooked alongside the onions as they take the same amount of time to cook as the onions. Peas or corn, on the other hand, should be added when the onions are nearly cooked as they take no time to cook.
3. Add the ground lamb, the Worcestershire sauce, and broth - Add the ground lamb to the pan and cook until it's no longer pink. Season with salt and pepper. Add the Worcestershire sauce and broth. Bring them both to a simmer and reduce to a low heat. Cook for 10 minutes, adding more broth if necessary to keep the meat from drying out.
4. Mash the cooked potatoes - When the potatoes have finished cooking, remove them from the pot and place them in a bowl with the remaining butter. Mash with a fork, and season with salt and pepper to taste.
5. Layer the meat mixture and mashed potatoes in a casserole dish - Preheat oven to 400°F. Spread the beef, onions, and vegetables (if using) in an even layer, and then spread the mashed potatoes over the top. Rough up the surface of the mashed potatoes using a fork so that there are peaks that will get well browned.
6. Bake in oven - Place in the oven and cook until browned and bubbling - about 30 minutes.

Source: simplyrecipes