If you're after a dairy free pudding that's lighter than the traditional offering and low in refined sugar, this is the perfect pudding for you. It's worth tracking down some chestnut flour for its lovely flavor. Also, add a touch of cinnamon or orange zest if you like, but we must stress that you will lose some of the chestnut taste as a result.
The delicious caramel sauce takes just a couple of minutes to make - okay, there's not a lot, but you really only need a little bit, don't you? If you're craving indulgence, you could add a dollop of dairy-free ice cream. If you crave some alcohol, you could anoint the pudding with Marsala or brandy before pouring on the sauce...or just have it as a tipple on the side.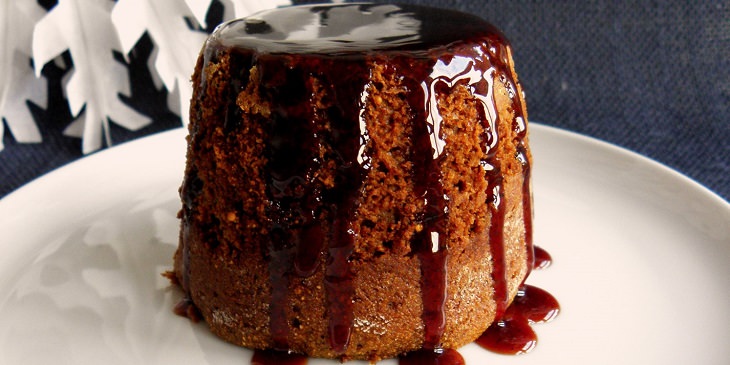 Sticky Figgy Puddings (Makes 4)
Ingredients
Pudding
• 3 tbsp of light olive oil, plus extra for greasing
• 100g of chestnut flour, plus extra for dusting
• 150ml of boiling water
• 2 tsp instant coffee powder
• 100g of dried figs, roughly chopped
• 2 eggs
• 75g of coconut sugar
• 30g of ground rice
• 1/2 tsp gluten-free baking powder
• 1/2 tsp bicarbonate of soda
• 1/2 tsp xanthan gum
Sauce
• 35g of coconut sugar
• 2 tbsp of date syrup
• 1 tsp vanilla paste
• 3 tbsp of non-dairy milk, such as hemp or coconut
Method
1. Preheat the oven to 180°C/gas mark 4.
2. Grease the tins with some olive oil using a piece of kitchen roll. Dust with chestnut flour and shake to remove any excess.
3. Dissolve the coffee powder in some boiling water and pour over the chopped figs.
4. In a separate bowl, whisk together the eggs, oil, and coconut sugar until frothy. This should only take a couple of minutes.
5. Mix in the chestnut flour, ground rice, baking powder, bicarbonate of soda, and xanthan gum using a wooden spoon. Then stir in the fig and coffee mixture.
6. Spoon the mixture evenly between your prepared tins and place on a baking tray. Transfer to the oven and bake for around 25 minutes (or until fully risen and firm to touch). As an extra test, insert a knife or cake tester into the middle - if it comes out clean the puddings are done.
7. Leave the puddings to cool in the tins for around 5 minutes, then remove from the tins by sliding a thin knife around the edge of the puddings and turn upside down on a plate. If desired, the bottoms can be trimmed to form a perfectly flat base.
8. For the sauce, place the coconut sugar, date syrup, and vanilla paste into a small pan. Place this over a low-medium heat until all the sugar has dissolved.
9. Pour in the non-dairy milk and bring to the boil, before turning the heat down to a simmer. Once the mixture has thickened, pour the sauce evenly over each pudding.
Source: greatbritishchefs