Fish cakes can be served as a starter or a main course, but either way, they're a firm favorite with children and anyone who likes a simple, wholesome, but tasty and very satisfying meal. Of course, these can be easily bought at the supermarket, but where's the fun in that? Besides, by following this simple salmon fish cake recipe, you'll get much tastier fish cakes that are even more enjoyable because you have made them yourself and know exactly what went into them. An important thing to remember here is that good-quality tinned salmon make better fish cakes than fresh salmon, so don't feel the need to cook some salmon just for this.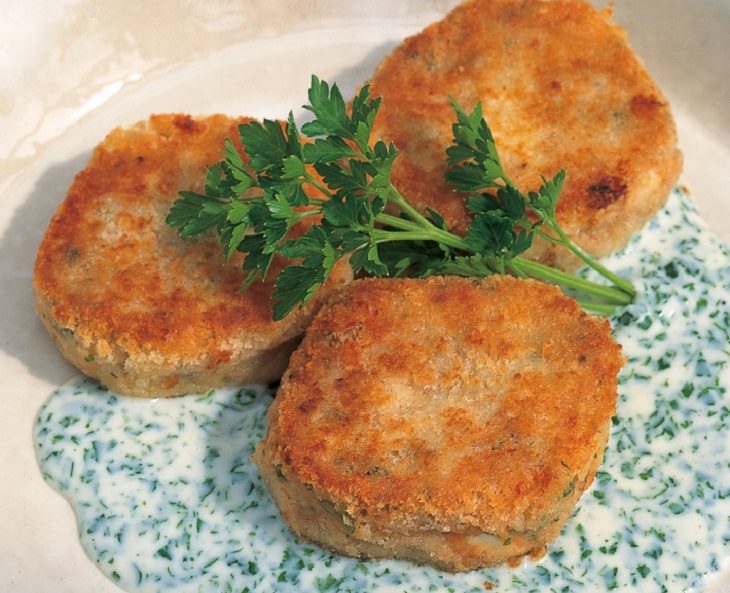 Salmon Fish Cakes
Ingredients f
or the Fish Cakes
• 425g tinned red salmon
• 1/4 teaspoon powdered mace
• 1/4 teaspoon cayenne pepper
• Salt and freshly milled black pepper
• 275g potatoes, peeled and cut into large chunks
• 2 tablespoons mayonnaise
• 2 heaped tablespoons chopped fresh parsley
• 2 heaped tablespoons salted capers or capers in vinegar, drained and chopped
• 6 pickled gherkins, drained and chopped
• 2 large eggs, hard-boiled and chopped small
• 1 dessert spoon anchovy paste or 4 anchovies, mashed up
• 2 tablespoons lemon juice

For the coating
• A little flour for dusting
• 1 large egg, beaten
• 75g matzo meal or fresh white breadcrumbs
• 2 tablespoons groundnut or other flavorless oil
• 10g butter

To serve
• A few sprigs of fresh parsley
• Lemon wedges


Method
1. Boil the potatoes in salted water for 25 minutes, or until they're tender when pierced with a skewer.
2. Drain the potatoes and mash them to a purée with the mayonnaise using a hand whisk, then add some seasoning.
3. In a large mixing bowl, simply combine all the ingredients for the fish cakes together. Mix thoroughly, then taste and season again if it needs it. After that, allow to cool, then cover the bowl with plastic wrap and place in the fridge, giving at least 2 hours to chill and become firm.
4. When the fish cakes are ready to be cooked, lightly flour a work surface, then turn the fish mixture on to it and, using your hands, pat and shape it into a roll (roughly 2-2 1/2 inches in diameter). Now cut the roll into 12 round fish cakes, pat each one into a neat, flat shape, and then dip each one in the beaten egg and then in the matzo meal or breadcrumbs - making sure they get a nice, even coating all round.
5. In a large frying pan, heat the oil over high heat and, when it's really hot, add half the fish cakes to the pan, then turn the heat to medium, and give them 4 minutes shallow frying on either side. Then drain on crumpled grease-proof paper and keep warm. repeat with the remaining fish cakes, adding more oil and butter if needed.
6. Serve immediately on hot plates with sprigs of parsley and some lemon wedges.
Source: deliaonline