If there's one breakfast treat that we cannot get enough of, it has got to be cinnamon rolls. Whether we're making them into snacks, adding fruit for a spring-worthy dish, or simply shrinking them down into bite-sized delights, we simply adore this wonderful sweet breakfast pastry. Therefore, we have decided to go one step bigger and transform cinnamon rolls into a cinnamon roll cake that's perfect for any time of the day.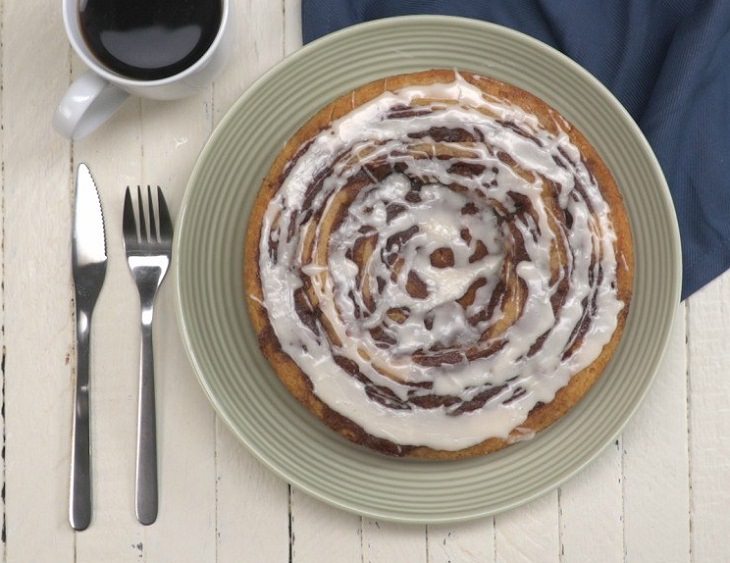 Cinnamon Roll Cake (Serves 8-10)
Ingredients
Cake
• 1 ½ cups all-purpose flour
• ½ teaspoon salt
• 1 ½ teaspoons baking powder
• ½ teaspoon baking soda
• 1 egg
• ½ cup granulated sugar
• ¾ cup buttermilk, brought to room temperature
• ¼ cup coconut oil, melted (can substitute canola or vegetable oil, if desired)
• 1 teaspoon vanilla extract (optional)
Topping
• ⅓ cup butter, melted
• ⅓ cup brown sugar
• 1 tablespoon flour
• 1 tablespoon ground cinnamon
Glaze
• 1 cup powdered sugar
• 1 to 2 tablespoons milk
• 1 teaspoon vanilla extract
Method
1. Preheat your oven to 350 degrees Fahrenheit. Prepare a 9-inch cake pan using cooking spray, or with flour and butter.
2. In a large mixing bowl, whisk together the 1 1/2 cups of flour, salt, baking soda, and baking powder.
3. In a separate bowl, using a hand mixer, beat together the egg, sugar, buttermilk, melted coconut oil, and the vanilla extract (if using).
4. Combine the flour mixture with the buttermilk mixture and mix until combined.
5. Spread the cake batter into the 9-inch cake pan you prepared earlier and set aside while you make the topping.
6. In a mixing bowl, mix the melted butter, brown sugar, tablespoon of flour, and ground cinnamon until well combined.
7. Using a spoon, drizzle half the topping in a circular pattern over the top of the cake (in a cinnamon roll swirl pattern). Set the remaining half aside for the time being.
8. Bake the cake for 20-25 minutes, or until a toothpick that has been inserted into the middle comes out clean.
9. Again using a spoon, drizzle the remaining half of the topping over the cake to fill in the crevices that have formed during the initial baking.
10. Return the cake to the oven and finish baking for an additional 5-10 minutes.
11. Making the glaze: In a medium bowl, mix the powdered sugar, 1 tablespoon of milk and the teaspoon of vanilla extract together, using a whisk. If needed, adjust the consistency by adding more milk, 1 teaspoon at a time, until the glaze reaches your desired consistency.
12. Drizzle the glaze evenly over the warm cake.
13. Serve the completed cake warm at room temperature.
Source: tiphero