The word curry is thought to have derived from the Tamil word "kari", meaning sauce. However, these days, it is used to refer to a variety of dishes from countries across Asia which, wet or dry, contain meat, fish, or vegetables and a blend of spices and chili. This Chettinad chicken curry, from Tamil Nadu in Southern India, has plenty of punch and fire, and only takes 40 minutes to make.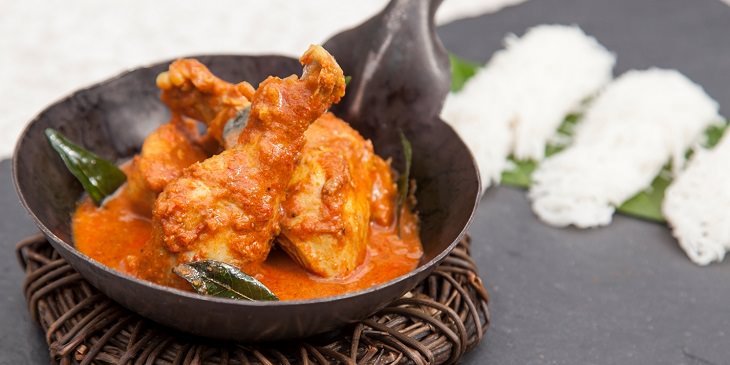 Chetinad Chicken Curry (Serves 4)
Ingredients
• 1 chicken, weighing 1kg, jointed into 8 pieces
• 1 tbsp of coriander seeds
• 1 tbsp of cumin seeds
• 1 tbsp of fennel seeds
• 1 tsp kalpasi, optional
• 1 tbsp of poppy seeds
• 1 tbsp of Kashmiri chilli powder
• 1/2 tsp turmeric powder
• 2 tbsp of coconut oil
• 1 cinnamon stick
• 4 cloves
• 1 tsp ground star anise
• 3 shallots, sliced
• 6 garlic cloves, finely chopped
• 3 sprigs of curry leaves
• 4 tomatoes, puréed
• 5 1/16 fl oz of coconut milk
• salt
Method
1. Dry roast the coriander, fennel, cumin, kalpasi, and poppy seeds in a dry saucepan over a medium heat for 2-3 minutes.
2. Place the roasted spices in a spice grinder, add the chili and turmeric powder and grind to a fine powder. Set aside for the time being.
3. Heat the coconut oil in a thick-bottomed saucepan over a medium heat. Add the cinnamon stick, star anise, and the cloves. Sauté for 30 seconds.
4. Add the garlic, shallots, and curry leaves. Cook, stirring occasionally, until lightly browned.
5. Add the ground spice powder and salt, and mix until well combined. Increase the heat to high, add the chicken and sauté for 2-3 minutes to sear all over.
6. Add the tomato purée, stir well and once the curry has started to bubble, lower the heat. Cover and cook until the chicken has been cooked through.
7. Add the coconut milk, mix well, and cook for another minute. Check the seasoning, adjust if need be, and serve on a bed of rice.
Source: greatbritishchefs