Who doesn't like pancakes? Not only are they absolutely delicious, but they are pretty easy to make too. There's nothing better than starting off the day with some scrumptious homemade pancakes for breakfast. This simple-to-follow banana pancake recipe will deliver you mouthwatering results.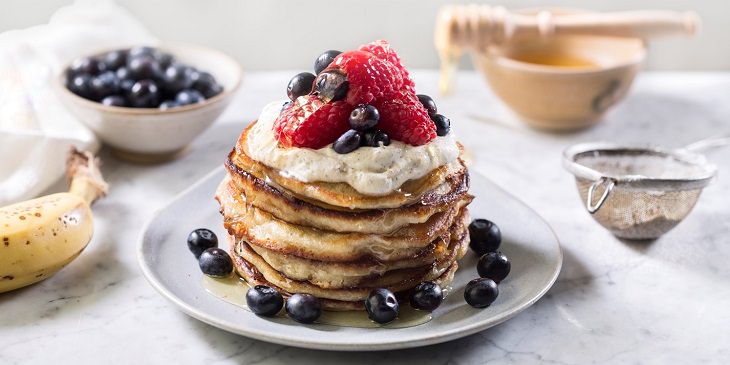 Banana Pancakes (Makes 8)
Ingredients
• 4 3/4 oz of self-raising flour
• 1 1/4 oz of castor sugar
• 2 tsp baking powder
• 1 egg
• 4 1/2 fl oz of milk
• 1 1/4 oz of butter, melted
• 2 bananas, roughly mashed
• 1 pinch of salt
Method
1. Mix all the dry ingredients together in a bowl.
2. In a separate bowl, mix the eggs, milk, melted butter and bananas.
3. Mix the wet ingredients with the dry ingredients and stir until just combined.
4. Add a tablespoon of oil to a non-stick frying pan and place over medium heat.
5. Using a ladle, pour a little bit of the mixture into the pan. You should be able to fit 3 at a time depending on the size of the pan that you're using.
6. Cook until bubbles start to form in the pancakes and the undersides are a lovely golden brown.
7. Carefully flip the pancakes and cook until browned well on both sides.
8. Serve right away with your choice of fruit, honey or cream.

Source: greatbritishchefs