Please don't let the time-stamp on this recipe put you off from making this absolutely delicious dish – if you marinade the meat during the morning, this bacon-wrapped pork tenderloin recipe will be a quick and easy weeknight meal that can be ready after just 30 minutes in the oven.
It is no secret that bacon-wrapped anything is always delicious, and this bacon-wrapped pork tenderloin is definitely no exception to the rule.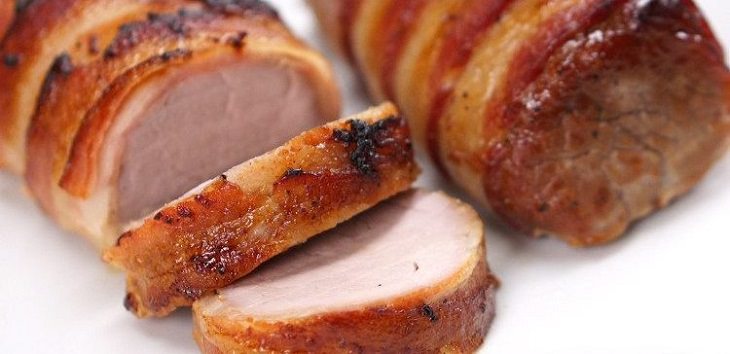 Bacon-Wrapped Pork Tenderloin
Makes 6 servings
Prep time: 3 hours
Total time: 4 hours
Ingredients
• 2½ pounds of pork tenderloin (about 2 Tenderloins, each cut in half)
• ⅓ cup honey
• ¼ cup shredded onion
• 1 tablespoon garlic, minced
• 1 tablespoon apple cider vinegar
• ½ teaspoon black pepper
• ¼ teaspoon cayenne pepper
• ½ cup soy sauce
• 1 pound (16 slices) of bacon
Preparation
1. Preheat the oven to 400°F/200°C.
2. Line a baking sheet with foil.
3. Put a resealable plastic bag in a bowl and place the pork tenderloin cuts into the bag.
4. To make the marinade, add the honey, shredded onion, apple cider vinegar, black pepper, minced garlic, cayenne pepper, and soy sauce to a large bowl. Whisk all the ingredients until they are well combined.
5. Reserve ¼ of the marinade and set it aside for the time being.
6. Pour the remaining marinade into the bag with the tenderloin, then seal the bag. Place the bag in the fridge for 3 to 4 hours or overnight.
7. Place 4 slices of bacon, vertically and slightly overlapping, on a chopping board so that they're roughly as wide as the pork tenderloin cuts.
8. Remove a piece of pork tenderloin from the marinade and place it across the bacon strips towards the top of the cutting board.
9. Wrap the tenderloin piece in bacon and secure it using a toothpick.
10. Place the bacon-wrapped pork tenderloin on the lined baking sheet.
11. Repeat with the remaining cuts of tenderloin.
12. Brush the bacon with the reserved marinade and bake for roughly ten minutes.
13. Keep brushing the bacon with marinade every 10 minutes, for about 30 minutes in total, or until the tenderloin is cooked to 145°F/62°C and the bacon is nicely browned.
Source: tiphero