If you were to ask a recently-diagnosed coeliac what they are going to miss from their old diet, the chances are that pizza is going to be somewhere near the top of their list. It's versatile, communal, and, more importantly, absolutely delicious.
Sure, there are many delivery places and restaurants that have started to produce gluten-free pizza, but they usually charge a lot extra for what is an inferior product. More often than not, these gluten-free pizzas are often more cakey than crisp and often packed with sugar. When it comes to a pizza, you want something that isn't too chewy, or too dry, but still has the crispness and flexibility you'd want in a pizza. This is exactly what this gluten-free pizza recipe gives you.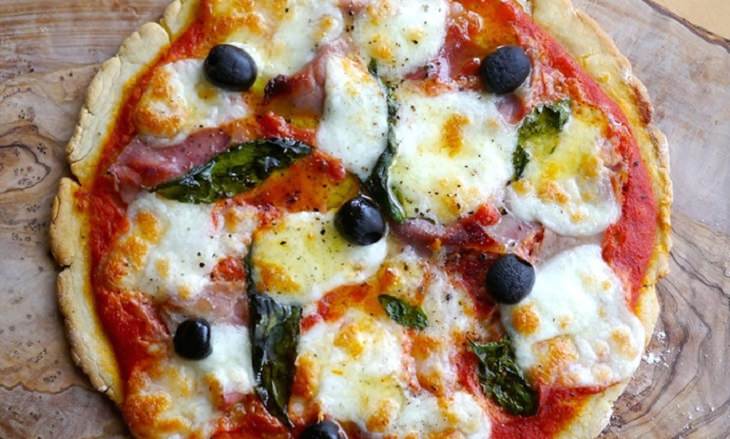 Gluten-Free Pizza
Ingredients
Base:
• 10 2/3 oz of rice flour
• 3 1/2 oz of gram flour
• 7 1/16 oz of potato flour
• 3 tsp xanthan gum, level
• 1 1/2 tsp salt
• 3 1/16 fl oz of olive oil
• 3/4 oz of fast-action dried yeast
• Warm water, 400–450ml
Tomato Sauce
• 14 1/8 oz of tinned chopped tomatoes, Italian
• 1/2 tsp salt
• 1 pinch of sugar
• Black pepper, a few grinds
Toppings
• Mozzarella cheese
• Fresh basil
• Black olives
• Prosciutto, optional, omit if serving to vegetarians
Method
1. Preheat the oven to 400ºF/gas mark 6.
2. Place the different kinds of flour, xanthan gum, salt, olive oil, and yeast in a food processor and pulse until combined.
3. Add the water (a little at the time and pulsing between each addition), until you have a soft, but not sticky, dough. Place the dough into a plastic sandwich bag while you make the tomato sauce.
4. Using a hand blender, blitz the tomatoes with the other ingredients (salt, pepper and sugar) until completely smooth.
5. Cut the dough in 6 equal pieces and roll each piece out into a thin, 9 inch round base, and place each one on a floured baking tray.
6. Ladle the tomato sauce on top of each base and spread evenly. Add the toppings (you can use whatever you like) and a drizzle of oil. Place the pizzas in the oven and bake for 15 minutes, or until crisp and golden.
Source: greatbritishchefs