This cheesy asparagus tart is definitely one you should try if you happen to be one of those people that happens to get really peckish between breakfast and lunch. That's why I'd like to share the recipe with you - it doesn't take long to make, is vegetarian and super-healthy. Here's how to make it:
Cheesy Asparagus Tart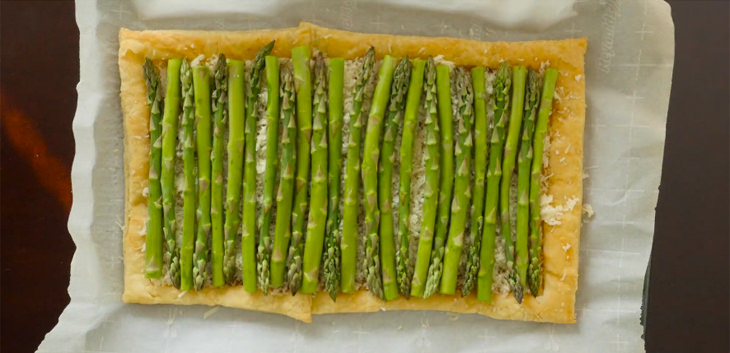 Serves: 4-6
Ingredients
• 1 package frozen puff pastry, thawed (you need two sheets totaling 17.3 oz. or approx 500g in weight)
• 1½ lbs asparagus
• 2 ½ cups Swiss cheese and ½ cup Parmigiano, mixed
• 2 tbsps. honey Dijon mustard
• 1 tbsp. extra virgin olive oil
• 1-2 tsp. balsamic vinegar
• Hollandaise sauce to garnish
• Kosher salt and freshly ground pepper to taste

Preparation
1. Preheat oven to 400ºF and line a large baking sheet with parchment paper.
2. Take both sheets of thawed puff pastry and place them on a lined baking sheet, overlapping them by one inch and pressing the seam gently to seal.
3. Use a paring knife to score a rectangle border one inch from the edge of pastry, then take a fork and pierce the dough all around the inside of the rectangle. (This allows steam to be released so the center of your tart doesn't puff up, while the outside edges do.)
4. Place the baking sheet in oven and bake for 12-15 minutes, or until golden brown and lightly puffed up.
5. Remove from the oven and let cool 2-3 minutes, then brush honey Dijon mustard and balsamic vinegar onto the center of puff pastry. Sprinkle assorted cheeses over the center of tart evenly.
6. Trim the ends of the asparagus so they fit into the center of the tart. Lay it out in a single layer, alternating the direction of the tips with each row. Brush with olive oil and season generously with salt and pepper.
7. Return your baking sheet to the oven and bake for 20-25 minutes, or until the pastry is golden brown and edges are puffed up and the asparagus is tender.
8. Remove from the oven and let cool 5 minutes, then drizzle with Hollandaise sauce, slice, serve and enjoy!

Watch the tart being made in the next video:
Content source: 12Tomatoes