With its juicy, pink beef coated in a crisp, golden, and buttery crust there are arguably very few things out there that look as inviting as a freshly baked Beef Wellington. You may think that this is a tricky dish to make, but it really isn't. Admittedly, it does take a little time to prepare, but please don't let this put you off as the end results are outstanding and, more importantly, delicious. A classic Beef Wellington is all but guaranteed to impress, and makes for a very impressive centerpiece for a special dinner.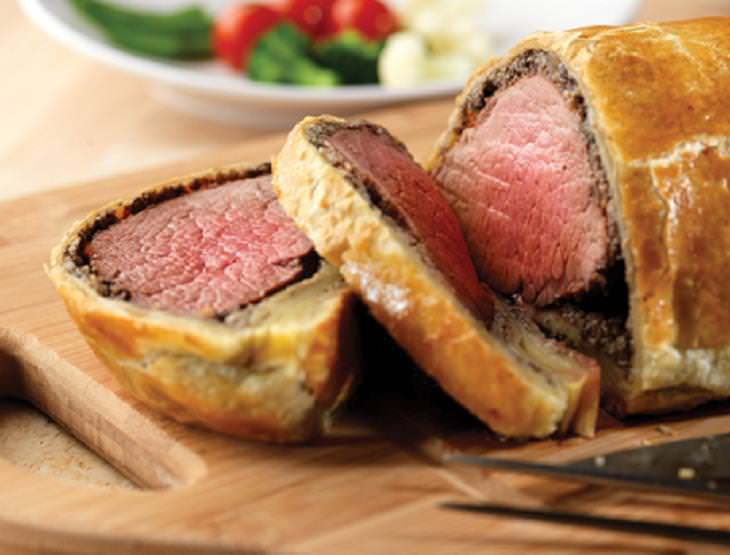 Beef Wellington (Serves 10)
Ingredients
• 2 1/2 pounds center cut beef tenderloin
• 1/2 teaspoon ground black pepper(optional)
• 1 egg
• 1 tablespoon water
• 1 tablespoon butter
• 2 cups finely chopped mushrooms
• 1 medium onion, finely chopped (about 1/2 cup)
• 2 tablespoons all-purpose flour
• 1/2 of a 17.3-ounce package of Puff Pastry Sheets(1 sheet), thawed
Method
1. Heat the oven to 425°F. Place the beef into a lightly greased roasting pan. If desired, season with black pepper. Roast the beef for 30 minutes, or until thermometer inserted into the beef reads 130°F. Cover the pan and place in the fridge for an hour.
2. Reheat the oven to 425°F. Then beat the egg and water in a small bowl using a fork.
3. Heat the butter in a 10-inch skillet on a medium-high heat. Add the onions and mushrooms and cook until the mushrooms are tender and all the liquid has evaporated. Stir often.
4. Sprinkle your work surface with the flour and unfold the pastry sheet. Roll the pastry sheet into a rectangle around 4 inches long and 6 inches wider than the beef. Brush the pastry with the egg mixture. Spoon the mushroom and onion mixture onto the pastry sheet to within an inch of the edge. Place the beef in the center of the mushroom mixture. Fold the pastry over the beef and press to seal. Place on the baking tray (seam-side down) and tuck the ends under to seal. Brush the pastry with the egg mixture.
5. Bake for 25 minutes or until the pastry is golden brown and a thermometer placed into the beef reads 140°F
Source: puffpastry