If you're trying to expand your culinary horizons, then this Mongolian Beef recipe is just what you're looking for. Join us as we learn how to make this Chinese-American restaurant staple dish. Yes, it's totally possible to make this tasty and popular dish from the comfort of your own home, and it'll taste a lot better than that which you can buy from popular Chinese chains. We guarantee you that.
This recipe is so easy that any home cook should be able to follow it with no problems at all.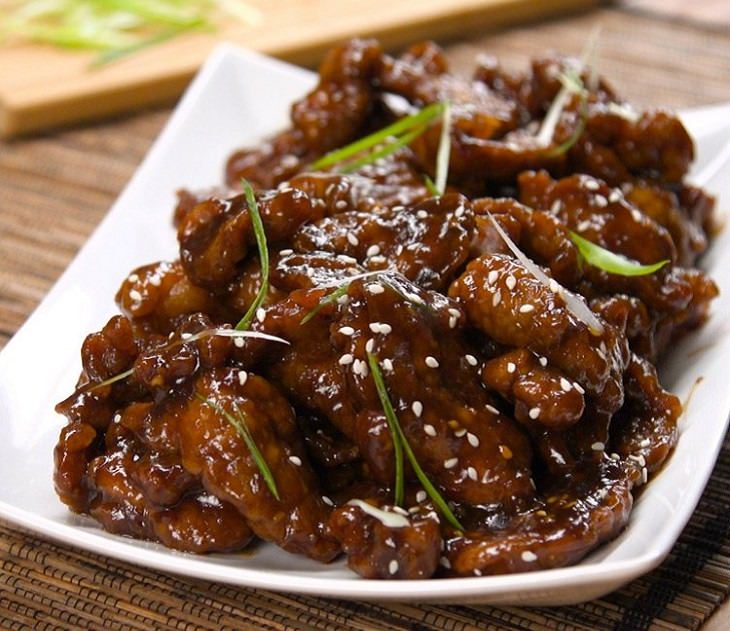 Mongolian Beef (Makes 4 Servings)
Prep Time: 1 hour 15 minutes
Total Time: 1 hour 30 minutes
Ingredients
• 1 pound flank steak, sliced against the grain into ¼ inch thick slices
• 2 teaspoons oil
• 1 tablespoon soy sauce
• ½ cup cornstarch, divided
• 2 cups vegetable oil, for frying the beef
• 3 cloves garlic, minced
• ½ teaspoon dried red chili flakes (optional)
• 1 teaspoon minced ginger
• ⅔ cup beef broth, chicken broth or water
• 2 tablespoons brown sugar
• ⅓ cup low sodium soy sauce
• Cornstarch slurry (2 tablespoons cornstarch mixed with 2 tablespoons water)
• ¼ cup green onions, cut, diagonally, into 1-inch-long slices
• 2 tablespoons toasted sesame seeds (optional)
Method
1. Line a sheet pan with some paper towels.
2. Marinate the sliced flank steak for 1 hour in 1 tablespoon of soy sauce, 2 teaspoons of oil, and 2 tablespoons of cornstarch.
3. Dredge the meat in the remaining cornstarch until lightly covered.
4. Heat 2 cups of vegetable oil in a medium-sized pan over a high heat. Just before the oil starts to smoke, spread the flank steak pieces out evenly in the pan, and cook for 1 to 2 minutes, depending on the heat of your oil. The cooked steak should be light golden-brown and crispy. Remove the steak and place on the sheet pan lined with paper towels and allow to drain.
5. Heat a large sauté pan over a medium heat. Add 1 tablespoon of the oil used to cook the flank steak to the pan. Then add the garlic, dried chili flakes (if using), and ginger. Cook for 15-30 seconds, stirring constantly, until fragrant.
6. Add the broth (or water), soy sauce, and brown sugar. Bring the sauce to a simmer, and stir until the brown sugar has dissolved.
7. Leave the sauce to simmer for around 2 minutes, and then add the cornstarch slurry mixture. Cook, stirring constantly, for 1 to 2 minutes, until the sauce coats the back of a spoon.
8. Add the cooked flank steak and toss it in the sauce until it is well-coated. Cook for a further 30 seconds, until the steak is heated through - all of the sauce should be clinging to the beef. If you think the sauce is too thick, add some more broth or water, 1 tablespoon at a time, to adjust the consistency to your liking.
9. Garnish with cut green onions and toasted sesame seeds, if desired. Serve over a bed of rice, some fried noodles or steamed vegetables.
Source: tiphero