These honey balsamic steak bites can be enjoyed in so many different ways. For example, they can be passed around as an appetizer alongside a steak sauce dip, they'd also make a very satisfying main dish with vegetables and roasted potatoes on the side, or they would be mouthwatering tossed into a crisp steak salad.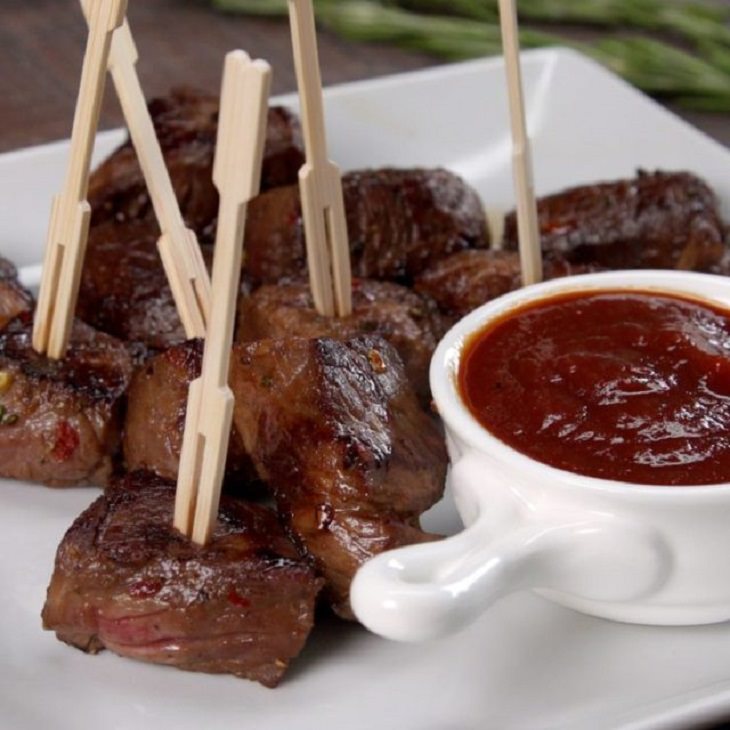 Honey Balsamic Steak Bites (Makes 6 Servings)
Prep Time: 1 hour 5 minutes
Total Time: 1 hour 20 minutes

Ingredients
• About 2 lbs of top sirloin steak, sirloin tip steak, or hanger steak
• ¼ cup balsamic vinegar
• ¼ cup honey
• 3 tablespoons vegetable oil
• 2 tablespoons soy sauce
• 1 teaspoon crushed chili flakes
• 2 cloves garlic, minced
• 1 teaspoon ground black pepper
• 1½ teaspoons minced fresh rosemary (about 1 large sprig)
• 2 tablespoons vegetable or canola oil
• Salt, to taste (optional)
Preparation
1. Cut the steak into 1-inch cubes and put to the side.
2. In a large bowl, add the balsamic vinegar, honey, vegetable oil, chili flakes, soy sauces, minced garlic, black pepper, and minced rosemary. Whisk to combine.
3. Place the cubes of steak into a large zip-top plastic bag. Pour in the marinade, close the top of the bag, and allow the steaks to marinate for around 1 hour.
4. Remove the steak from the marinade and allow it to drain well.
5. Heat a pan over a medium heat. Add the remaining oil and cook the steak until it's done to your liking.
6. If you want, skewer the marinated steak bites with small skewers.
7. Season with salt to taste.
Tips
• Due to the sugars from the honey in the marinade, the steak may brown faster than what you're used to - so make sure to keep a close eye on it so it doesn't get burned.
• If the steak has turned brown before the inside has been cooked to how you like it, you can finish cooking the steak on a baking sheet in a 350°F oven.
Bonus Video
Source: tiphero