If there is one thing in life that we can be sure about, apart from death and taxes, it's that casseroles will never go out of fashion. Cookbooks are filled to the brim with casserole recipes, and the main reason why they're so popular is that any plain old leftovers can be made into a delicious, heartwarming casserole. Let's face it, who is going to say no to tasty vegetables tossed in a creamy sauce and topped with melted cheese? That's right, no one!
Below you can find the recipe for the mother of all casserole dishes.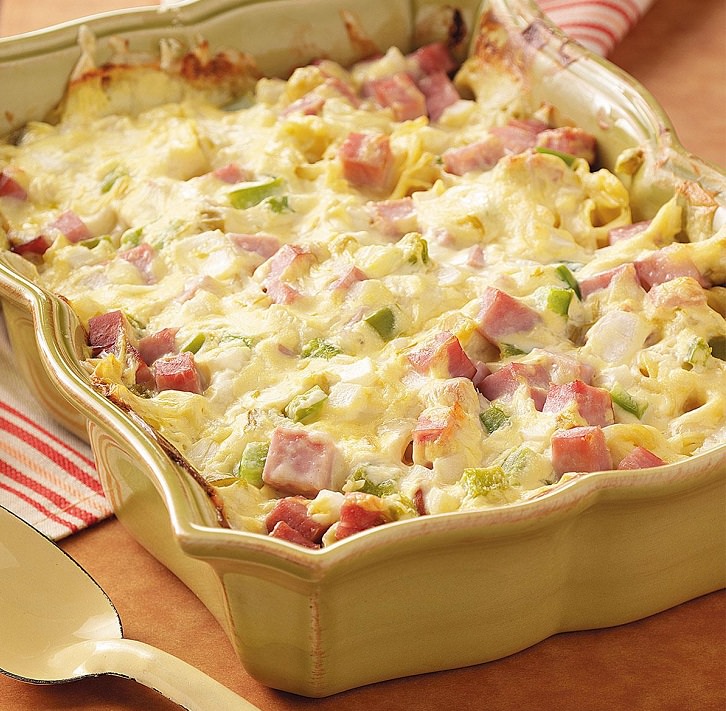 Ham and Linguine Casserole (Serves 10-12)
• 4 cups cooked and diced ham
• 1 large red bell pepper, chopped
• 1 large green bell pepper, chopped
• 1 medium onion, chopped
• 5 tablespoons butter
• 6 tablespoons flour
• 3 cups milk (2% or whole), scalded
• 1/3 cup chicken stock or broth
• 1 cup shredded cheddar cheese, divided
• 3/4 cup shredded parmesan cheese, divided
• 1 teaspoon mustard powder
• 1 1/2 teaspoons kosher salt
• Freshly ground pepper, to taste
• 1 pound linguine noodles, broken into thirds and cooked to al dente
Method
1. Preheat oven to 350°F.
2. Add a few tablespoons of canola or olive oil to a large skillet. Over a medium heat, sweat the onions until they have softened. Add the red and green peppers and cook until they become tender, about 5 minutes.
3. In a sauce pan, melt the butter on a low-medium heat. Add the flour, and whisk until smooth, about 3 minutes. Pour in the scalded milk and chicken broth. Cook, stirring constantly, until the mixture has become very thick. Mix in 1/2 a cup of cheddar and 1/2 a cup of Parmesan and stir until melted and creamy. Take the pan off the heat and add the mustard powder, salt, and pepper.
4. Combine the sauce with the ham, vegetables, and linguine. Taste and add more salt and pepper if needed. Pour the mixture into a large casserole dish. Sprinkle the remaining cheddar and Parmesan on top and cook until warm and bubbling, about 35-45 minutes.
Note: To reheat, cut the casserole into large squares. Pour about 1/4 to 1/2 a cup of water into the seams and around the edges - this will prevent the casserole from drying out when reheating. Cover with aluminum foil and bake at 350°F until hot and bubbly.
cover image courtesy of Depositphotos
Source: thekitchn