Not only is this cake delicious, but it's also very easy to make. Just like banana bread, it's a one-bowl wonder, thanks to the fact that oil is used. Even with the oil, this is still a light cake, which means that it's ideal for eating at any time of the day. The fluffy layer of banana cake goes along perfectly with the mixture of crunchy nuts and seeds. To add a bit of sweetness to the cake, a drizzle of chocolate can be added.
Nutty Banana Sheet Cake (Serves 9-12)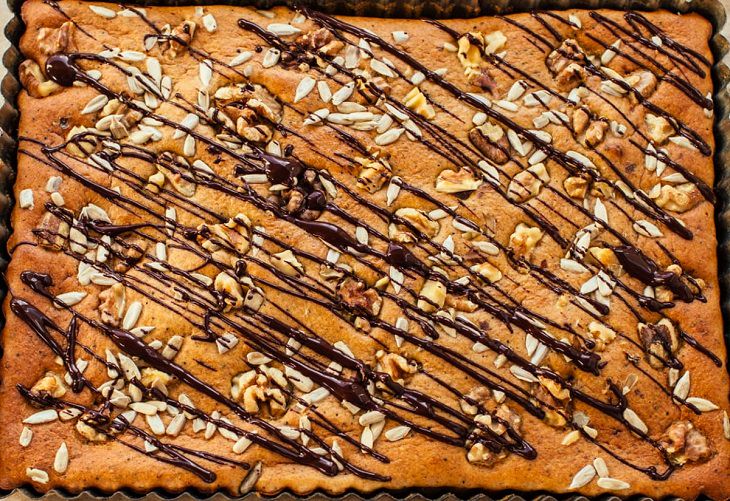 Ingredients
• 2 medium, overripe bananas (about 7 ounces peeled banana)
• 1/2 cup loosely packed light brown sugar
• 1/3 cup vegetable oil or melted unsalted butter
• 2 large eggs
• 1/2 cup ground almonds
• 1/3 cup applesauce
• 1/4 cup milk
• 3/4 teaspoon baking soda
• 3/4 teaspoon baking powder
• 1/2 teaspoon fine salt
• 1 1/2 cups whole-wheat pastry flour
• 1 tablespoon poppy seeds
• 3 tablespoons sunflower seeds
• 1/2 cup walnut pieces
• 2 ounces dark chocolate (70% cocoa), melted
Method
1. Heat the oven to 350°F. Coat a 9x13" rimmed baking sheet with oil or butter and set aside.
2. Peel the bananas, place on a plate and mash them using the back of a fork until smooth. Add the mashed bananas to a large bowl and add the sugar, oil, eggs, butter, almonds, applesauce, and milk. Stir until it has mixed well, then add the baking powder, baking soda, salt, flour, and poppy seeds. Fold the mixture together until no floury patches remain.
3. Pour the batter into the already prepared baking sheet and sprinkle with the sunflower seeds and walnut pieces. Place in the oven, and bake until well-risen and golden brown - this should take around 35-40 minutes.
4. Drizzle melted chocolate on top of the cake and set aside to cool. Once cooled, cut into 9-12 pieces.
Source: thekitchn
Photos: Izy Hossack
Related Articles:
See Our Collection of Delicious Banana Recipes