I admit that this isn't the best-sounding main dish that you'll come across, but you'll forget all about that once you've tasted it. This rich, chewy and very satisfying dish has won the palates and hearts of many - even non-vegetarians.
Many of the steps in this classic vegetarian nut loaf recipe can be prepared in advance - the brown rice can be cooked, the cheese shredded, and the nuts chopped. In fact, the whole mixture can be made a whole day in advance and refrigerated. If you're baking it straight from the fridge, please be sure to leave it in the oven a couple of minutes longer than stated.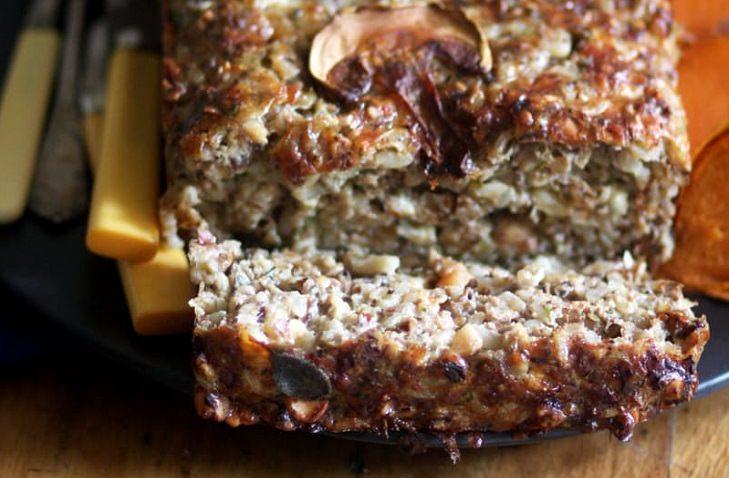 Classic Vegetarian Nut Loaf
Serves 6 to 8 people.
Ingredients:
• 1 onion, medium, chopped
• 1 tablespoon butter or oil
• 2 cups finely-chopped mushrooms
• 2 cloves garlic, finely chopped
• 1 teaspoon dried thyme
• 1 teaspoon dried marjoram
• 1 teaspoon dried basil
• 1 teaspoon dried tarragon
• 1 teaspoon dried sage
• Red wine or sherry
• 2 cups cooked brown rice
• 2 cups walnuts, finely chopped or pulsed in a food processor
• 1 cup cashews or almonds, finely chopped or pulsed in a food processor
• 5 eggs
• 1 cup cottage cheese
• 3/4 pound grated cheese: Parmesan, Gruyere, cheddar, fontina, smoked or any combination
• 1/2 cup mixed fresh chopped herbs such as parsley, oregano, thyme
• Salt and pepper
Method:
1. Preheat the oven to 350°F.
2. Sauté the onion in oil until it begins to soften. Add the mushrooms and a pinch of salt and pepper, and cook the mushrooms until they have released their juices and become soft. Add the garlic and dried herbs, and continue cooking. When the pan starts to dry out, add a splash of red wine or sherry and cook until it has been reduced. The contents of the pan should be moist, but not swimming in liquid. Remove from the heat and allow to cool a little.
3. While you're waiting for the mushroom mixture to cool, oil a 9-inch loaf pan and line it with foil or parchment paper.
4. Add the nuts and rice to a large bowl. In a different bowl, beat the eggs with the cottage cheese. Add the egg/cheese mixture to the nut/rice mixture, then stir in the cooled mushrooms, grated cheese, and fresh herbs. Mix very well. Taste for seasoning and adjust accordingly. The mixture can be kept, covered and in the fridge at this point for no more than a day.
5. Fill the loaf pan with the nut mixture. Bang on the counter a couple of times to get rid of any air bubbles and use a spatula to smooth the top. Decorate with slices of mushrooms, bell peppers, or whole walnuts, if you so wish. Place loaf pan on a baking tray.
6. Bake for around an hour until the loaf is firm (slightly longer if the mixture was refrigerated). Remove from the oven and let it rest for 10 minutes. Once 10 minutes have passed, lift the loaf from the pan using the excess foil or parchment paper. Peel off the foil or parchment paper and serve on a platter, garnished with herbs.
Source: thekitchn
​Photo: Dana Velden