Southeast Asia is a world region that only seems to increase in popularity as a tourist destination with each passing year. However, one part of it, Laos, is still not-well known. Nevertheless, it's home to stunning scenery, beautiful cities, and rich cultural heritage. Here are the top 10 places to visit in Laos:
10. Bokeo Nature Reserve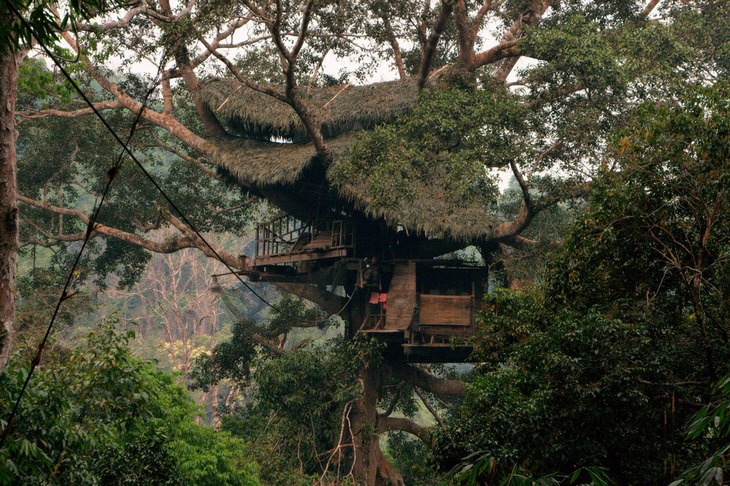 Until 1997, the black-cheeked gibbon was thought to be extinct. Luckily, that year marked its rediscovery and the creation of the Bokeo Nature Reserve to protect the endangered primate. Head to the nature reserve and stay at the Gibbon Experience, an eco-tourism conservation project. You'll stay in a tree-house and travel by zip line through the forests to see the black-cheeked gibbon, as well as elephants, bears, tigers, and wild buffalo.
9. Nong Kiau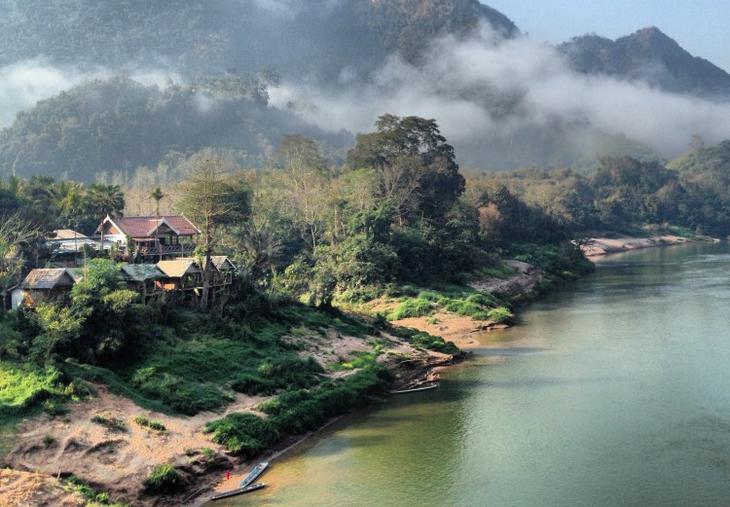 Situated in Luang Prabang province, Nong Kiau is the perfect destination for the active traveler, offering many walking, mountain climbing, and biking opportunities. When you're there, take a look at the Chinese-built bridge across the Nam Ou River, which connects two parts of Nong Kiau. In addition, there are incredible river and mountain views to take in.
8. Tham Kong Lo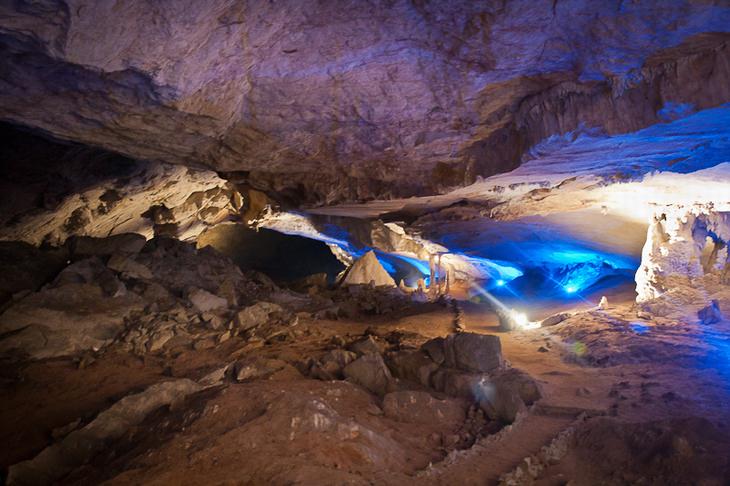 Often touted as a geological wonder of Southeast Asia, Tham Kong Lo is a limestone cave situated in Phu Hin Bun National Park. It's more than 4 miles (6.5 km) long and up to 300 feet high. The cave contains an emerald-colored pool that locals believe to be sacred. They say it reflects the skin color of Indra, a Hindu god. You can even take a boat ride through the cave should you wish to enjoy it thoroughly.
7. Luang Namtha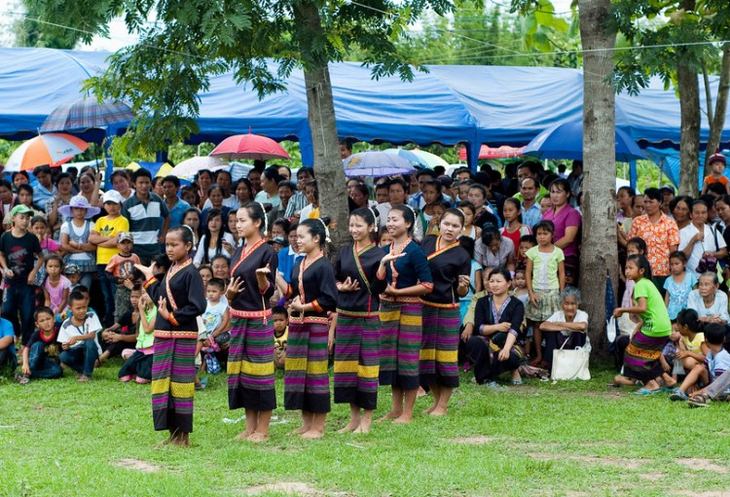 Luang Namtha is the largest city in northwest Laos. It's a highly popular destination with backpackers, who stop over during their hikes from China into Laos. It's also a good starting point for treks into the nearby hills, which are home to ethnic tribes. Relax in an herbal sauna in the evening, and sample a wide variety of local foods at the city's night markets.
6. Wat Phu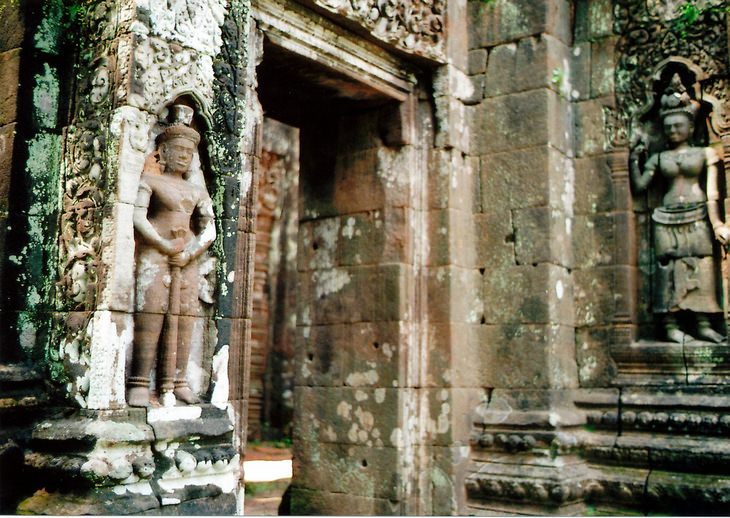 Located at the base of Mount Phu Kao in Laos' Champasak province, Wat Phu is a ruined Khmer temple complex that dates back (in part) to the 11th Century. It was part of the great Khmer empire, which was centered in Angkor, situated to the southwest in Cambodia. While Wat Phu is a much smaller site than Angkor, it has a certain mystique thanks to its tumbledown pavilions, crocodile stone, and tall trees.
5. Si Phan Don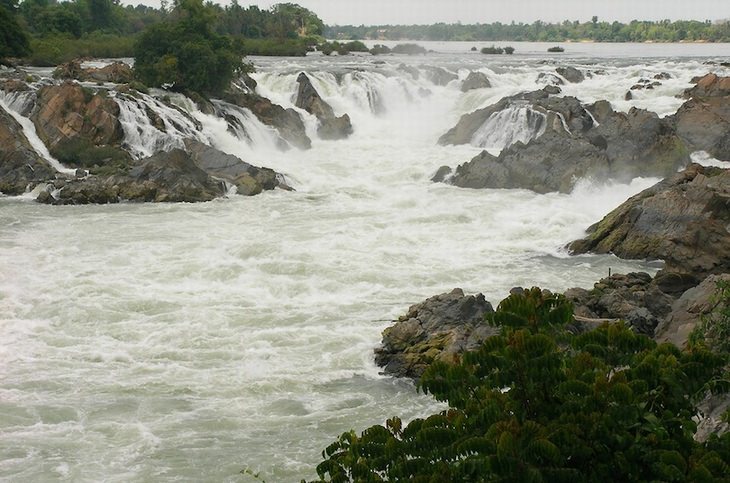 Si Phan Don, which means 4,000 islands, is a riverine archipelago in the Mekong River in the southern part of Laos. One of the more remarkable geological features of this archipelago is the Khone Falls, a series of rapids that stretch 6 miles downriver. The area below the falls is home to a small population of highly-endangered Irrawaddy Dolphins. The three main islands that cater to tourists in the archipelago are Don Det, Don Khon, and Done Kong.
4. Phonsavan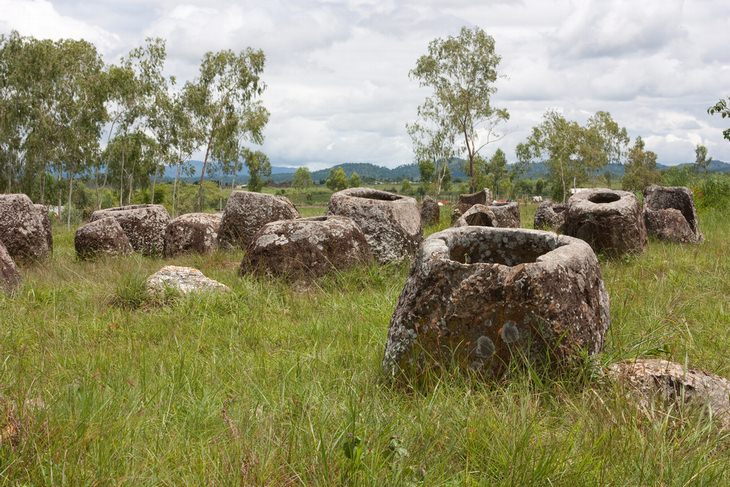 The name Phonsavan means "hills of paradise" in English and, as bizarre as it sounds, the area is a good place to experience a Laotian take on the United States' Old West. Hmong "cowboys" herd and raise cattle, and the city even hosts bullfighting events during Hmong New Year. When you're in the area, visit the Plain of Jars to see ancient megalithic structures in the shape of jars. The remnants of previously-occupying cultures, namely Siamese and French, can still be observed in the region.
3. Vang Vieng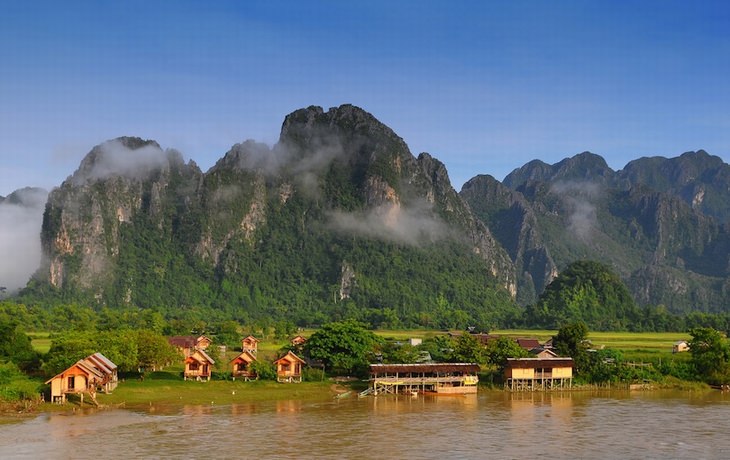 This tourist city is a four-hour drive away from the Laotian capital, Vieentane. It was originally settled in the 14th Century, when it was known as Mouang Song. Best known for its limestone karst hills, tourists can enjoy many activities in Vang Vieng, from kayaking and tubing, to backpacking and hiking. You can also visit ethnic villages, including Hmong, which are located close by.
2. Vientane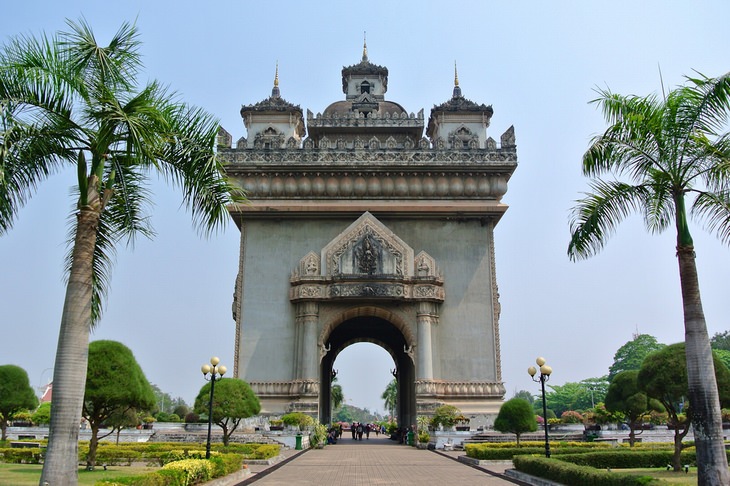 The glorious Laotian capital city, Vientane, is located on the banks of the Mekong River. Clear remnants of French influence can be seen in the city's streets, which are left over from the time that Laos was a French colony. The most famous attraction in the city a 16th Century Buddhist stupa called Pha That Luang, which stands some 147 feet tall and is believed to contain relics of the Buddha himself.
1. Luang Prabang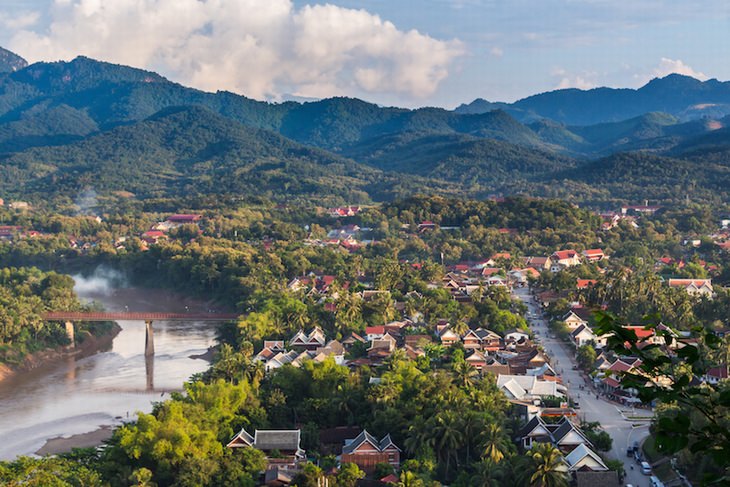 This historic city is an absolute must-visit place on your travels in Laos. Located at the confluence of the great Mekong and Nam Khan rivers, Luang Prabang was once the capital of Kingdom of Laos. Buddhist temples and monasteries abound, and you'll see monks walking through the city each morning collecting alms. Visit the beautiful waterfalls nearby, and you can even take an elephant ride up to some of them!