Did you know that it's possible to make 'healthy cakes'? These cakes are made without flour, dairy products, or artificial sweeteners. With this chocolate avocado cake, for example, the butter is replaced by avocados. Replacing the butter with avocados doesn't make the cake any less delicious, but it does make it healthier and can actually help you lose weight.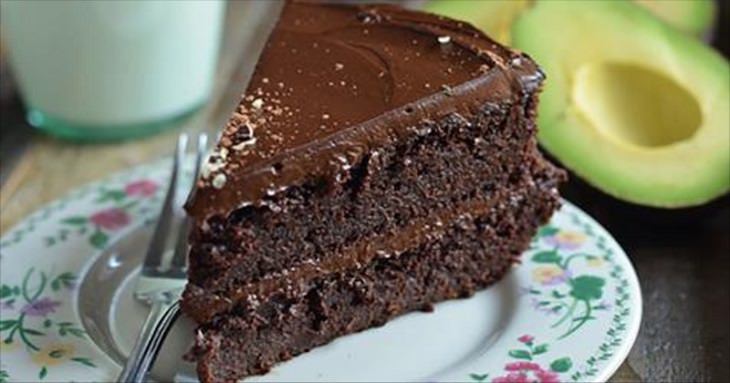 Avocados are rich and soft, which makes them an excellent substitute for butter. Furthermore, they are a great source of healthy fats, minerals, and vitamins. The healthy fats make avocados a great choice for a ketogenic diet. To add to this, they are an excellent source of folate (used to repair cells, and lutein (maintains eye health).

Avocados have been used to lower cholesterol, treat osteoarthritis, and it's even been proven that they contain cancer-fighting properties. Therefore, adding this fruit to a cake is one of the tastiest ways to benefit from these health benefits.

The taste of the avocado mixes in well with the other ingredients that it's not even possible to tell the difference. This cake is also sweetened with honey or maple syrup, instead of sugar and white flour. Try it out now!
Ingredients:
1 ripe organic avocado, mashed until smooth

2 teaspoons baking powder

¼ teaspoon sea salt

¼ cup coconut or avocado oil

3 cups coconut flour

2 cups filtered water

5 tablespoons dark chocolate cocoa powder

3 tablespoons of maple syrup (or to your desired taste)

2 teaspoons vanilla extract

2 tablespoons apple cider vinegar (or squeezed lemon juice)
For the frosting
2 ripe organic avocados, mashed until smooth

5 tablespoons dark chocolate cocoa powder

2 tablespoons of maple syrup

Whisk all the ingredients till smooth
Directions
1. Preheat the oven to 350°F, grease, and (coconut) flour two 9" round cake pans.
2. Whisk the flour, cocoa powder, salt, and baking powder in a large bowl. In a separate bowl, whisk avocado oil, vinegar, avocado, water, and vanilla extract. As soon as they are mixed well, add the maple syrup.
3. Pour this mixture into the flour mixture and stir well.
4. Divide the mixture evenly between cake pans, and bake.
5. After half an hour, check to see if they are done.
6. Leave the cakes to cool in the pans, and take them out after 15 minutes to completely cool.
7. Add a frosting layer on the first cake layer, and then top the second one.
8. Pour the rest of the frosting on top of the entire cake.
Source: juicing-for-health
Click here for more chocolate recipes