1. Three Musicians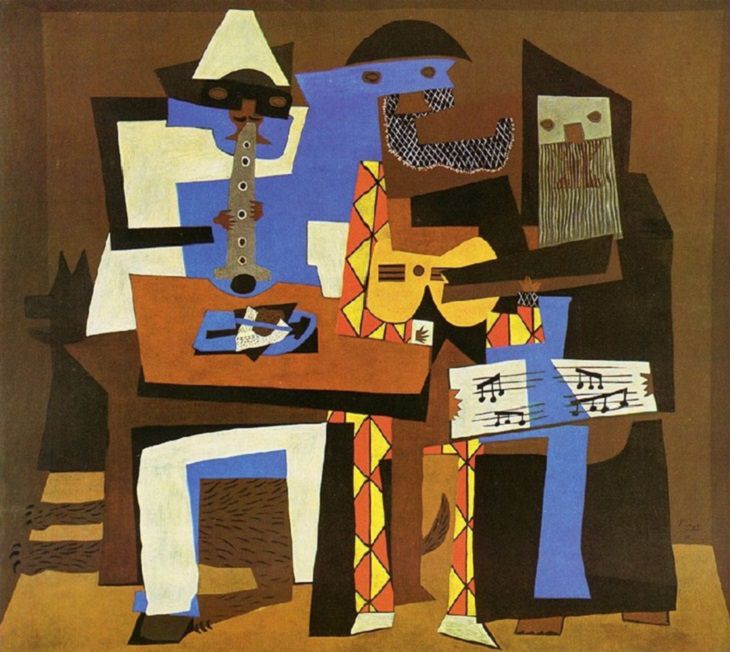 Lying in the New York Museum of Modern Art, this large 2-meter-high painting was made at Fontainebleau in 1921, while Picasso was staying with his young family. Three Musicians exemplifies Picasso's Synthetic Cubist style, which originated from paper cutouts, explaining why it looks rather like an intricate jigsaw. The figures are a Harlequin, Pierrot, and monk, who many take to be Picasso and the poets Apollinaire and Max Jacob, who were both dead at the time of the painting.
2. Girl Before a Mirror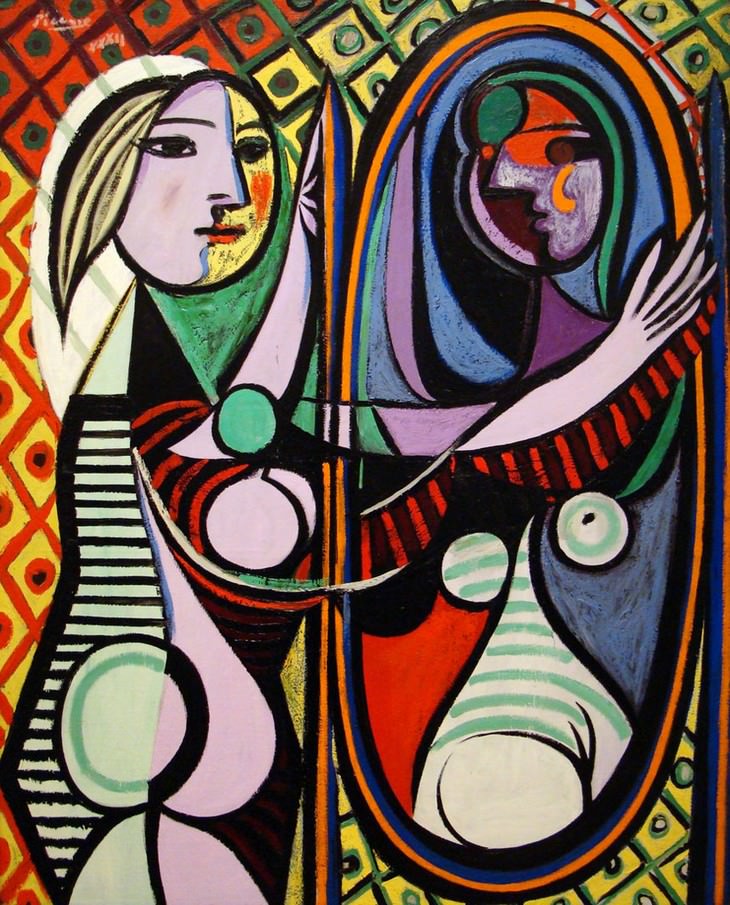 This painting first saw light in 1932 and features one of Picasso's favorite models, Marie Therese Walter. Girl Before a Mirror has garnered many different interpretations through the years, but there appears to be some consensus that the yellow side of her face indicates her happy times with Picasso. The reflection in the mirror is darker since it demonstrates Marie's own view of herself, more negative and doubting.
3. The Old Guitarist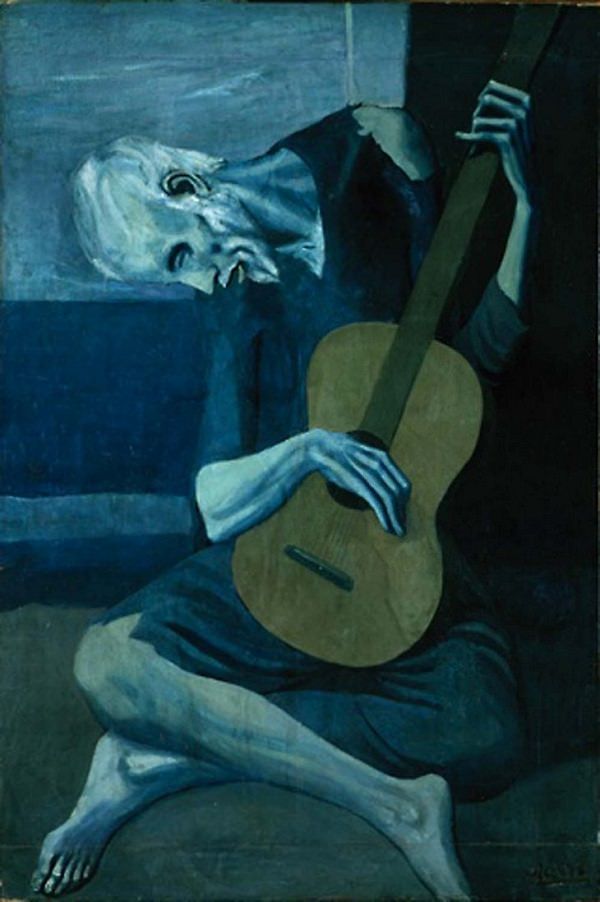 This dark painting, which evokes the work of El Greco, was made as a mourning offering to a friend of Picasso, Casagemas, who killed himself in 1903. The two of them had come to Paris together to seek fame and fortune. Casagemas despaired of success and Picasso was feeling very low now too. This work is considered characteristic of Picasso's Blue Period, which lasted from 1901 to 1904.
4. Seated Woman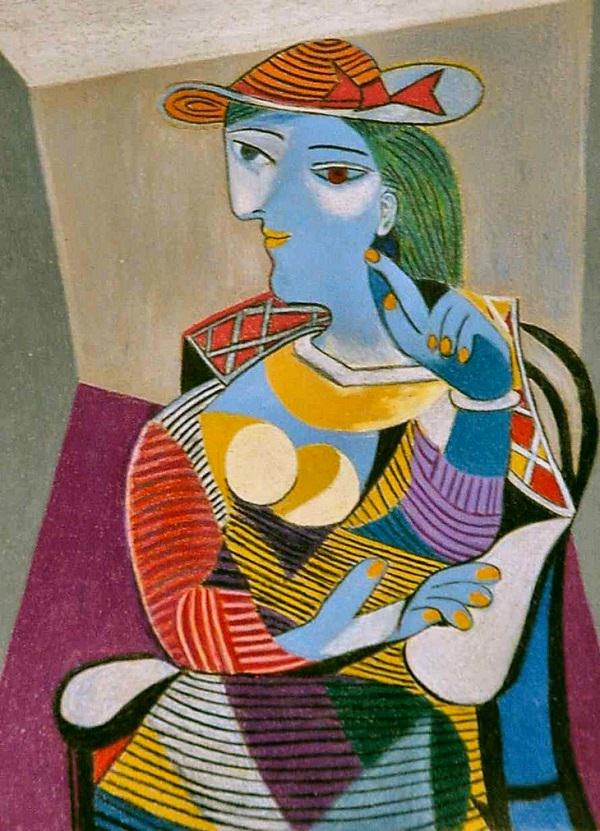 Painted in 1937, during Picasso's most prolific period, the seated women ranks as one of his most powerful works. The reds and greens stand in opposition to one another, increasing the sense of animation so typical of his work. By now Picasso was incredibly famous, and his love for the woman here was filling him with inspiration and vigor.
5. Dora Maar au Chat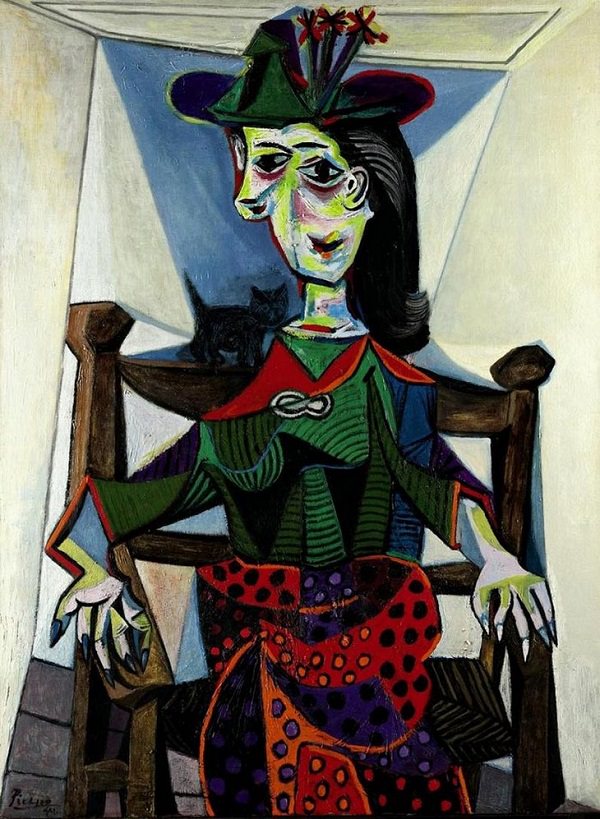 This brilliant depiction of Picasso's lover Dora Maar and her black cat was painted in 1941. The wild, yet stark coloring makes this a memorable portrait, the like of which the art world had hardly seen before. Due to its fame, one Russian bidder was lucky enough to walk home with the painting after purchasing it during a 2006 Sotheby's auction. The price was $95,216,000!
6. Blue Nude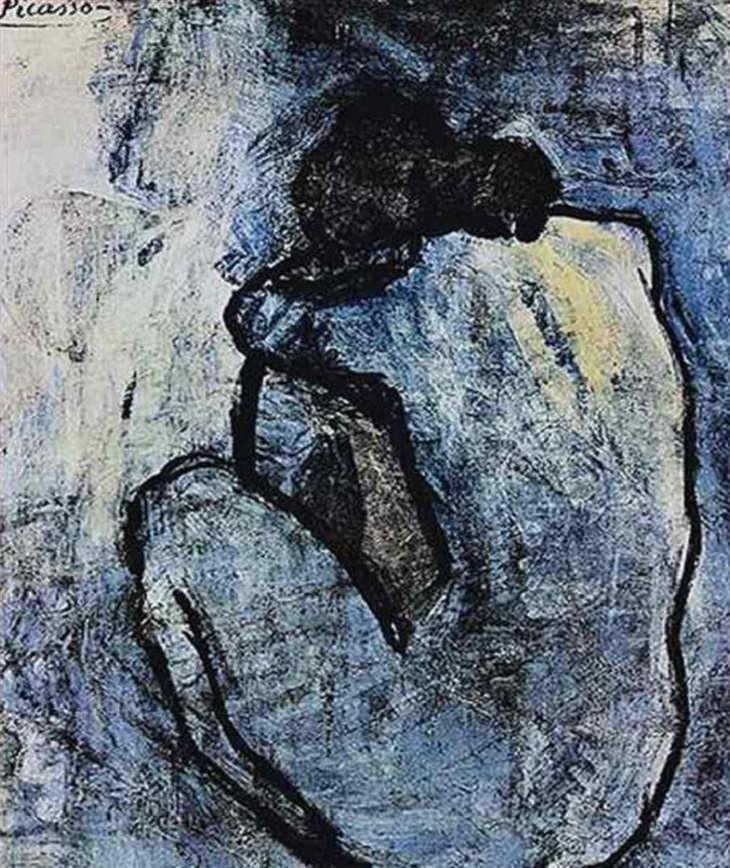 During a dark period in his life, the young Picasso painted this weeping lady. It was 1902 and Picasso had been rocked by the death of a friend. By using only one color, Picasso was able to transform his bitter grief into a deeply beautiful artifact. We only see the woman's back, which seems to indicate her feelings of rejection and disengagement.
7. Le Rêve (The Dream)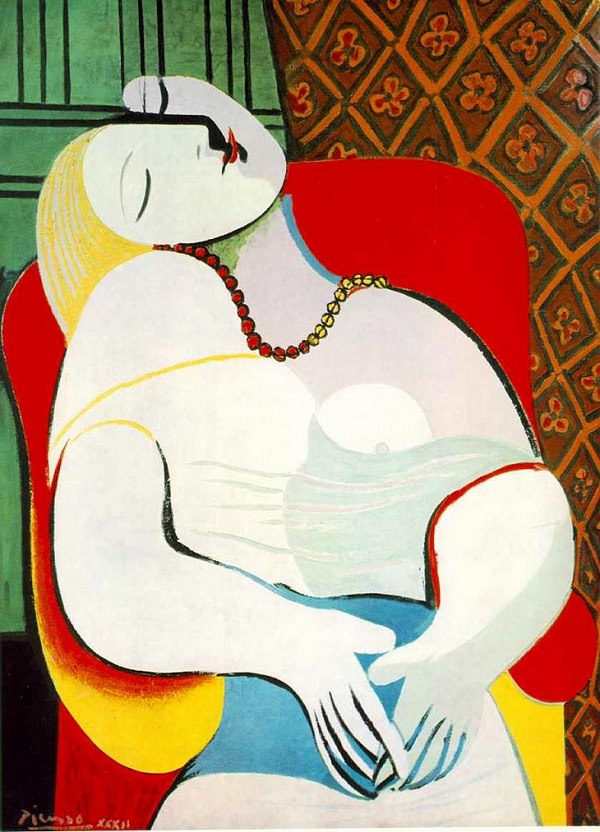 This painting of Picasso's mistress, Marie Therese Walter, was made in 1932, taking only one afternoon to start and finish. The sensual and highly suggestive content is rendered with deceptively crude outlines and stark contrasting colors. The Dream, after having been damaged and repaired was privately sold in 2013 for $155 million.
8. Asleep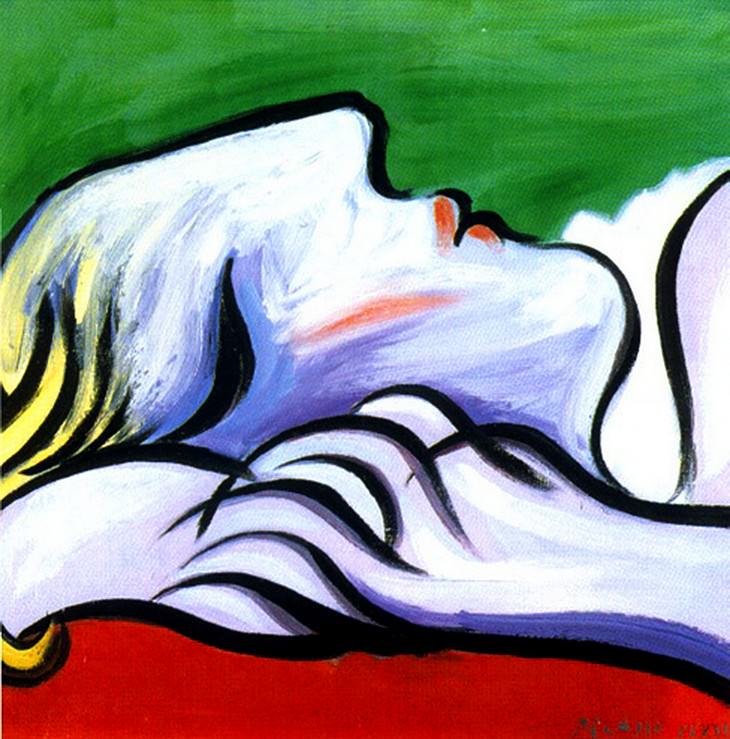 Here we see Marie Therese Walter resting beautifully between the two contrasting colors of red and green. Painted in 1932, this painting is said to exemplify Picasso's fascination and interest in the differences between beauty and ugliness. Marie's hands, in particular, have provoked interest, since they seem to morph into claws, giving the subject an animalistic primitivism.
9. Nude, Green Leaves and Bust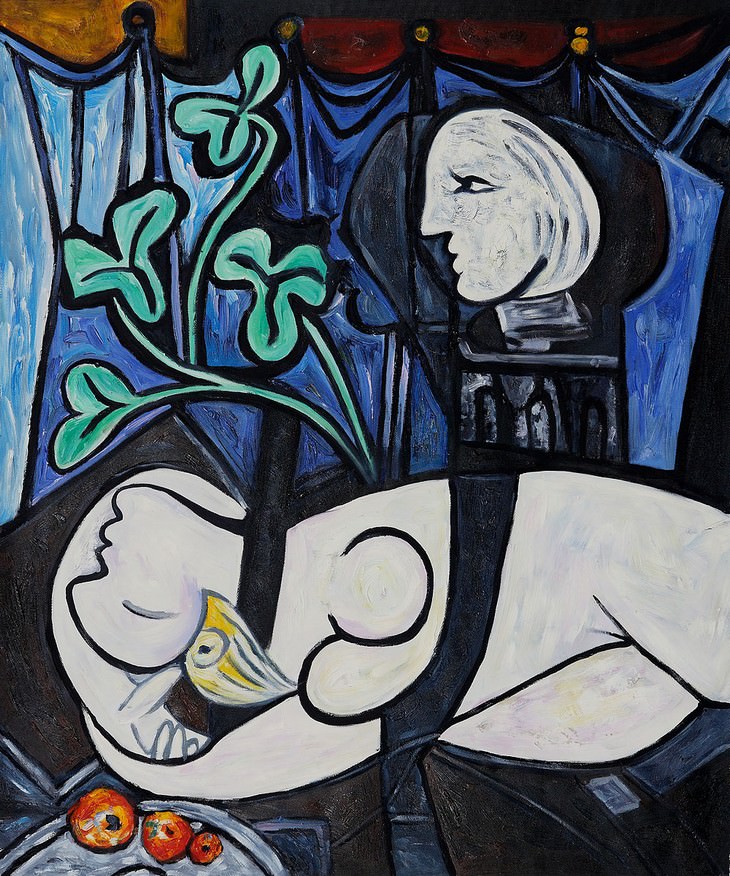 One of Picasso's most famous pieces, this 1932 masterpiece of Marie Therese Walter was sold in 2010 for a then world record fee of $106.5 million. The painting has perplexed and enthralled art experts for decades. Of special interest are the two long shadows cast over Marie's body – nobody knows what they signify.
10. Les Demoiselles d'Avignon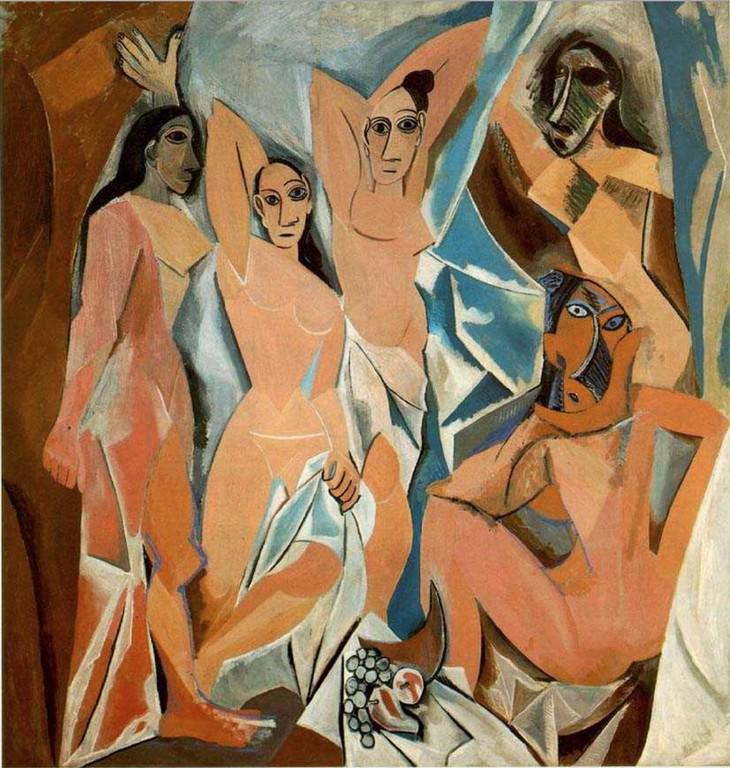 This amazing painting, produced in 1907 is the one that made Picasso's name. A truly stunning and innovative study in reductionism and space, this painting will surely go down in history as one of art's most astounding creations. The painting took Picasso nine months to complete and is said to owe a lot to his interest in African art. The subjects represented were five female prostitutes from a brothel in Barcelona. Upon its first unveiling in 1916, the painting was widely considered to be immoral.
11. Guernica