Although the France of today is a decidedly secular place, it's history as a Christian beacon can still be observed in some of the world's most beautiful churches that remain here. Many of these churches date far back into history, from antiquity, through the Medieval period and Renaissance, all the way up to the Revolution and beyond. If you are planning a trip to France one day, or simply want to know more about the old country's architectural heritage, this little guide to 12 of the greatest French Churches could be just what you need.
The location on which this magnificent church stands has been used as a site of religious observance since at least the third century of the Christian era. Bourges Roman Catholic Cathedral itself was built during the early part of the 13th century in the French Gothic style typical of the middle-ages. Many of the original stained glass windows, depicting memorable Biblical scenes, have survived the centuries, along with wonderful carvings and other intricate embellishments built into the church façade.
Otherwise known as the Pink Cathedral, Strasbourg Cathedral is a sandstone marvel of both Gothic and Romanesque design. The church is famous not just for its rose-like color, but also for its large interior astronomical clock that was considered a scientific wonder when it was created during the 19th century.
3. Monolithic Church of Saint-Jean
Visiting the pretty and small, quaint town of Aubeterre-sur-Dronne is a lovely treat, but what sets the sleepy town apart from its rivals is the singularly extraordinary underground church of Saint-Jean, first built in the 7th century. This limestone carved giant was extended during the later 12th century and now includes a vaulted nave, ancient coffins, and a baptismal pool.
4. Abbey Church of Saint Ouen in Rouen
This church, a building dedicated to the humble worship of Christ, is one of France's greatest and most outstanding glories. Located in the City of a Thousand Spires, Rouen's own spire makes it the tallest in the nation. The 56-bell carillon peals out an hourly chime that fills the city with timed sounds that echo through eternity. The cathedral's interior walls are filled with some inspiring statues of our favorite saints too.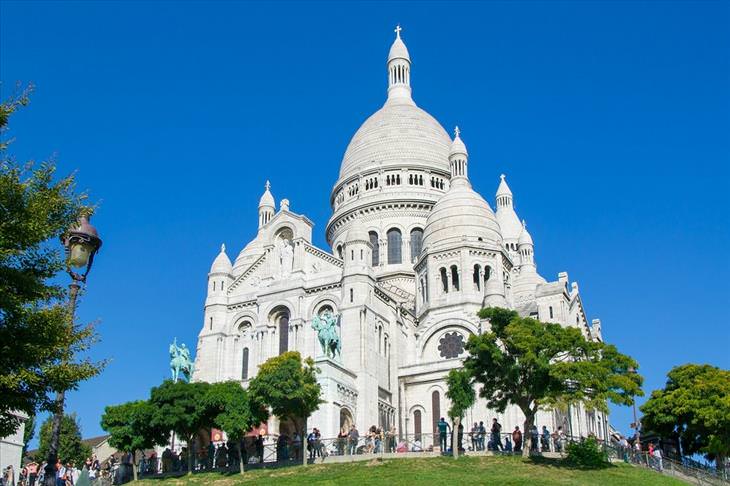 Paris's Sacré-Coeur is a Basilica built in the ancient Romano-Byzantine style best typified in the world-famous Hagia Sophia Cathedral of Constantinople (or Istanbul). Sat atop a hill in the Montmartre district, the cathedral features a gigantic Jesus and golden-heart-themed mosaic within.
6. Saint Michel d'Aiguilhe
Have you ever seen a church as isolated and elevated as this? To reach the hallowed pews of this magnificent 10th-century building, you must ascend 268 rock carved steps, symbolizing the tricky ascent to heaven that life requires of us. As you all can see and testify, such a walk will be surely worth the effort.
7. Notre Dame de la Garde
Another church built in the antique Byzantine style is this unbelievable construction dedicated to the patron saint of Sailors, Notre-Dame de la Garde at Marseille. Though the building was completed in the 19th century, the site was originally used as an ancient fort, right back to the days when Marseille was an ancient Greek colony. Inside this great beauty, you can see a sumptuous Madonna and baby Jesus copper statue, ornamented with gold leaf.
8. Mont Saint Michel Abbey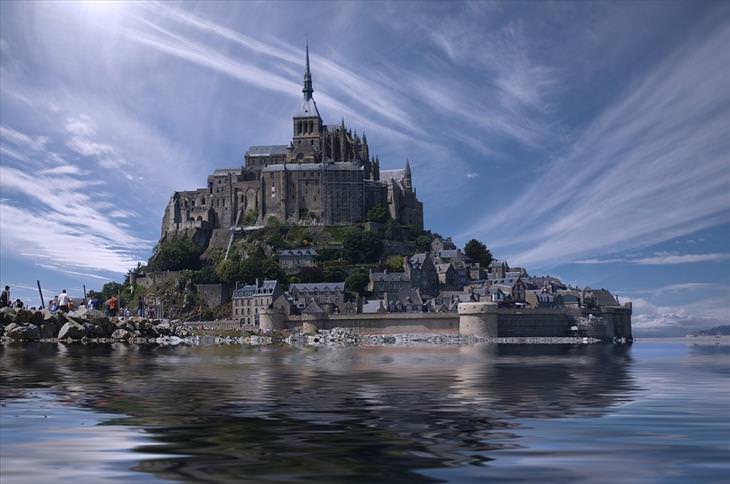 Mont Saint Michel Abbey really needs to be seen to be believed. Standing half a mile off the Normandy coast, this Benedictine Abbey built during the 15th century is surrounded by only a narrow circle of streets, shops, museums and cafes on the tiny island where it lies, jutting out of the sea. Access can be tricky, to say the least, but what a reward for getting there this is!
It took nearly a full century for the French to build this Gothic masterpiece some 800 years ago. Here in Reims Cathedral, many of the great early kings of France had their coronations, with a certain Saint Joan of Arc in attendance at one such ceremony. If you intend to visit France in the future, Reims Cathedral is a must-see you just have to witness for yourself.
Amiens Cathedral seems to have been built out of pure emulous jealousy for Reims Cathedral as much as it was out of loving devotion to God. Although one can easily understand how the locals of Amiens, having seen Reims, wanted something similar for their own church. It's for this reason that Amiens was actually built to be taller than its illustrious neighbor, making for a truly notable feat of one-upmanship. Inside Amiens, you will witness some amazing painted saint carvings.
First built in the 13th century, Notre Dame de Paris is perhaps France's most well-known cathedral. This giant Gothic structure dominates its Parisian locale. It's decorated with multiple gargoyles that help support columns and spout out water. The underground crypts are also open to the public, but you'll be most blown away by its interior grandeur.
Built during the late 12th and early 13th centuries, the incredible Chartres Cathedral is rightly considered one of France's most important buildings. Its exterior is simply phenomenal, with sparkling colorful Medieval stained glass windows, and two spires that almost seem to touch the sky. Inside there are some breathtaking works of religious art and a host of curious relics. The most interesting of which is the dress that is purportedly the actual garment of Mary, worn during the hour she brought Jesus into the world.