I love desserts with a slight tang to them - generally anything that includes lemons. But my next favorite has got to be the classic carrot cake. Carrots have long been mixed into sweet cakes since the medieval times and became widely available in the U.S. in the 1960s. But from all the carrot recipes I've tried this is most probably my favorite. They are perfect for a quick afternoon healthy snack.
Perhaps, the only drawback is that you need quite a few ingredients for this recipe (though most you'll probably have on hand in the kitchen) and either way, these cookies and all their ingredients are worth every bite. To top it off, they're incredibly healthy too - carrots are rich in vitamins A, C, K, fiber, and potassium.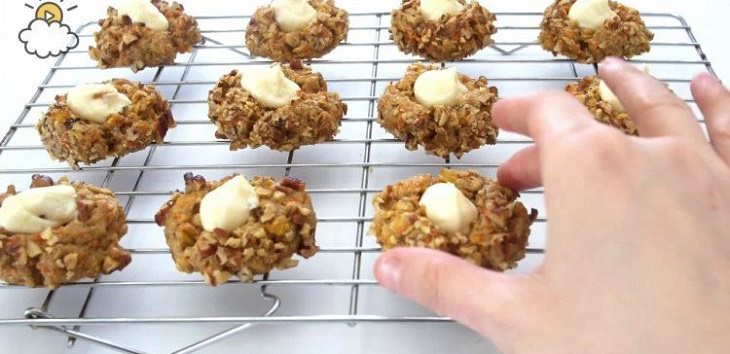 Here's the recipe
Ingredients:
• 3 carrots, peeled
• 1 cup flour
• 3/4 tsp. kosher salt
• 1/2 tsp. cinnamon
• 1/2 tsp. ground ginger
• 1/3 cup granulated sugar
• 1/3 cup brown sugar
• 1 stick unsalted butter, melted + 4 Tbsp. butter at room temperature
• 1 egg yolk
• 3/4 cup old-fashioned rolled oats
• 1/4 cup golden raisins, chopped
• 3/4 cup pecans, finely chopped
• 1/4 cup powdered sugar
• 2 oz. cream cheese
• 1 1/2 tsp. apricot jam

Directions
1. Pulse the carrots in a food processor until they are finely shredded. Set 3/4 cup aside.
2. Meanwhile, in a bowl, add flour, salt, cinnamon and ground ginger and whisk well.
3. Add the flour mixture to the butter mixture in batches, stirring in between. Then, mix in the oats, raisins, and carrots. Combine well, cover and refrigerate for 30 minutes.
4. Roll out the dough into 1 1/2 inch balls, then coat each one in pecans.
5. Place the balls on a parchment-lined baking sheet then bake for 10 minutes at 350°F.
6. Remove from the oven and press at the center of each cookie, baking for a further 10 minutes.
7. In a bowl beat 4 tablespoons of butter and powdered sugar until smooth. Beat in the cream cheese until combined then swirl in the jam.
8. Pipe this filling into the center of each cookie. Then serve and enjoy!