Belly-Busting Walk:
You can add this simple change to your daily walks to zero in on shaping your abs. The recommended time for this workout is about 10 minutes at first, adding more time as you begin to feel it isn't too taxing on you.
When walking, focus on drawing your abs in, toward your spine, but don't hold your breath. It might help to imagine that your legs extend up above your navel. Try to maintain the contraction throughout your walk. If you feel it's too much, release it for a short break while still walking, and resume after a minute or two. The slight hip swivel will make your lower torso rotate, activating more ab muscles and burning more calories.
Happiness Walk:
This workout has a lot to do with your mind, not just your body. Add these easy steps to your walk and you will be much more calm and relaxed when you are done.
1) Focus on your feet. Imagine the firm ground beneath you as each foot rolls from heel to toe with each step you take. Try to keep this awareness of your steps for 2 to 3 minutes without getting distracted.
2) Turn your attention to breathing. As you walk, lift your torso and pull your shoulders back to stand upright and increase lung capacity. As you inhale, think of the energy you are giving your body and your mind, then exhale all of the tiredness and pain.
3) Mentally speak to yourself. Think about the fresh air and healthy workout you are doing, focus on the good things and if you find yourself wandering off into bad territory, just go back to focusing on your feet.
Nature Walk:
In just 5 minutes, mother nature can work wonders on your mood and physical well being. If possible, go for short lunchtime strolls in parks or mountain areas. It has been found to improve memory and attention 20% more than a walk-in an urban environment, due to fewer distractions and cleaner air.
Treadmill Hike:
If you have no hills or tracks near your home then this treadmill routine can give you the same fat-burning experience of an uphill walk in just 25 minutes.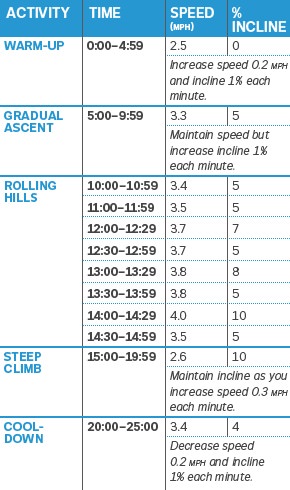 Walking with Poles:
A good pair of walking poles will cost you around $90 or more, but it may boost your calorie burn by up to 46%. Not only will you be giving your arms a workout, but the poles also reduce impact on your joints.