Pasta is possibly one of the most versatile ingredients you can cook with. However, despite its versatility, we tend to stick to making familiar pasta dishes, such as spaghetti with meatballs, or a hearty lasagna. And while those dishes definitely make it into my top five pasta dishes, I have recently discovered a new way of enjoying this delicious food.
This recipe is fun to make - you can get your children or grandchildren to help lay out the pasta - it's a dish your guests will certainly be impressed by. Get ready to dig in to this delicious rigatoni pie!
Prep Time: 1 hour
Serves: 6
Ingredients:
1 (1lb) box rigatoni pasta

1 (25oz) jar marinara

1 pound ground Italian sausage (or beef), cooked and drained of fat

2 cups mozzarella, grated

1 (15 oz) container ricotta cheese

1 cup parmesan cheese

1 egg, lightly beaten

1/4 cup water

2 tablespoons olive oil

Salt and pepper, to taste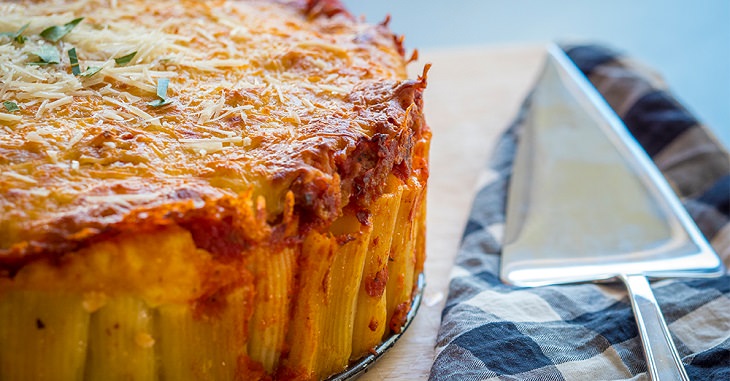 Directions:
1. Preheat the oven to 400º F. Meanwhile, lightly grease a 9-inch springform pan with non-stick spray. In a large pot of salted water, boil and cook the rigatoni noodles, until al dente.
2. Drain the pasta and transfer to a large bowl, tossing the rigatoni in one to two tablespoons of olive oil. Add the Parmesan and toss until the mix has coated the pasta evenly.
3. In a separate bowl, stir the ricotta, egg, salt and pepper, combining the ingredients well. Set aside.
4. Add the marinara sauce and water to a large skillet, cook over medium-high heat, then heat to a simmer. Stir in the Italian sausage and reduce to low heat, allowing the sauce to simmer for a further 15 minutes.
6. Meanwhile, lay the rigatoni up at one end. Be sure to fill up any gaps, but do not overcrowd it. Pour the ricotta mixture over the pasta and spread it evenly. Add the meaty marinara sauce on top and gently squeeze the ricotta and marinara mix through any hollow spaces in the pasta.
7. Bake in the oven for 15 minutes, then top with mozzarella and bake for a further 15 minutes. Let it cool for 10 minutes and remove from the springform pan. Use a knife to loosen the edges if necessary. Enjoy!
image and recipe: source