Get busy with your family and grandkids this Easter by trying out these simple and fun DIY projects. On top of keeping the little ones occupied, these Easter craft projects will add a colorful and pretty touch to your home, bringing in some holiday atmosphere too.
1. Easy Egg Wreath
Simple and sweet! If you're short on time, pick up an egg garland and a grapevine wreath from your local craft store.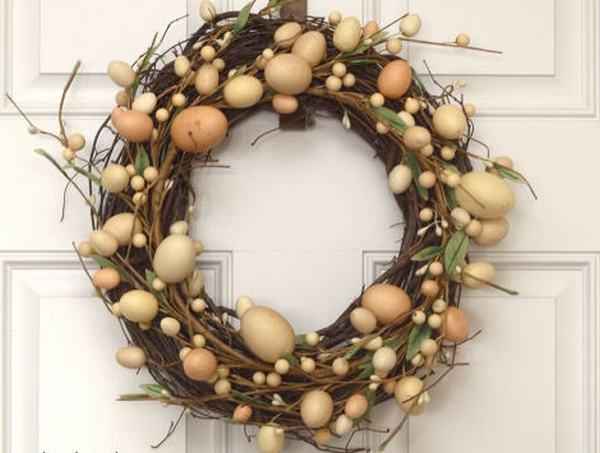 Source: livelaughrowe.com
Here's How:
Intertwine the egg garland within and around the grapevine wreath. Preferably opt for a wired egg garland, limiting the amount of supplies that you would need to use. In which case, you may need some floral decorations, wire, and glue.
2. Easter Egg Tree
Another simple and stylish design. To complete your Easter egg tree, hang your decorated Easter eggs on sprigs of silk flowers.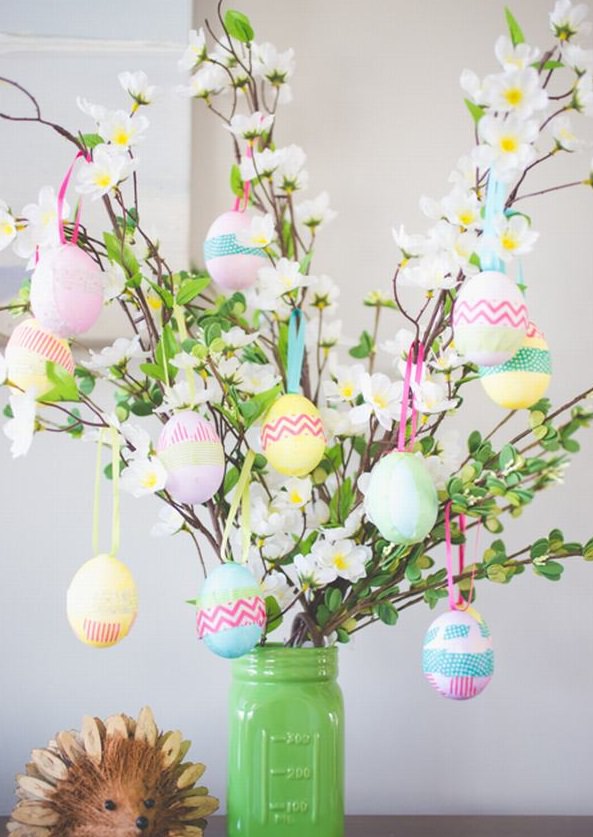 Source: peanutblossom.com
Here's How:
Carefully prick a hole at the top and bottom of each egg and blow the yolks out into a bowl. Gently wash the eggs in warm water combined with vinegar. Then rinse and blow out the water to clean. Prior to decorating the eggs, let them dry completely. In the image above, the eggs were dyed, dried and accented with washy tape. Use hot glue gun and attach ribbon loops to hang the eggs on the tree. Allow the decorative eggs to cool and dry completely before hanging on your branches.
3. Easter Bunny Treat Jars
Fill mason jars with candy, and decorate them with silhouette stickers and a coat of chalk paint.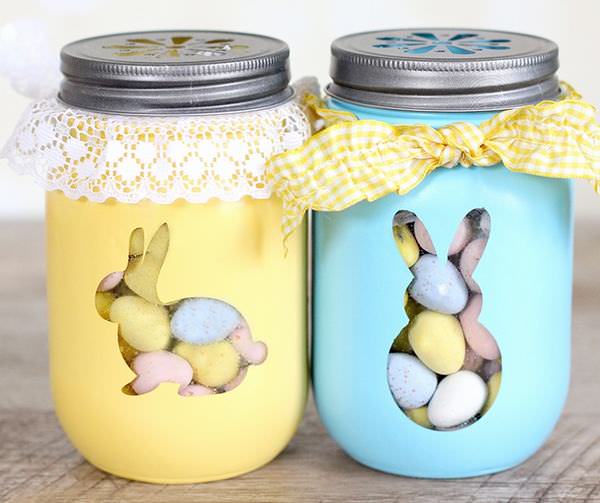 Source: happinessishomemade.net
Here's How:
Clean the mason jars well. Using vinyl stickers, cut into bunny shapes, applying the stickers to a smooth area on the jar, pressing firmly to ensure that the stickers have completely adhered to the glass. Then, apply a coat of chalky finish paint (or spray paint) and let dry for 10 minutes. Carefully peel the vinyl stickers while the pain is still a bit wet. Add ribbon or lace trim to complete the look.
4. Eggshell Planters
For a great project you can do with your kids, plant wheatgrass in your discarded egg shells.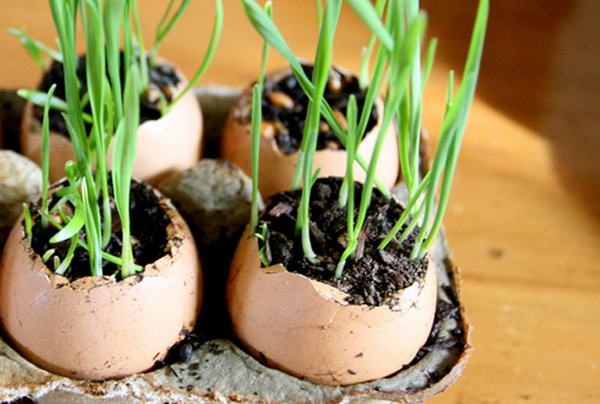 Source: momtastic.com
Here's How:
Remove the tops of the eggs (using a paring knife) and pour the contents out. After removing the tops of each egg, carefully wash them out and let them dry in the sun for a couple of hours. Place 3 to 4 small stones at the bottom of each egg. Then add a small amount of soil into each one and layer wheat kernels on top. Add some more dirt to cover the kernels. Water them and keep by a sunny window. Expect to see your sprouts grow in about 2 to 3 days, and wheatgrass in 5 to 7 days.
5. Easy Easter Centerpiece
This Easter centerpiece is pretty easy to pull off and will add a sophisticated touch to your table.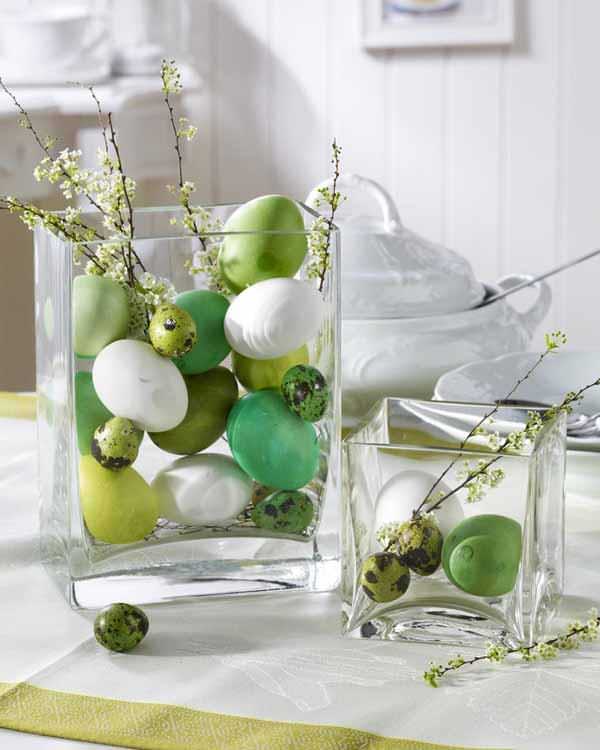 Here's How:
Fill a glass with dyed eggs (see explanation in project 2 for details) and add a few flowering branches (which you can pick from your backyard).
6. Paper Carrot Favor Bags
For a simple, Easter treat bag, try your hand at these carrot shaped cones that can be put together in a matter of minutes.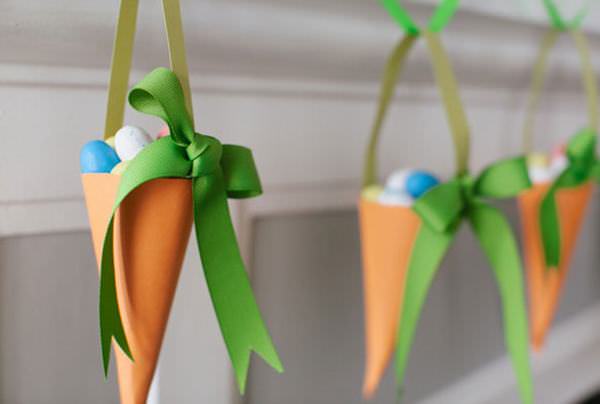 Source: ohhappyday.com
Here's How:
Cut out traced shapes as shown in the image below, at 8.5 x 11". Roll a cone and glue at the seam. Then cut a green strip to create a handle, gluing the handle to the orange cone on the inside. Add a green bow at the front and fill with candy.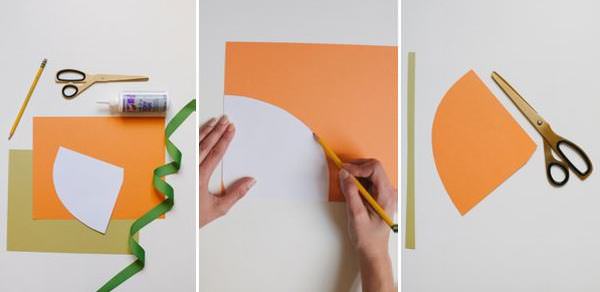 7. Glittered Pail Easter Basket
For an alternative look try your hand at the pastel-colored pails covered in gold glitter.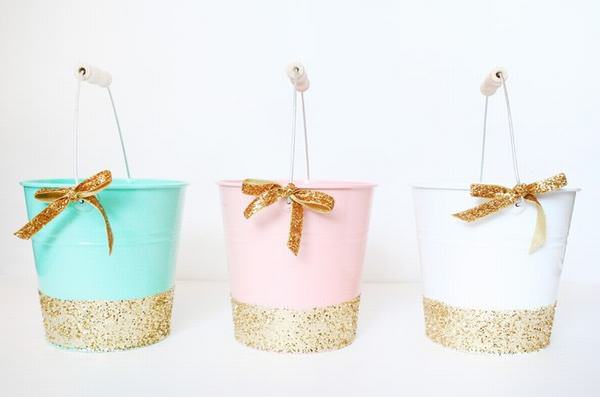 Source: freutcake.com
Here's How:
After purchasing your pastel colored pails, use painter's tape to tape off the section which you wish to cover in glitter. Use a foam brush to paint on a generous coat of tacky glue. Then sprinkle heavy amounts of glitter all over the glue. Remove the tape carefully and finish off with a pretty bow at the base of the handle. Fill the pail with shredded paper and decorate with various Easter egg designs. Refer to examples in projects 2 and 8, for inspirational looks.
8. Sprinkle Eggs
Here's a pretty and relatively easy way to decorate eggs! Just add sprinkles.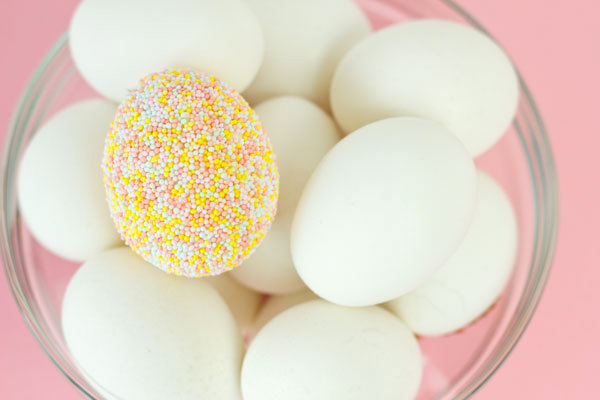 Source: studiodiy.com
Here's How:
Hard boil the eggs that you intend on decorating. Pour sprinkles, the image above shows Pastel Nonpareils, into a medium size bowl. Squeeze some tacky glue onto freezer or wax paper. Using a paintbrush, cover your egg in a thick, even layer of glue. Dip the egg in sprinkles and press down firmly, covering half the egg in sprinkles. Place the egg in the bowl and using a spoon, cover the other half with sprinkles. Then firmly place the arc of the spoon against and around the egg, sealing the sprinkles on. Let the egg dry in the bowl and once set carefully lift it out, placing on a wire rack to dry. To save time, use a large bowl, allowing you to decorate more than one egg at a time.