This fantastic, easy-to-create recipe will keep you well-nourished. Known as a Buddha Bowl, this wholesome meal is a combination of vegetables and grains, inspired by the principles of the macrobiotic diet - a way of eating that recommends a grain and vegetable-based diet, emphasizing the balance of yin and yang in food for greater health. It originated in Japan and combines a synergy of flavors consisting of sweet, sour, bitter, salty, light and hot.
This recipe has become a real favorite in the west. For starters, it's absolutely delicious. Secondly, it's incredibly easy to make during the week. It's also a comforting and nourishing dish, in addition to being extremely healthy. Last but not least, just looking at this heavenly bowl makes you want to dig right in.
Top Tip: Decrease your cooking time by preparing your base ingredients (sweet potatoes, lentils and beans) at the beginning of the week. Once you've prepared your ingredients ahead of time, it will only take you five minutes to assemble. Enjoy!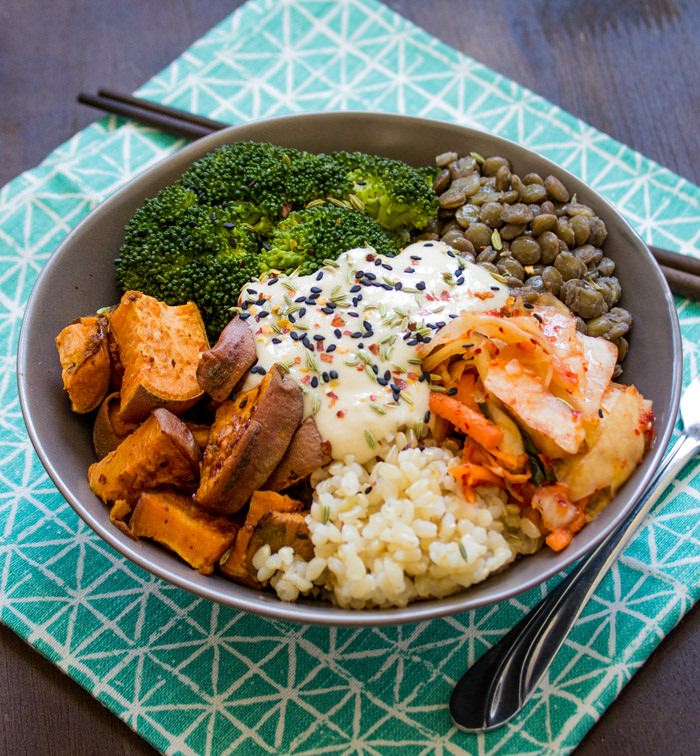 Ingredients (Serves 4)
2 sweet potatoes, cubed & roasted

2 cups cooked brown rice or quinoa

2 heads broccoli, chopped and steamed or roasted

2-3 cups cooked black beans (or 1-2 14-oz cans)

2-3 cups cooked lentils

1-2 cups sauerkraut (finely cut, fermented cabbage)*

Fennel seeds, black sesame seeds, and chili flakes
Tahini Miso Sauce:
*Purchase from a well-stocked supermarket, health shop or Asian shop.
Directions:
1. To make the tahini-miso sauce, combine in a bowl and stir until smooth and creamy, adding more water if needed or desired.
2. Then, place the roasted sweet potatoes, broccoli, cooked rice or quinoa, lentils and beans in a bowl. Add sauerkraut if you're using it. Finish off the bowl with the tahini-miso sauce, fennel seeds, black sesame seeds and chili flakes.
3. Dig in and enjoy this healthy, delicious treat.
Source