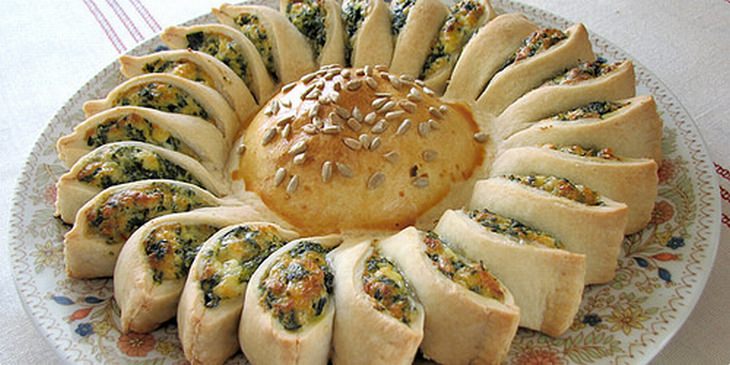 Ingredients – Dough:
• 1lb (500g) all-purpose flour
• 1/3 cup olive oil
• 3/4 cup dry white wine
• 1 tsp. salt
• A dash of sesame seeds (optional)

Ingredients – Filling:
• 12oz (350g) poached spinach leaves
• 12oz (350g) ricotta cheese
• 1 egg
• 3oz (80g) Parmesan cheese (grated)
• A dash of breadcrumbs
• Salt and pepper (to taste)

Preparation:
1. Combine the ingredients for the dough in a mixer and blend. Once the dough is consistent, form 2 equal-sized balls and place in shrink-wrap, and then set aside.
2. In a bowl, combine the ricotta and spinach. Add the egg, parmesan, salt and pepper.
3. Using a rolling pin, create 2 flat circles of dough, roughly 12" (30cm) in diameter.
4. Before adding the filling, use the breadcrumbs to create a "barrier" between it and the dough. Create a barrier ring adjacent to the rim and another circle in the center.
5. Apply the filling on top of the breadcrumb barrier. It should look like this: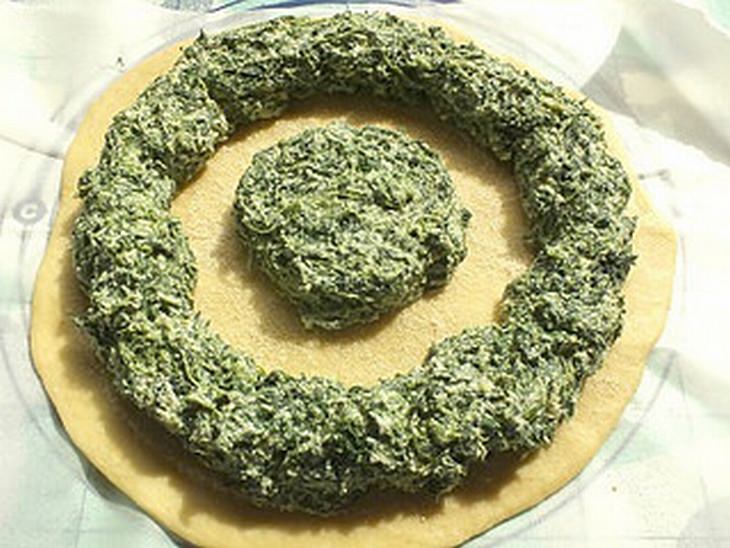 6. Sprinkle the grated parmesan over the filling and place the second circle of dough on top of it.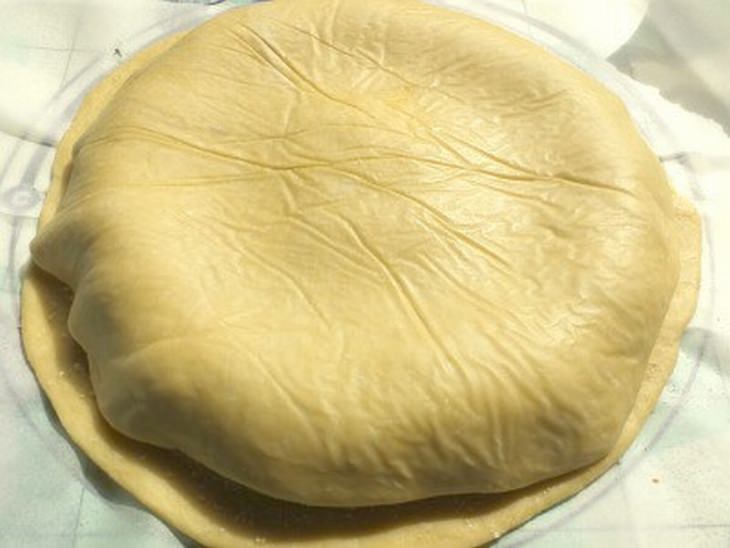 7. Preheat the oven to 350°f (180°c).
8. Seal the edges by using a fork for a more aesthetic look.
9. Place a bowl in the center of the dough, lightly pressing it down to create an indentation in the area between the internal and external filling.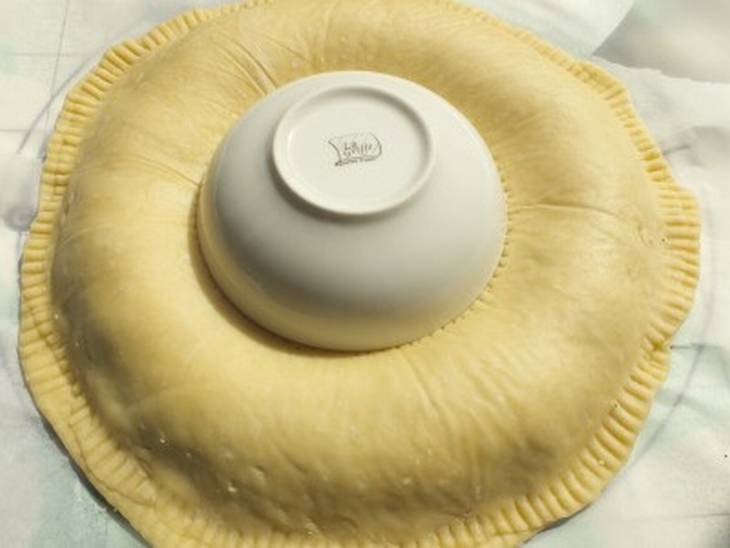 10. Cut the dough to equal 1" (2.5cm) parts, making sure to almost reach the bowl.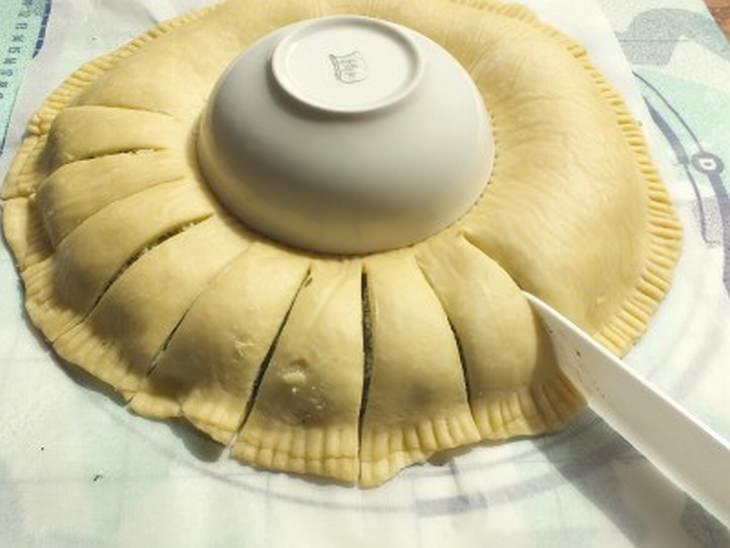 11. Very gently, twist each piece in a little more than a 90-degree angle.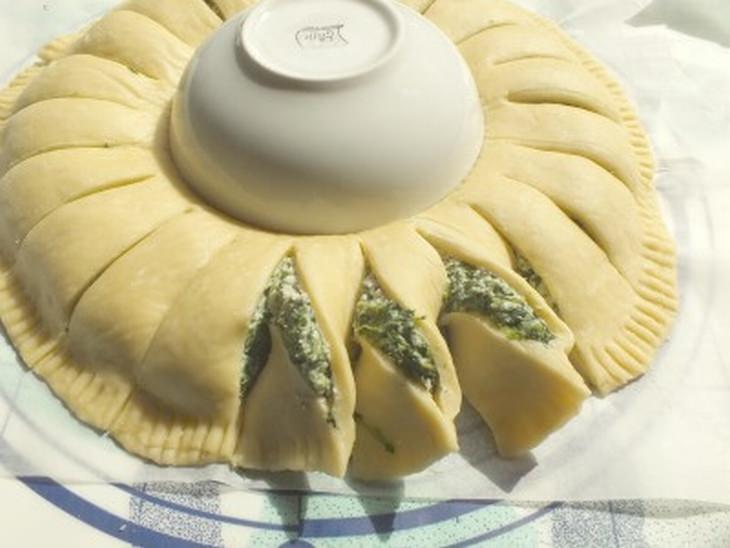 12. Bake the pie for 30 minutes, or until the dough turns a light brown.
Optional: brush the center with egg and sprinkle sesame seeds over it.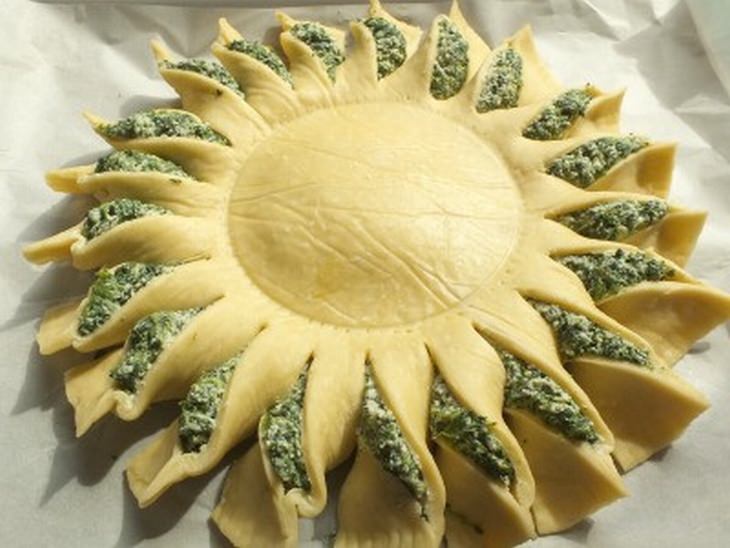 Now you can impress your dinner guests with your amazing sun pie!