While I do enjoy a glass of bubbly every now and then, I must confess, I am no champagne connoisseur. Still, whenever I get the chance to toast to a special occasion, I search endlessly for innovative recipes that will surely wow my guests. Of course, there's no better time to enjoy a glass of bubbly than to ring in the new year. So with this wonderful occasion just round the corner, here are six delicious cocktails you'll surely enjoy.
1. Champagne Punch Bellini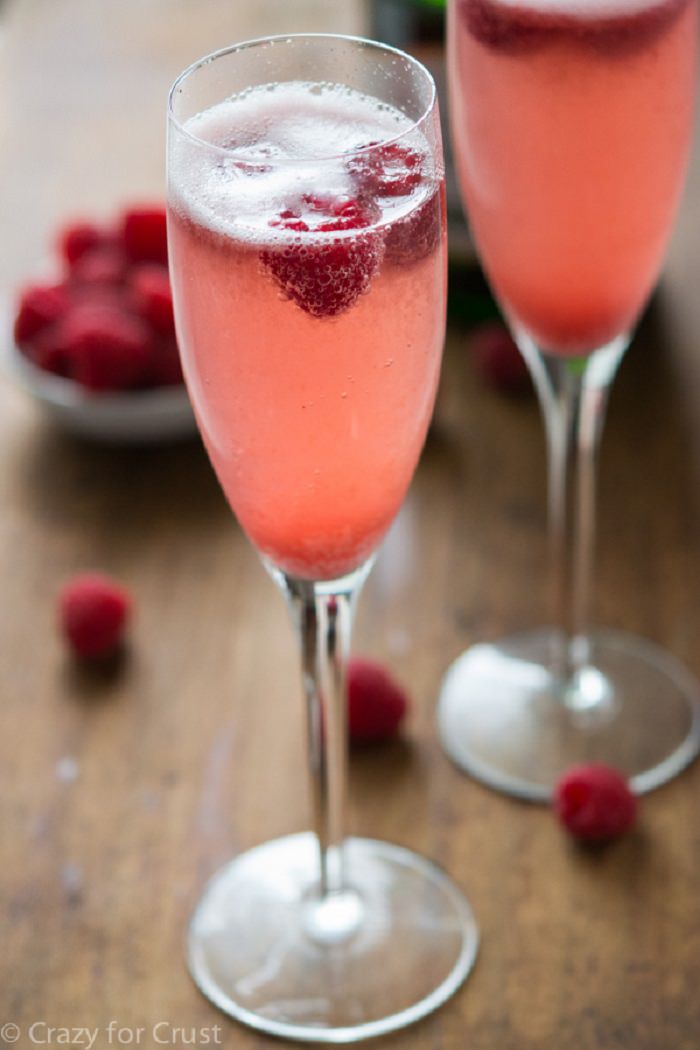 Source: Crazyforcrust.com
This festive drink is absolutely delicious! Champagne, sorbet and raspberries... need we say more?
Ingredients (Servings depend on glass size)
1 (750ml) bottle champagne, sparkling wine, or prosecco

1/2 cup raspberry sorbet (or your favorite flavor sorbet)

Fresh raspberries (or your favorite fruit)
Directions
1. Place 1 tablespoon of sorbet at the bottom of a champagne flute.
2. Fill with champagne and top with a fresh berry.
3. Serve immediately.
2. Pear and Ginger Sage Champagne Cocktail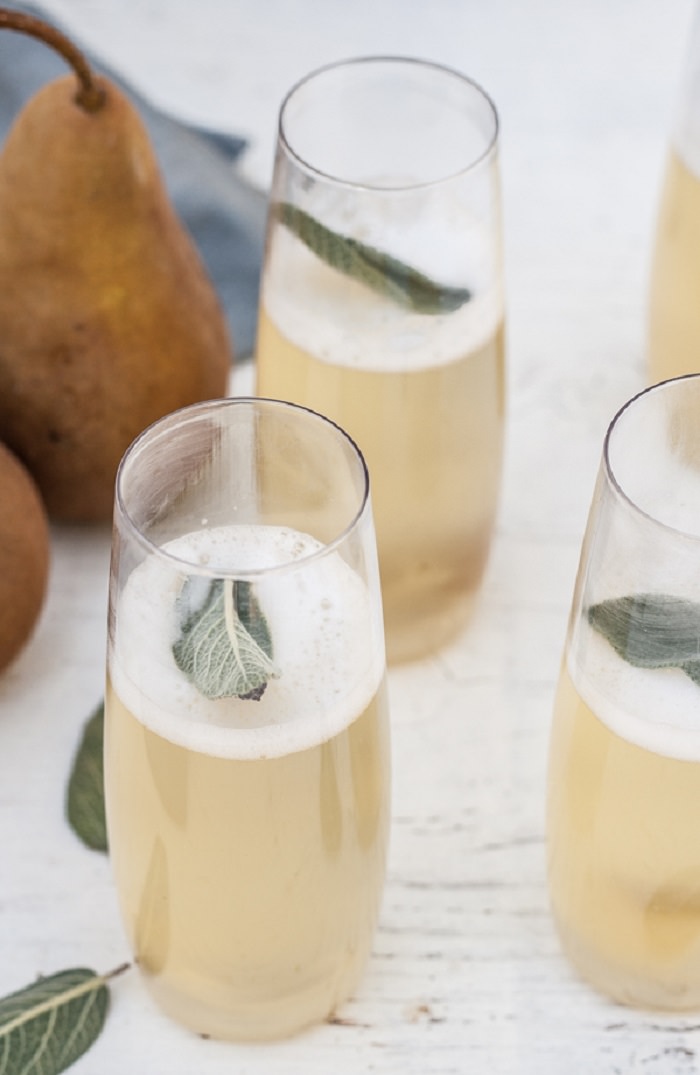 Source: dishingupthedirt.com
This cocktail is full of flavors! Pears, honey, sage, with the addition of ginger and champagne - make it both lovely to sip and delicious.
Ingredients (Serves 4)
1 cup honey

3 cups water

2 whole pears, peeled, cored and diced

1 large chunk of ginger, peeled and diced

20 fresh sage leaves + additional for garnish

1 bottle of your favorite champagne or sparkling wine
Directions:
1. Combine the honey and water over medium heat and bring to a light boil. Then, turn the heat down to low and simmer, stirring occasionally until the honey has dissolved.
2. Add the pears, ginger and sage leaves and simmer until the mixture has reduced by 1/3 - this should roughly take about 15 to 20 minutes, with occasional stirring.
3. Remove the mixture from the heat and steep for an additional 10 minutes. Once done, strain the syrup into a large mason jar, removing the ginger and the sage leaves.
4. Assemble the drinks by placing a couple of the cooked pears into each glass. Then add 1 to 2 tablespoons of the simple syrup, add the champagne and enjoy!
3. Pomegranate Spiked Champagne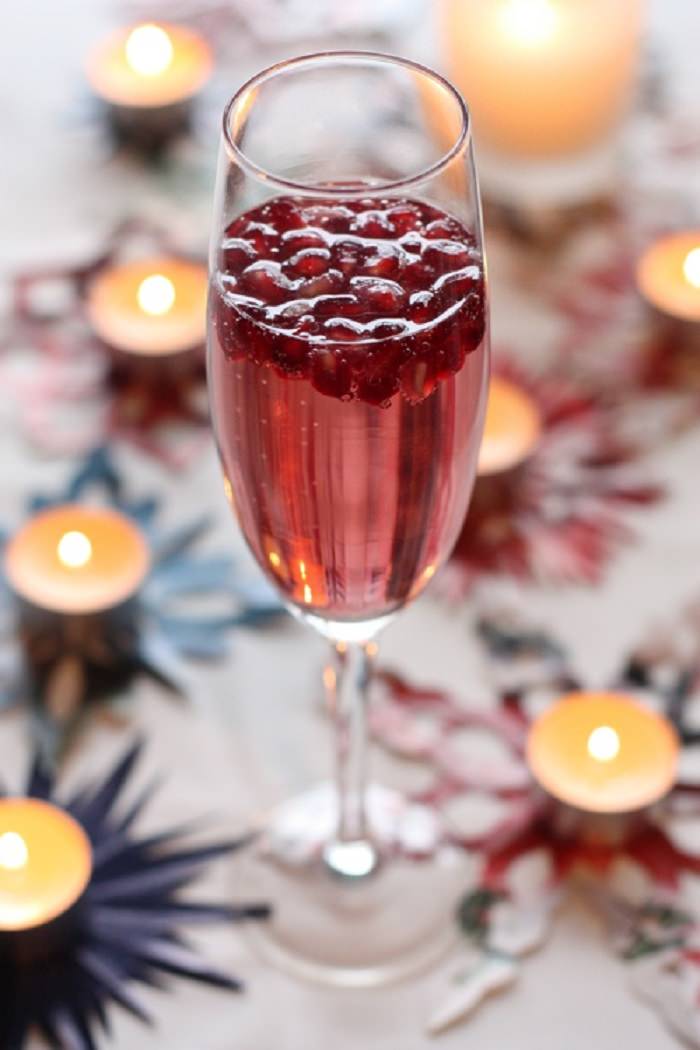 Source: tokyoterrace.com
This recipe pairs classic holiday ingredients: pomegranates and champagne!
Ingredients (Serves 6)
1 bottle champagne

1/2 cup pomegranate juice

Pomegranate seeds for garnish
Directions
This recipe is pretty simple to make, just divide the champagne and pomegranate juice between six champagne flutes and add the seeds for garnish.
4. Champagne Margaritas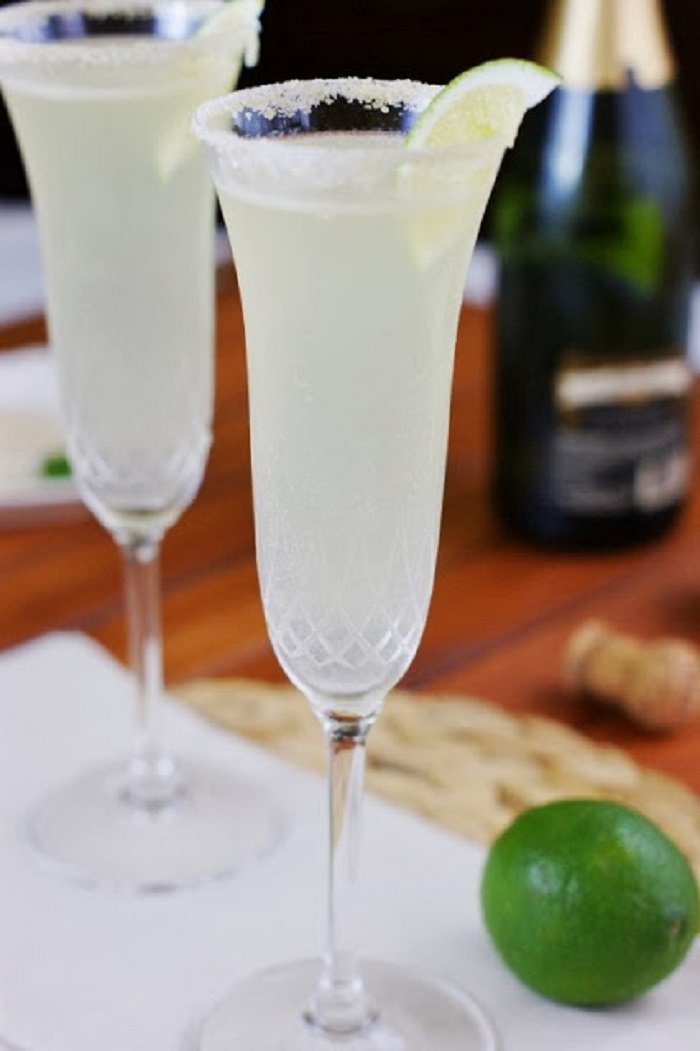 Source: thekitchenismyplayground.com
A delicious twist on the traditional margaritas - combine the wonderful flavors of these two all time favorites into one fun cocktail.
Ingredients (Serves 2 Margaritas)
4 teaspoons Sweetened Lime Juice

2 oz. white tequila

2 oz. Triple Sec

1 teaspoon fresh squeezed lime juice

6 oz. brut champagne or sparkling wine
For Sugared Rims & Garnish:
Directions
1. For Sugared Rims: Combine the raw sugar and granulated sugar in a dish. With a lime wedge, wet the rim of each glass all the way around. Dip each rim into the sugar to coat and set aside.
2. For the Margaritas: Fill a cocktail shaker with ice, then add the sweetened lime juice, tequila and Triple Sec. Also add the fresh lime juice and the champagne and gently shake two or three times. Once done, strain the mix into the prepared glasses, garnishing each with a lime wedge.
5. Champagne Punch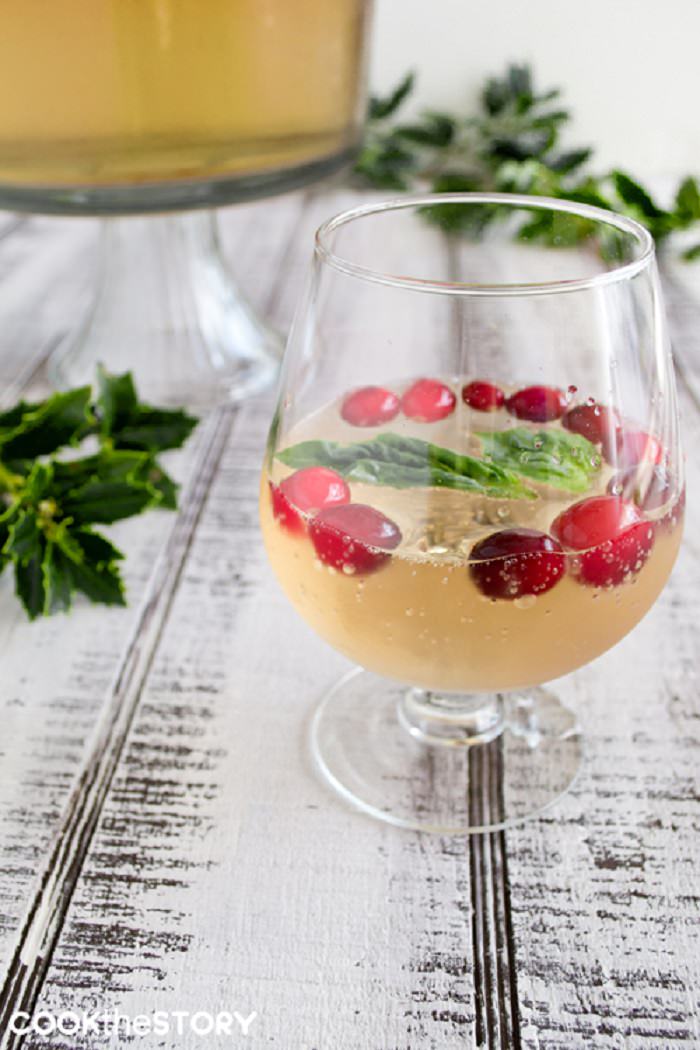 Source: cookthestory.com
If a light cocktail is what you prefer, this punch is not too sweet and not too strong.
Ingredients (Serves 8)
1 (750ml) bottle of cold dry sparkling wine

3 cups of cold ginger ale

1 ounce (2 tablespoons) orange liqueur (like Triple Sec)

8 fresh basil leaves

30 frozen cranberries
Directions:
1. Pour the sparkling wine into a bowl and slowly add in the ginger ale and the orange liqueur.
2. Add the basil and the frozen cranberries. You may also add a couple of handfuls of ice.
6. Blackberry Ombre Sparkler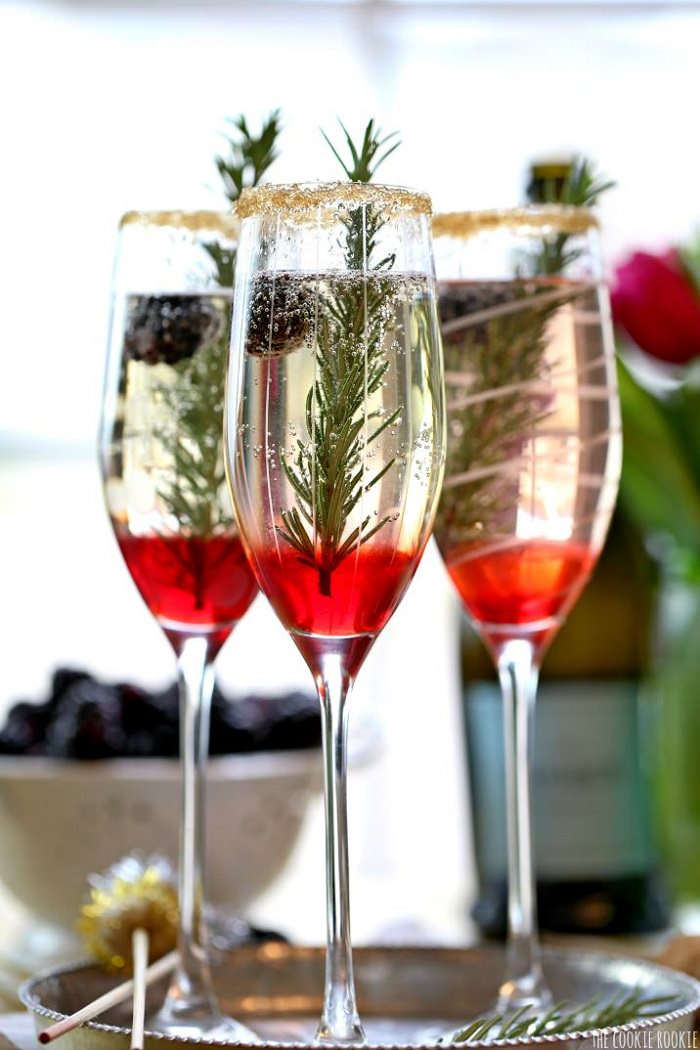 Source: thecookierookie.com
A sure fire way to impress your guests is with this sparkly and elegant drink.
Ingredients (Serves 4)
1 cup fresh blackberries

1 cup sugar

1 cup water

4 sprigs fresh rosemary

1 bottle champagne
Directions:
1. In a saucepan, combine the blackberries, sugar and water. Then bring to a boil on high heat and reduce to a simmer. Let the ingredients cook for about 15 to 17 minutes. The blackberries should be soft and bright in color and a pinkish, purple syrup will form.
2. Make sure the syrup cooks down enough. A main component in this drink is its ombre effect. Once you've achieved this, remove from the heat and drain the blackberries setting both the syrup and blackberries aside in a separate bowl.
3. Once the blackberries and syrup have cooled, spoon about 4 tablespoons of syrup into the bottom of each champagne flute. Top with champagne and garnish with the cooked blackberries (or fresh ones) and a sprig of rosemary.