If you're unsure about what to serve your guests on Christmas Day, these six, easy appetizers will surely win them over, as they'll make for a great treat before the main meal. Here are 6 fantastic finger food recipes, perfect for entertaining a crowd.
1. Green Bean Bacon Bundles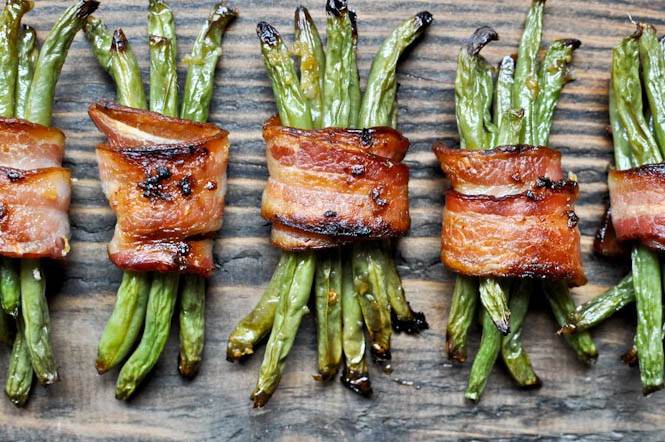 Add some flavor to your green beans, wrapped in bacon and brushed with a mixture of butter and brown sugar.
Source: howsweeteats.com
Ingredients (makes about 10-12 bundles)
1 pound fresh green beans
10-12 slices of thick-cut bacon
2 tablespoons butter
1 tablespoon brown sugar
2 cloves of garlic, minced
1/4 teaspoon salt
1/4 teaspoon pepper
Directions
Preheat the oven to 400°F and spray a 9 x 13 baking dish with non-stick spray.
Meanwhile, wash dry green beans thoroughly and bundle up about 5 to 8 green beans. Wrap a slice of bacon around the center of the beans, to hold them together and lay the bundle, bacon seam side down in the baking dish to hold it together. Repeat with the remaining beans.
Heat a small saucepan over low heat and add the butter, brown sugar and garlic, whisking until melted and combined. Use a pastry brush and brush the mixture over the top of each green bean bundle. Cover the bundles with foil and bake for 35 minutes. Remove the foil and bake for 10 to 15 minutes more, until the bacon gets crispy.
2. Cranberry-Apricot Baked Brie with Honey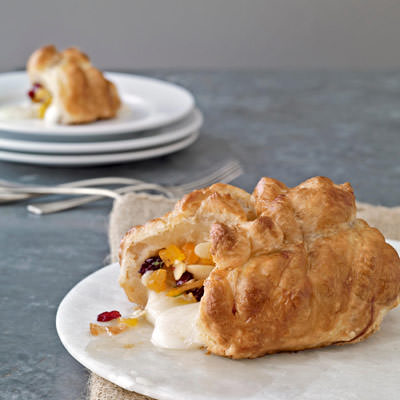 The combination of sweet fruit, honey and Brie is absolutely heavenly!
Source: countryliving.com
Ingredients
⅓ cup chopped dried cranberries
⅓ cup chopped dried apricots
¼ cup sliced almonds
¼ cup honey
1½ tsp chopped fresh thyme
¼ tsp salt, divided
Freshly ground pepper
1 sheet frozen puff pastry
1 wheel Brie
1 egg white
Directions
Preheat the oven to 400°F. Then, combine cranberries, apricots, almonds, honey, thyme, and 1/8 teaspoon salt and pepper in a medium bowl and set aside.
Roll puff pastry to a 12-inch square. Trim the top rind off Brie and center the cheese on the pastry. Top with the fruit mixture. Then, beat an egg white with 1/8 teaspoon salt in a small bowl and brush some egg wash along pastry edges and cover the brie with the pastry edges, twisting into a topknot. Chill in the freezer for 15 minutes. Once done, brush lightly with egg wash, place on a parchment-lined baking pan and bake for 35 minutes.
3. Goat Cheese Logs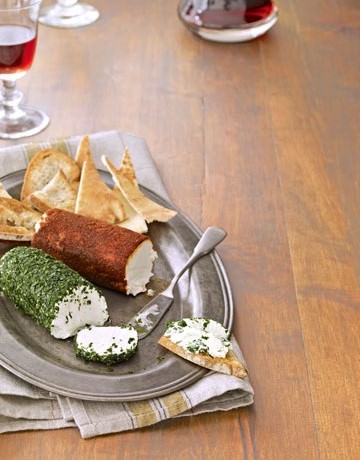 Our fresh take on the cheese ball comes with an added bonus: The log shape allows guests to slice, rather than dig, into the appetizer.
Source: countryliving.com
Ingredients
2 log goat cheese
4 oz. cream cheese
3 tsp aged sweet sherry
1 tsp salt
1 tsp freshly ground black pepper
1½ tsp paprika
½ tsp cumin
4 tsp finely chopped fresh parsley
4 tsp finely chopped fresh dill
Directions
Combine the goat cheese, cream cheese, sherry, salt and pepper together in a small bowl. Wrap the cheese mixture in a plastic wrap and roll to shape into a log. Chill the cheese in the freezer until slightly firm - about 10 minutes.
In a small dish, mix the paprika and cumin together. Mix the parsley and dill together in a separate small dish. Remove the goat cheese log from the freezer, unwrap and slice in half. Then spread the paprika-cumin mixture on 1 sheet of parchment paper and the parsley-dill mixture on another sheet. Roll 1 log in the paprika-cumin mix and the other in the parsley-dill mixture.
Serve with toasted pita and crostini.
4. Red-Pepper Straws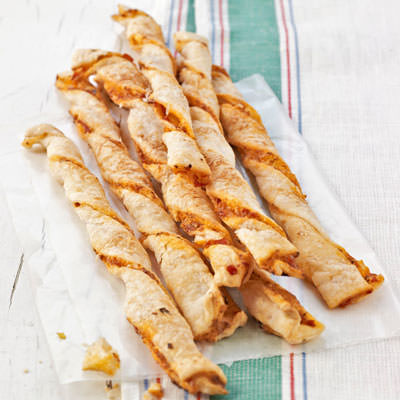 For a fun snack your guests will surely love, try this deliciously cheesy roasted red-pepper straws.
Source: countryliving.com
Ingredients
1 shallot
Chopped marinated roasted red pepper
1 tbsp olive oil
1⅓ cup grated Parmigiano-Reggiano, plus more for sprinkling
2 sheets thawed frozen puff pastry
Directions
Preheat the oven to 400°F. Then, sauté shallot and roasted red pepper in olive oil for about 4 to 5 minutes, then stir in the grated Parmigiano-Reggiano. Set aside.
Roll 1 sheet of puff pastry to 1/16-inch thickness. Trim the pastry to about a 16x8-inch rectangle and spread the red-pepper mixture over the dough. Roll the other sheet using the same dimensions and place it over the first sheet. Press the sheet down slightly to seal. Then lightly brush with water and sprinkle with more grated cheese.
Cut the dough into 24 eight-inch-long strips. Twist each strip and transfer to a 2 parchment-lined baking pan. Chill for 20 minutes, then bake for 15.
5. Greek-Style Meatball Bites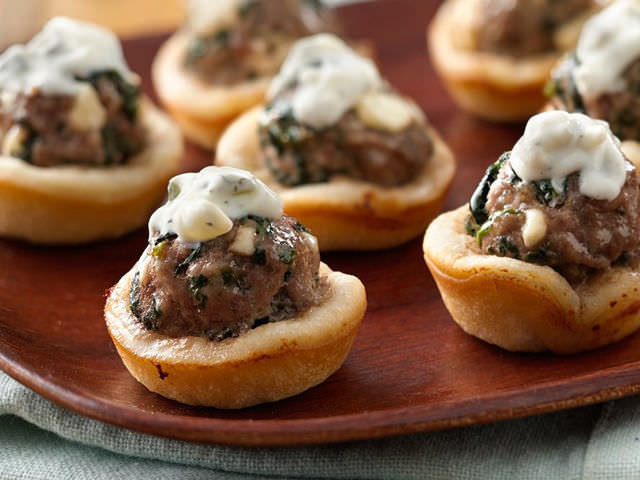 You only need seven ingredients to make these delicious bites!
Source: pillsbury.com
Ingredients
1 box (9 oz) frozen chopped spinach
3/4 lb ground lamb
2 tsp Italian Seasoning
1 tsp Onion Powder
1/2 cup crumbled feta cheese
1 can refrigerated classic pizza crust
1/3 cup tzatziki saucetzatziki sauce
Directions
Heat the oven to 400°F. Spray 36 mini muffin cups with a non stick cooking spray. Microwave the frozen spinach for about 3 to 4 minutes until thawed. Drain well and squeeze the spinach dry with paper towels.
In a large bowl, combine the lamb, Italian seasoning, onion powder and 1/2 teaspoon fine sea salt and a 1/4 teaspoon pepper. Add the spinach and the feta, mixing with a spoon or with your hands until well-combined.
Sprinkle the surface with flour and unroll the dough onto it. Cut the dough in half (crosswise), press or roll each half to a 10x8-inch rectangle. Using a two-inch round cutter, cut 18 rounds from each dough rectangle. Press 1 dough round in the bottom and up the sides of each muffin cup. Scoop or spoon 1 tablespoon lamb mixture into each cup and press in lightly.
Bake for 12 to 15 minutes, until the crust is golden brown and the lamb is no longer pink in the center. Test by placing a meat thermometer to read 160°F. Let it cool for 5 minutes then top each cup with 1/2 teaspoonful tzatziki sauce. Serve warm.
6. Pastry-Wrapped Asparagus with Balsamic Dipping Sauce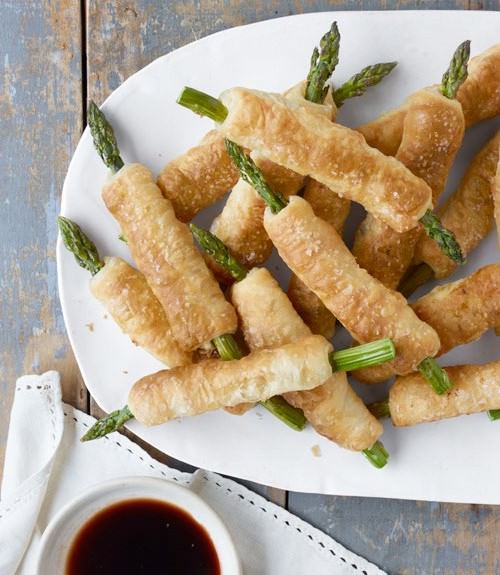 Asparagus, usually served as a side dish, can be easily converted into an appetizer with this innovative take.
Source: countryliving.com
Ingredients
1 box ready-to-bake puff pastry (2 sheets)
Flour for work surface
¾ cup grated Parmesan
24 Asparagus spears
1 tbsp flaky sea salt
¾ cup balsamic vinegar
1 tbsp sugar
1 bay leaf
¼ tsp dried thyme
Directions
Preheat the oven to 400°F and line two rimmed baking sheets with parchment paper and set aside.
Cut the puff-pastry sheets into thirds along the folds to create six 5x10-inch rectangles. On a lightly floured work surface, roll one rectangle to 6 1/2-by-10 inches. Use a sharp knife and trim the edges (about a 1/4 inch per side) then cut into four 2 1/4x6-inch strips.
Sprinkle each strip with 1/2 tbsp Parmesan and center an asparagus spear atop the strip, wrapping the strip to enclose asparagus. Dampen the edges of the pastry with water, sealing it together. Place the pastry-wrapped asparagus, seam side down, on parchment lined baking pans. Repeat with the remaining pastry, Parmesan and asparagus, spacing them about 2 inches apart. Then, brush the tops with water and sprinkle with some sea salt. Bake until golden brown - about 15 to 18 minutes.
In a small skillet, over medium-high heat, bring the vinegar, sugar, bay leaf and thyme to a gentle boil and cook until the liquid is reduced to 1/2 cup for 12 to 15 minutes. Strain the reserving sauce and discard the herbs. Serve the asparagus warm with a balsamic dipping sauce.