Preparing a fondue is always a great idea, whether for using in a formal dinner, or simply a social gathering. Apart from looking so irresistible, their preparation only requires a few ingredients and minutes. What's more, with their amazing versatility, fondues have been found to be the best problem-solvers for starters, main courses or desserts.
So if you've never considered making fondues for your dinners, you probably will now, with our list of savory and sweet mouth-watering fondue recipes, complete with dipping suggestions and other useful tips. We're sure it will be a great kitchen inspiration for you all, especially with all the festive celebrations coming up!
Fondues generally require a fondue set, so that the content remains warm and creamy, but in case you don't have this at hand, use a small crockpot set on low heat instead. Here are some other tips and suggestions to keep in mind when preparing fondues.
General tips:
---
Cheese tips: To avoid ruining your cheese fondue, make sure you do not overcook it, and transfer it to the fondue pot immediately. If you notice the cheese getting a little too thick, add some milk and stir.
Chocolate tips: Make sure your chocolate stays melted the whole time, by melting it in a double boiler on the stove, and keeping it over the heat in the fondue pot. Also, be careful not to heat it to more than 105°F, or else it will be ruined.
Alternative to dipping forks: If you happen to have none or not enough dipping forks for your guests, opt for a cheaper and more easily-available option by using bamboo skewers.
Dippers tip: Any food that is dipped in your fondue (such as fruit and vegetable pieces) must be completely dry, otherwise, the fondue will slide right off. If you are using bread or cake, make sure it is a little stiff to avoid crumbling.
Planning your portions: Plan 1 cup of dippers for each person, if they are fruits, vegetables, or bread cubes; and 1/2 pound if they are meat cubes.
Dipper tips
---
For starter/main dishes (savory): bread cubes (sourdough, rye, garlic, Italian, French baguettes, ciabatta, pumpernickel), croutons, breadsticks, mini-meatballs, sausage cubes, ham cubes, steak cubes, fresh mushrooms, red/green pepper strips, broccoli florets, potato cubes or wedges (cooked or roasted), artichoke hearts, cherry tomatoes, cauliflower, carrots, zucchini chunks, cucumber fingers, shrimps.
For dessert (sweet): strawberries, cherries, banana slices, pineapple cubes, apple wedges, pears, cantaloupe chunks, cake cubes, brownies, cookies, pretzel sticks, mini-cupcakes, orange segments, raspberries, kiwi fruit, marshmallows.
Optional sweet topping ideas: shredded coconut, crushed nuts, crushed cookies, candy sprinkles, minced dried fruit, shaved chocolate.
Recipe ideas: SAVORY
---
1. Blue cheese fondue: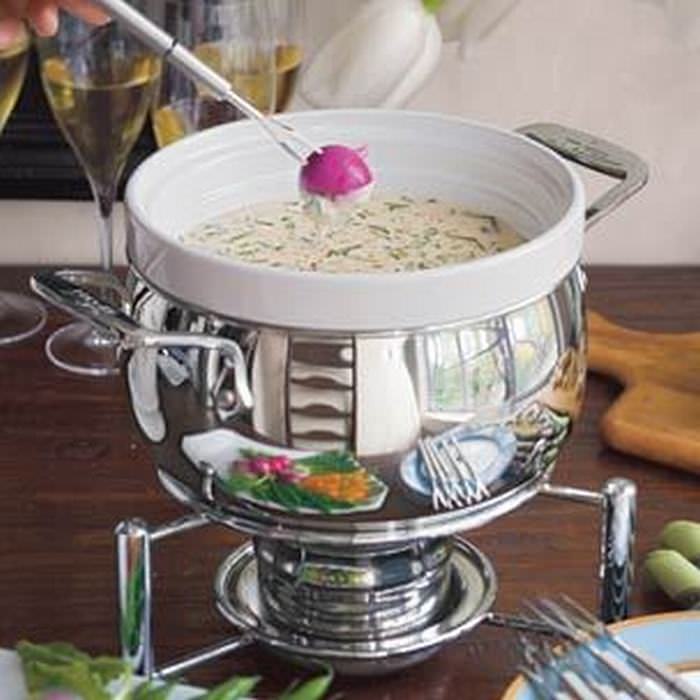 Image and recipe source: williams.sonoma.com
For lovers of the pungent taste of blue cheese, here's a creamy fondue that will leave you licking your fingers.
---
---
2. Wine Fondue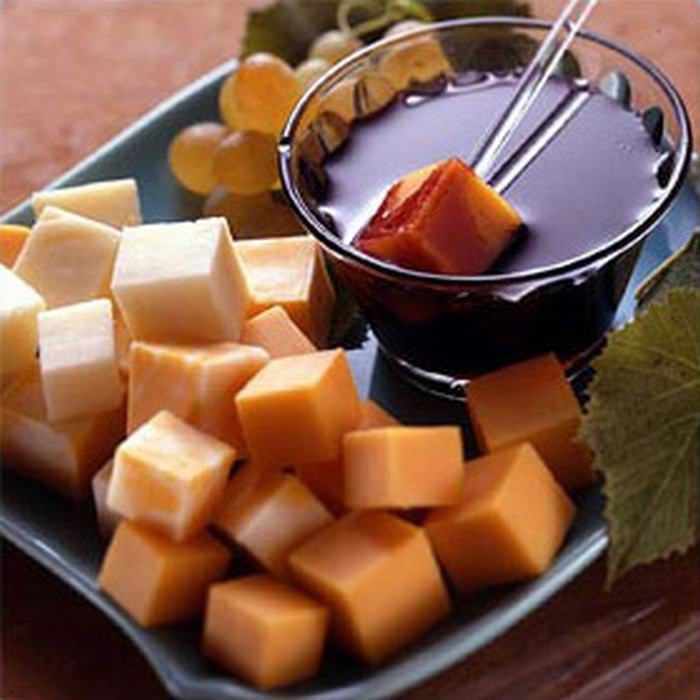 Image and recipe source: landolakes.com
A quick and easy-to-make fondue using the best ingredient for a celebratory dinner or party. It can be used both with savory and sweet dishes.
---
---
3. Pizza fondue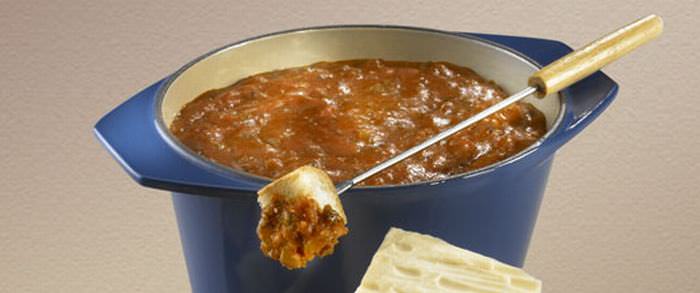 Image and recipe source: eatwisconsincheese.com
A fondue you never thought could be possible. With ingredients like ground beef, onions, oregano and mozzarella, this fondue is a pure burst of tastiness, making for a great side dish for main course.
---
---
4. Three cheeses fondue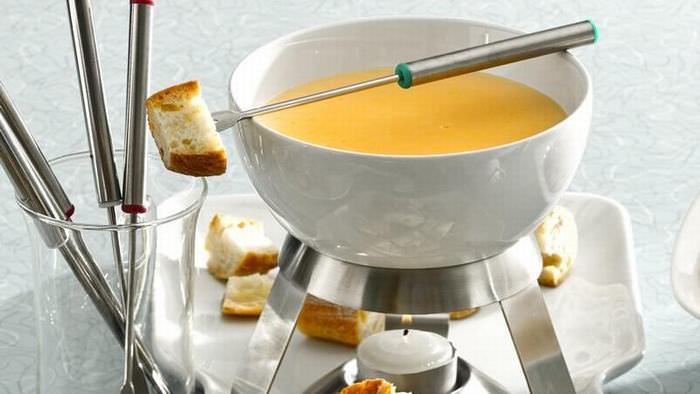 Image and recipe source: bettycrocker.com
The heavenly fondue we all crave for - a mixture of tasty melted cheeses you can satisfyingly indulge in with some fresh bread dippers.
---
---
Recipe ideas: SWEET
---
5. Dark chocolate Kahlua fondue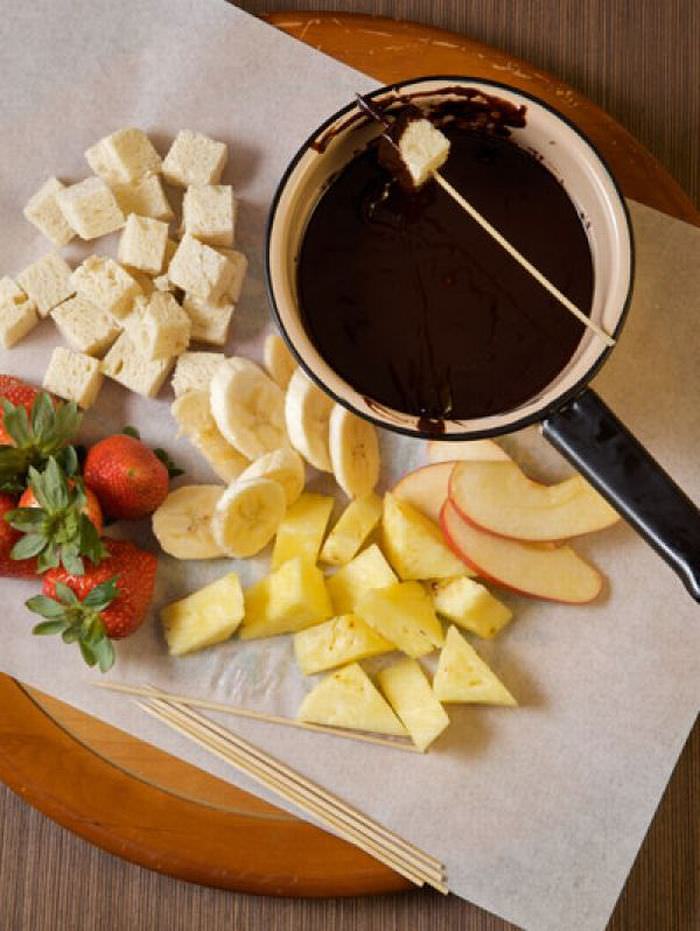 Image and recipe source: saveur.com
The bittersweet taste of dark chocolate goes amazingly well with fresh-cut fruit such as bananas, apples, and strawberries, as well as other delicious dippers.
---
---
6. Caramel fondue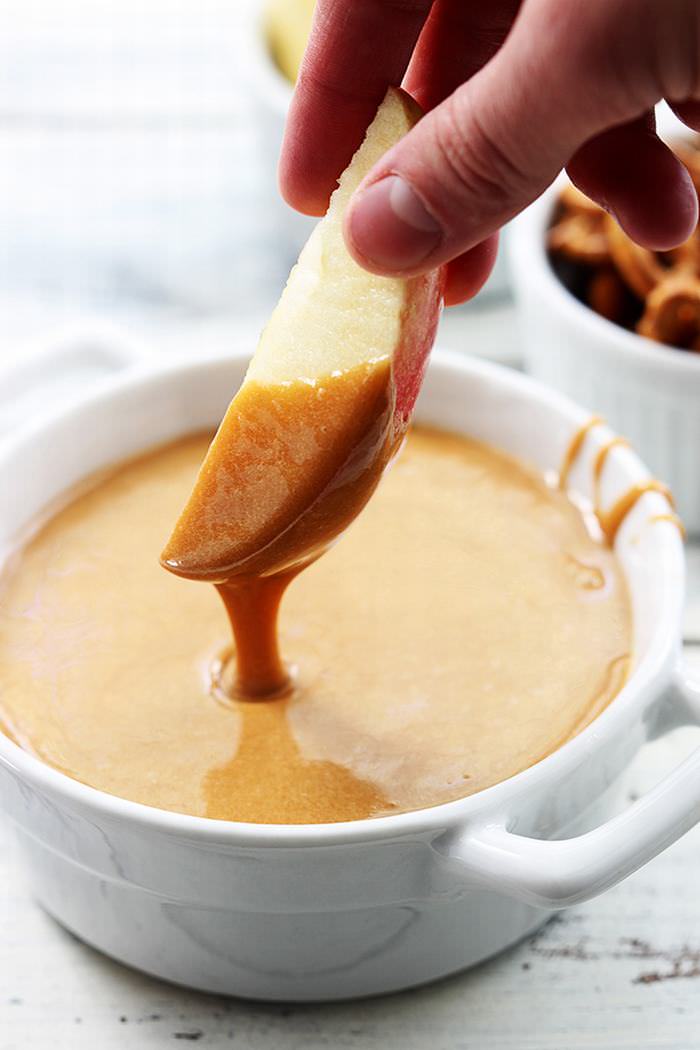 Image: lecremedelacrumb.com / Recipe: foodandwine.com
Spoil your guests with some sensational bite-sized delights, coated with the sweetness of creamy homemade caramel syrup.
---
---
7. White chocolate fondue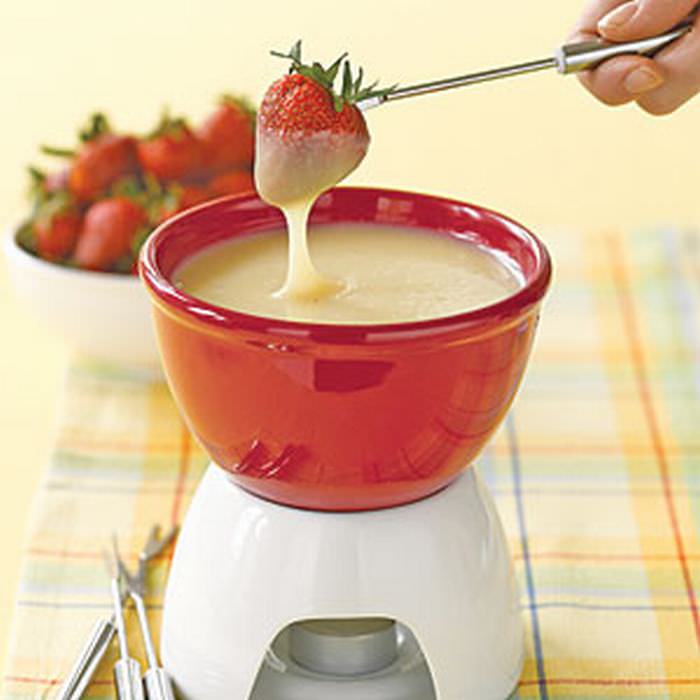 Image and recipe source: myrecipes.com
You know you're being treated wonderfully when you're served this gorgeous white chocolate fondue, which is incomparable to any other yummy dessert.
---
---
8. Milk chocolate fondue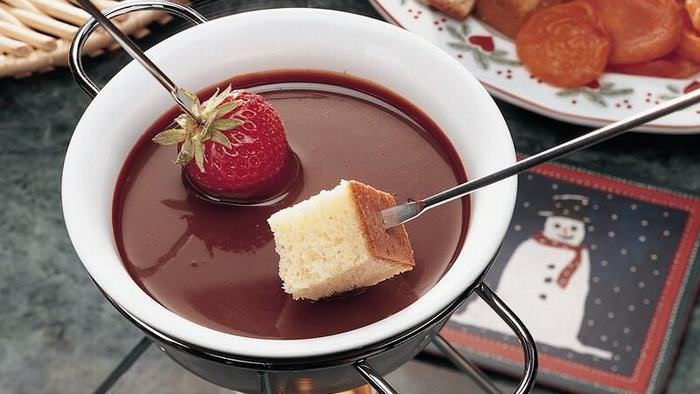 Image and recipe source: bettycrocker.com
For the ultimate choice of fondue, melted milk chocolate will never disappoint. No point at a dinner is more exciting than the moment this lip-smacking delight is placed in front of you.
---
---